This article covers a list of the best Unlinked codes 2023. We'll also cover a short troubleshooting guide and the best VPNs for jailbroken FireStick. Keep reading to find out all!
Unlinked codes serve as excellent alternatives or cloned versions of Filelinked codes, granting users access to premier APKs or third-party apps designed to serve all streaming needs.
The unlinked codes featured on our top list are tailored for compatibility with FireTV devices. This includes FireStick and FireStick 4k, as well as other Android devices.
What are unlinked codes? In short, unliked codes are a good alternative or cloned version of Filelinked codes that give you access to the best APKs or third-party apps for streaming movies, TV series, live TV content, and more. The top unlinked codes on our list are compatible with FireTV devices, including FireStick, FireStick 4k, or other Android devices. 
NOTE –
The unlinked codes give you links to third-party APKs that are not always the best for privacy. This is why we recommend accessing them only with the best VPN.
Surfshark
secures your device, your IP address, data, and more with its military-level encryption.
 Plus, you can connect to its global servers if any of the services are not accessible in your country. Other than that, this guide is for informational purposes; FireTVSticks in no way owns or is affiliated with any of the unlinked codes on this list. 
In this guide, we've highlighted the top unlinked code list like EB2E4A4C, Superapps (Pin:911911), 67664537, 12341234, and more. They all give access to FireStick apps like MX Player, Bee TV, Tea TV, Cinema HD, HD Streamx, VPNs, Movie HD, Kodi, and more.  
Quick List – Best Codes on Unlinked
EB2E4A4C

44444444

Superapps (Pin: 911911)

67664537

12341234

7cd6a4f1 (Pin: 911911)

90D311FE

DF9C7131

710AB04D

33627466

96960000

0B96CC65
What is Unlinked?
Unlinked is an APK that clones FileLinked. This APK gives access to numerous codes that unlock popular apps that are not easily or readily available on the Amazon App Store or the Google Play Store. 
When you input these codes on your Firestick device, you access apps with numerous content libraries ranging from movies, TV shows, live TV, sports, music, media players, etc. Users would even be able to create their own code libraries, sharing them with other FireTV or Firestick users. 
Most users or streamers prefer unlinkedcodes to avoid downloading too many apps. Another thing to note is that Unlinked does not own or host apps for you to download. It's simply a way for you to install other third-party apps on Firestick.  That said, there are 21,835 Fire TV apps available.
Devices Compatible with Unlinked Codes
It offers compatibility with the following:
FireStick – widely used
Tablets
Smartphones
Android TVs
Despite Unlinked's similarities with FileLinked, it works the bugs out through its AES-256 encryption – making it the ultimate option among the community. Now that we've covered the basics let's get the show on the road.
Are Unlinked Codes Safe for Firestick?
Using unlinked codes or third-party app stores carries risks. While reputable and secure applications are available, there is also the potential for encountering malicious software or violating terms of service.
Security Risks of Using Unlinked Codes on Firestick
Here are key considerations:
1. Security Risks
Unlinked codes may lead to the installation of apps that haven't undergone the same security scrutiny as those in official app stores, exposing your device to potential malware or security threats.
2. Legal Implications
Certain third-party apps or streaming services accessed through unlinked codes might offer copyrighted content without proper authorization, potentially leading to legal consequences.
3. Device Stability
Apps sourced from unlinked platforms might not be optimized for your specific device, leading to potential performance issues or instability.
4. Lack of Official Support
As these apps are not from official app stores, you won't receive updates or support from the developers or the platform.
If you choose to use unlinked codes, exercising caution is crucial. Thoroughly research the sources and apps you intend to install, and consider employing reliable antivirus or security software on your Firestick to mitigate potential risks.
Additionally, it's essential to stay informed about and comply with applicable laws and regulations regarding the use of third-party apps and content.
How to Install Unlinked APK on Firestick
Now that you have access to the best-unlinked codes for your Firestick, let's learn how to install the APK. Before we begin, we mentioned that Unlinked is a third-party app, which means you need to Sideload it on your device via the Downloader app. Here is how you can install Unlinked on FireTV devices: 
Enable the apps from unknown sources on your Firestick. 

Once enabled, get the Downloader app from the Amazon Store and install it. 

Launch the Downloader app. 

Click "Allow" when you see this pop up: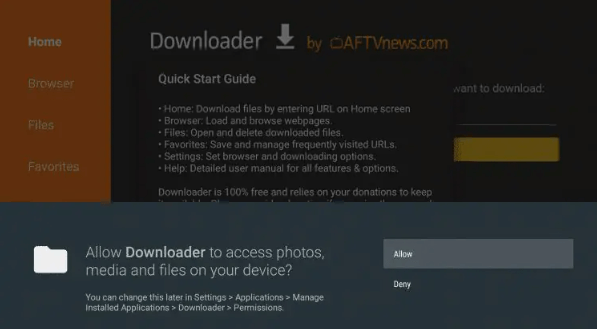 Then click on "OK." 

In the URL box, enter the code for Unlinked, which is

234753

. 

Click on "Go." 

Wait for the Unlinked app to download. 

Tap on "Install."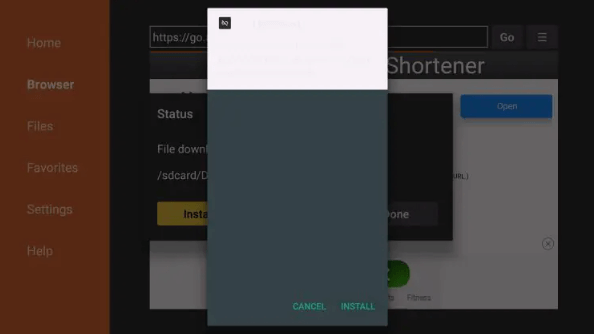 You should now see the "Unlinked ready to launch" pop-up. 

Launch the Unlinked app. 

Click on "New library." 

Enter the code you selected.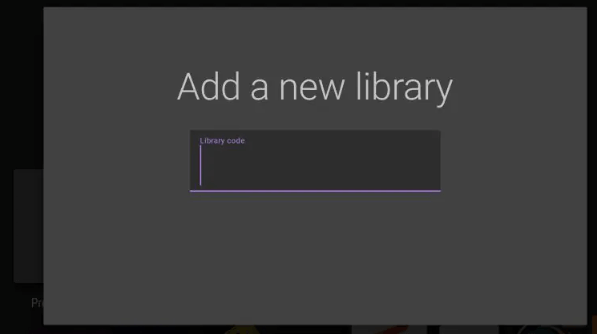 You have now successfully installed the Unlinked app on Firestick and accessed its library. 
Best Unlinked Codes for Firestick and Other Android Devices (2023)
Here is our list of the best codes to access Unlinked libraries for movies, TV shows, sports content, live TV, and much more, starting with: 
1. EB2E4A4C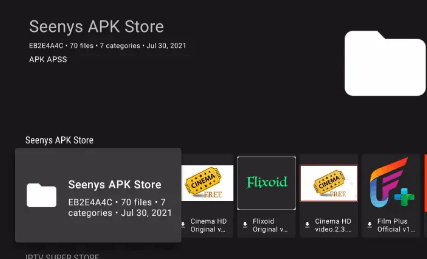 Unlinked code EB2E4A4C gives access to the Seenys APK Store library that has the best Firestick apps that aren't easily available on the Amazon Store. There are around 70 files sorted into 7 categories to assist a smooth browsing experience. It's easy to install and has some ad-free versions found on the Seenys APK Store. A few of the categories include the following:
Live TV
Browsers
YouTube
VPNs
Music
Film
TV shows
Tools

 
Popular Apps on Unlinked Code EB2E4A4C:
Ola TV

Bee TV

UK Turks 

Cinema HD

Mouse Toggle

CyberFlix
2. 44444444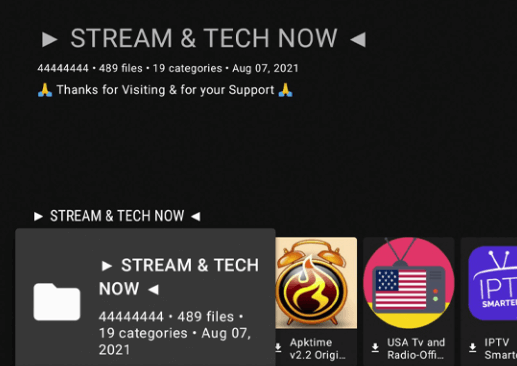 Stream & Tech Now Store
560 apps
Next, we have code 44444444 that leads you to the Stream & Tech Now, with access to over 560 apps. This is one of the reasons why this store has gained massive popularity, giving users a lot to choose from. There are even "developer originals," among other choices. Unlinked code 44444444 features 19 diverse categories, some of which include TV shows, Live TV, Kids Apps, Media Players, and more.
Popular Apps on Unlinked Code 44444444:
CyberFlix

Nova TV

Cinema HD

FilmPlus

Tea Sports Live

AstonCine
3. Superapps (Pin: 911911)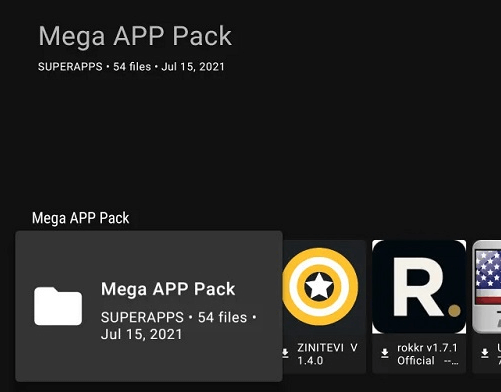 Mega App Pack Store
54 apps 
Superapps is another popular Unlinked Code for the Store Mega App Pack and is often in the top list for the best 2023 Unlinked Codes. The reason this Store is popular is because it offers a variety of apps within its library. There are various categories to choose from, including movies and TV shows, Live Sports, Live TV, anime, and more. 
Popular Apps on Unlinked Code Superapps:
Cinema HD

UK Turks app

Bee TV

Nova TV

Movie HD

TVTap 
4. 67664537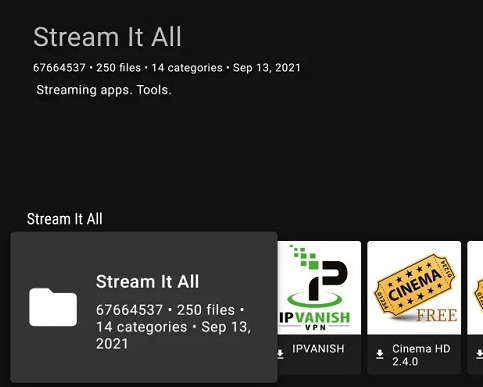 Stream It All Store 
250 apps 
The Unlinked 67664537 Code gives access to the Stream It All Store, with over 200+ apps, and in 14 customized categories. The most popular categories in this Store are "Top Movies and TV Show Apps" and "Movies and TV Apps." The first lists famous movie options, while the other lists lesser-known movies and TV apps. Other content categories to choose from include Kodi, Live TV apps, Anime and Comics, Top Movies, Top TV shows, and Official Amazon Apps.
Popular Apps on Unlinked Code 67664537:
Aptoide TV

Nova TV

MXPlayer Pro

Stremio

Cinema HD

Viva TV
5. 12341234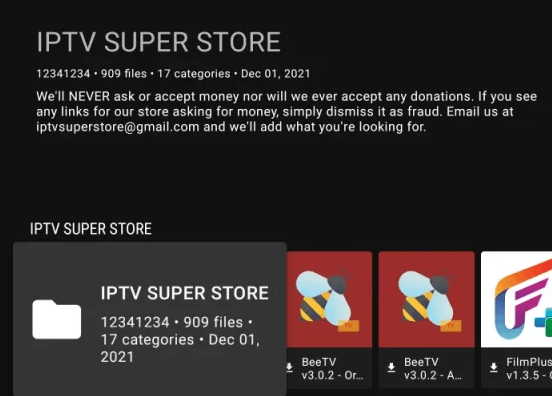 IPTV SuperStore 
890+ apps 
If you're looking for genres like anime and movies, the unlinked code 12341234 makes a great fit. It opens up access to the IPTV SuperStore, which normally bags a popular position among top-rated Unlinked codes. It comprises around 890+ apps and is divided into 19 categories, including Live TV, Browsers, Movies and TV shows, Live Sports, Anime, and much more.
Popular Apps on Unlinked Code 
Bee TV

Brave Browser

FilmPlus

MX Player

Stremio 

Kodi 
6. 7cd6a4f1 (Pin: 911911)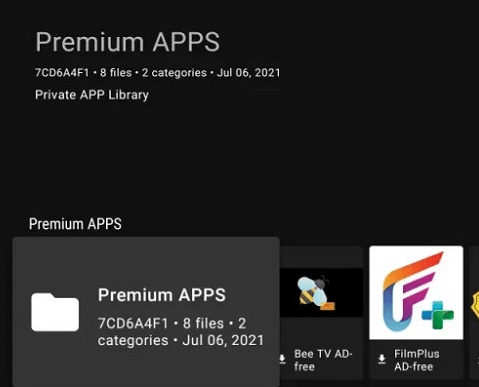 Next, we have the unlinked 7cd6a4f1 code, which opens the Premium Apps Store. It gives you around 29 apps and 7 different categories to choose from, including Live TV apps, Movie / TV Show Apps, Ad-free movie apps, Firestick tools, and more. With it, you can lock hidden Firestick apps with the best streaming content.
Popular Apps on Unlinked Code 7cd6a4f1:
Live Net TV

MX Player 

Kodi

Switft Sreamz

Bee TV

HDStreams 
7. 90D311FE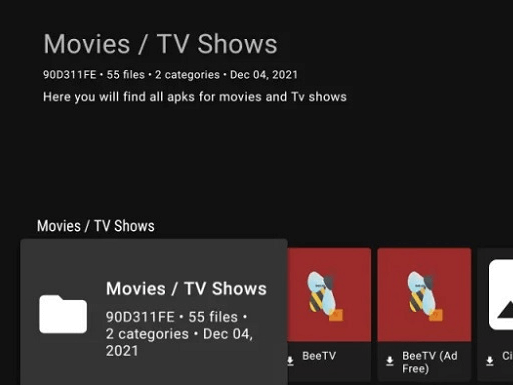 Developer Oztech3000 
48 apps 
Unlinked Code 90D311FE is an app vault created by the developer Oxtech3000. What sets this code apart from the rest is that it mainly caters to streamers, giving you around 48 apps for movies, anime, and TV series.
Popular Apps on Unlinked Code 90D311FE: 
Aptoide

VIVA

Bee TV

Tea TV

Cinema HD

Live Net TV
8. DF9C7131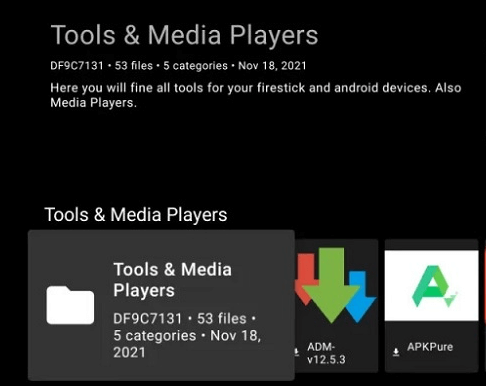 Tools and Media Player 
53 apps 
This code DF9C7131 belongs to the Tools and Media Player library. It incorporates around 53 applications, with hidden apps that are sometimes accessible from the Amazon App Stores and App Store. It highlights mostly categories like IPTV Players, Browsers, Media Players, VPNs, and more. 
Popular Apps on Unlinked Code DF9C7131:
Kodi

Ad Guard

APK Pure

Downloader

Aptoide 
9. 710AB04D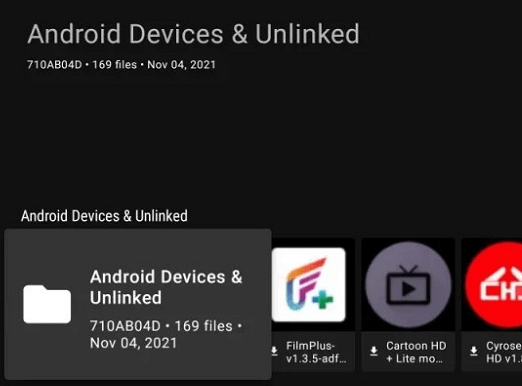 Android Devices & Unlinked Store
154 apps
This Unlinked code is for the Android Devices & Unlinked Store. It features over 154 apps that you can choose from, with the only downside being no categories. You must browse the list manually to get the one you want. And, for the FileLinked fans, it even offers a FileLinked Clone and FileSynced. 
Popular Apps on Unlinked Code 710AB04D:
BBC iPlayer

Bee TV

Crunchyroll

Nova TV

CyberFlix 

Cinema HD 
10. 33627466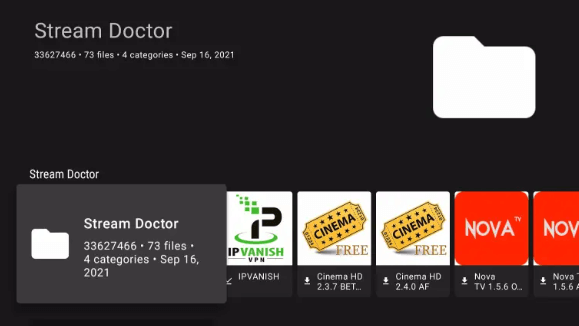 Stream Doctor Store 
73 apps 
Another one of the best Unlinked Codes is 33627477, a code for the Stream Doctor Store. This Store caters to the adult streaming audience, with more than 73 apps to choose from. You can find content or app categories ranging from adult movies, VPNs, movies, TV shows, and other options. 
Popular Apps on Unlinked Code 33627466:
Sofa TV

Stremio

Cuco TV

Media Lounge

Viva TV

Mouse Toggle
11. 96960000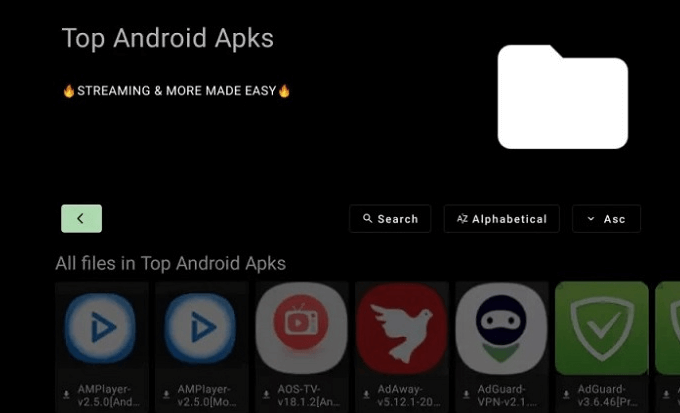 Top Android APKs
299 apps 
Known to access Top Android APKs, we have the unlinked 96960000 code. It gives you access to more than 299 apps and spreads across 16 categories. A few of these categories that you can stream or use include anime, Ad-free content, Live TV options, browsers, movies, TV shows, sports, software, and more. 
Popular Apps on Unlinked Code 96960000: 
HD Streamz

Cinema HD

Bee TV

Ad-Guard 

MX Player pro

MV-Cast Player 
12. 0B96CC65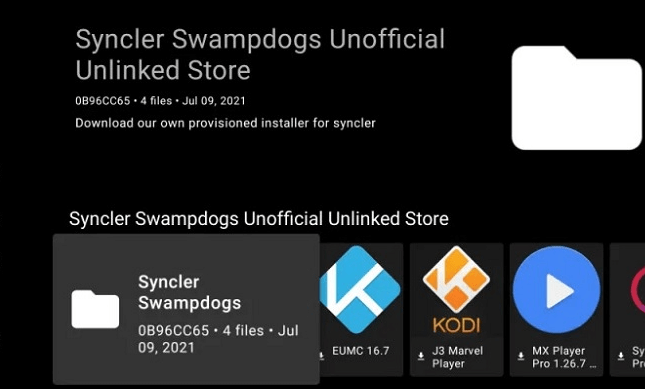 Syncler Swampdogs Unofficial Unlinked Store
4 apps 
Last on the list for the best codes on unlinked, we have 0B96CC65. This code belongs to the Syncler Swampdogs Unofficial Unlinked Store and is last only because it comes with fewer apps than the rest, 4, that is. It offers some categories ranging from movies, shows, and media players. 
Popular Apps on Unlinked Code 0B96CC65:
Syncler Provision

MX Player Pro

J3 Marvel Player
Other Unlinked Codes Options
e89349b6

Tools3333

9135f6a0

99999999 (Pin: 88888)

dagoberts

F398174F
Why Are Unlinked Codes Not Working?
If Unlinked codes are not working, it could be because the service is temporarily offline for maintenance purposes. This downtime may be due to activities such as updating the database or adjusting permissions. Unlinked functions as a file-sharing network that relies on someone hosting files. If the server hosting these files encounters issues, it can result in Unlinked going offline.
To diagnose and resolve issues when Unlinked isn't operational, you can take the following actions:
1. Wait
Occasionally, the service might be undergoing temporary maintenance. Waiting for a while and trying again later might resolve the issue.
2. Restart your Fire Stick
A simple restart of your Fire Stick can often address connectivity or performance issues.
3. Clear the Fire Stick Cache
Clearing stored data in the Fire Stick cache can help resolve conflicts or issues hindering the proper functioning of Unlinked.
4. Reinstall the Fire Stick App
If the problem persists, uninstalling and then reinstalling the Unlinked app on your Fire Stick can refresh the installation, potentially resolving any underlying issues.
By following these steps, you can troubleshoot and resolve potential issues with Unlinked, ensuring a more seamless and dependable user experience.
Do I Need VPN on Fire Stick?
A VPN offers a bit more than bypassing geo-restrictions. According to Data Prot, the global number of VPN users stands at 1.5 billion. Additionally, Unlinked APK is illegal and you must use a trusted VPN for it, like SurfShark.
After testing 15 VPNs, here are the best VPNs for Firestick:
1. SurfShark
In 2023, Surfshark VPN emerged as an excellent and budget-friendly choice for users seeking a VPN service. Here's what sets it apart:
Competitive pricing
Simultaneous device connections
Impressive connection speeds
Overall, it proves to be an ideal selection for individuals prioritizing online privacy. Additionally, Surfshark is distinguished by its strict adherence to a no-logs policy, establishing it as the optimal option in the market.
2. NordVPN
Providing rare features such as Double VPN (multihop) and Onion over VPN, NordVPN stands out. According to our assessments, NordVPN demonstrates high-speed performance, securing its position among the top five fastest VPNs. Additionally, NordVPN presents cost-effective subscription options.
3. Private Internet Access
Private Internet Access, often abbreviated as PIA, is a long-standing VPN service that has been in operation in the United States since 2010. If you're looking for an affordable and reliable VPN option, exploring Private Internet Access is worth considering.
While many VPN providers employ complicated pricing models, PIA stands out by maintaining consistent and budget-friendly rates throughout the duration of your subscription.
4. ExpressVPN
Operating from the privacy-friendly jurisdiction of the British Virgin Islands, ExpressVPN ensures safety through a secure, encrypted tunnel. It offers AES-256 encryption, a standard trusted by security experts globally, which fragments your online data for robust governmental-level protection.
ExpressVPN extends its compatibility to all major operating systems, including Windows, macOS, Linux, iOS, and Android. Each application incorporates industry-leading AES encryption and utilizes the in-house-developed Lightway tunneling protocol, offering a blend of stable performance and heightened protection.
5. FastestVPN
FastestVPN, headquartered in the Cayman Islands, provides an extensive array of features at one of the most affordable rates in the market.
Despite being a smaller provider, it maintains a reasonably sized network with servers spanning 55 locations across 39 countries. P2P support is available in select locations such as Finland, Germany, Portugal, and Spain. The inclusion of Double VPN (also referred to as MultiHop VPN) allows the redirection of your traffic through two VPN servers, enhancing privacy.
FastestVPN offers applications for:
It also provides extensions for:
FAQs – Best Unlinked Codes
Do You Need a VPN for Unlinked Codes?
Unlinked features a list of third-party apps, and while streaming online content, using a VPN helps you mask your online activity and prevent data breaches. As a recapitulation, a VPN isn't mandatory but helps maintain online privacy.
Which Is Better FileLinked or Unlinked?
Unlinked is a popular FileLinked clone and a better option than FileLinked due to AES-256 encryption.
What Devices Can Unlinked Be Installed On?
Unlinked can be installed on:
FireStick
Android TV
Tablets
Smartphones
Is Unlinked Safe to Use?
Yes, Unlinked is safe to use. However, it features third-party sources for streaming shows and movies. To stay on the safer side, using a trusted VPN can significantly help.
Unlinked Not Working 2023? What's the Top Alternative?
FileSynced is the top alternative for Unlinked. Similar to Unlinked and FileLinked, it allows code creation, modification, and sharing.
Wrapping Up
Unlinked ranks as a top choice for streaming and downloading Live TV shows, apps, etc. And, thanks to AES-256 encryption, it now stands as a better option than FileLinked. Additionally, best Unlinked Codes features hundreds of third-party apps, and that's where data breaches are an unavoidable lingering threat.