Are you looking for ways to get access to the HD Streamz app on your Firestick? Well, you're going to need to take a few extra steps first. Don't worry! I'll be walking you through a step by step tutorial, getting you started in no time!
Keep reading and find out more!
HD Streamz is home to unlimited streaming channels, radio and on-demand content, gathered from all over the world. You'll find content from countries like the US, Canada, UK, France, India, Pakistan, and a lot more. You'll find this app extremely popular among Firestick users.
The HD Streamz app is compatible with Firestick and in fact is suitable for most Fire devices, which includes FireStick 4K, Fire TV Cube, Firestick TV Second Generation and much more. It's even compatible with a few of the older versions.
However, since HD Streamz is a third party app, and since you won't directly find it on the Amazon store, you're going to first have to download an app called "Downloader".
How to get the downloader app on Firestick
As mentioned above, in order to get your hands on HD Streamz, you're first going to need the Downloader app. This is for all those who haven't downloaded it yet. Along with that, you're going to have to enable the "apps from unknown sources" option first.
Let's get started:
Head over to the Firestick homepage and click on "Settings"

Now in the settings menu, you'll find the option of "My Fire TV". Click on it.
Next click on "Developer options", and follow through with the instructions.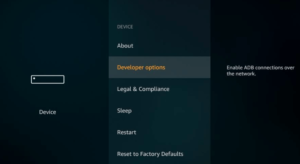 Once you click on it, you'll see the option that says, "Apps from Unknown Sources", enable it.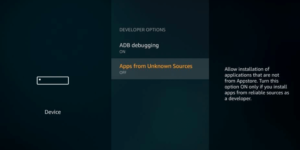 Click on "Turn On" to continue.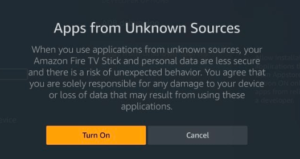 Now, head back to your homepage and using the search icon on the top left corner, look for "Downloader app"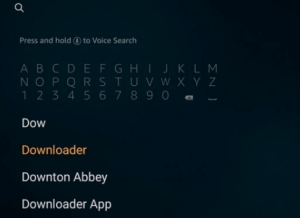 You'll come across a couple of links, click on the one that looks like this:

Now, click on "Get" to continue. The app will start to download.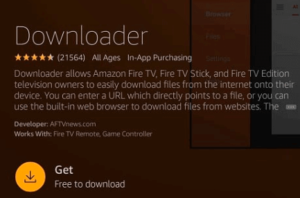 Once downloaded, open the app and proceed with downloading your HD Streamz APK.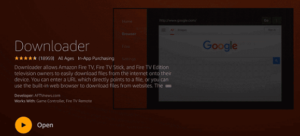 Enter in the HD Streamz URL in the Downloader tab and click on "Go".

Once you click on go, your download will proceed.
A pop-up will appear, click on "Install".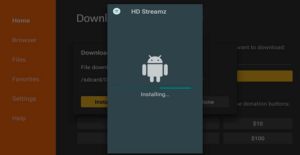 Now wait for the onscreen instructions for further steps. Once your installation process is complete, a pop-up will appear, click on "Open". You might want to delete the HD Streamz APK file, since the app has already been installed. But, that's entirely up to you.
FAQs
What other devices can I install HD Streamz on?
Besides Firestick, HD Streamz can be installed on a couple of other devices. Some of them include Nvidia Shield, Mi Box, Android TV Box, Android Smart TV, Android phones, and more.
How do you access the HD Streamz app on your Firestick?
Once you install HD Streamz on your Firestick, you might not be able to directly find it on your home screen. So, to do that, you can either head over to your "Apps and Channels" and then click on "See All". This should open up the way to the download.
Another way that you could get access to HD Streamz is by just pressing long on the "Home button" on your Firestick remote. Then click on "Apps" when the pop-up window appears. You'll find quite a list of apps, look for HD Streamz and the click on it.
How do we use HD Streamz on Firestick?
Once you download, install and have access to your HD Streamz app on Firestick, it's time to use and explore all the channels on it. The HD Streamz home screen offers quite a bunch of categories to choose from, highlighted according to location. You'll find categories according to Kids, Movies, Music, Sports, Entertainment, and more.
Once you open the app, you'll find 4 tabs on the top labeled with little icons. These represent "Live TV Channels, Radio Channels, On-Demand, and the "Add to Favorites" section. Before any channel plays, you'll be asked to choose between 3 players, "HD Streamz Player, MX Player, and X Player". According to me the HD Streamz Player is the best choice, and another alternative could be the "MX Player".
Can I download movies on HD Streamz?
No, you cannot. HD Streamz app on your Firestick is mainly for streaming live channels.
What does HD Streamz offer?
There are quite a few live streaming apps available, but here's what HD Streamz is known best for:
You'll find more than 1000 channels ranging between various categories and countries from around the world.
The app itself is user-friendly, easy and straight to the point. You shouldn't have any issues navigating through it.
Each category and channel is distributed and organized in a particular order.
You'll also find a live radio tab apart from live channel streaming. Most IPTV services don't come with this option.
Instead of just one player, you're given the option to choose between 3 players. This includes "HD Streamz Player, MX Player and X Player".
To conclude
This pretty much highlights everything you need to know about getting the HD Streamz app on Firestick using the Downloader app. It contains more than the usual spread of categories from countries like the US, Pakistan, India, France, UK and more. The only downside is the limit on On-Demand content, but rest assured is up to mark.