In the vast ocean of VPN services, navigating through detailed reviews becomes essential for making an informed choice. With numerous providers boasting about impressive speeds and military-grade encryption, it's crucial to separate fact from fiction. Get ready to dive deep into the realm of Surfshark as we unravel its intricacies, revealing whether it truly is the ultimate VPN solution. In This Surfshark review allows you to understand the service's pros, cons, pricing, and features.
Verdict! Surfshark is the ultimate VPN choice. With lightning-fast speeds, unlimited simultaneous connections, and a strict no-logs policy, it ensures your online activities remain private and secure. Its unique CleanWeb feature blocks ads and malware, while its MultiHop feature adds an extra layer of encryption. Plus, it unblocked some of the best streaming apps that are usually restricted. The apps are easy to use and simpler to download too.
We know you need more information before making an informed decision, so we went through all of Surfshark's features for you. In this review, we dissected Surfshark's servers, security protocols, ad blocks, pricing, and customer support. We thoroughly researched, tested, and tried everything, so you wouldn't have to. So let's get right into it!
Surfshark Key Findings for 2023
These are my instant key findings for Surfshark review 2023:
Pros:
Unblocks all the major streaming sites: Netflix, Disney+, Amazon Prime Video, and more

The number of available servers:

3200+ servers in 100 countries

Moneyback Guarantee: Offers a

30-day moneyback guarantee

A Manual WireGuard connection is available 

24/7 support via

email

and

live chat

Unlimited simultaneous connections are available

Ad tracker and malware blocking are available
Cons:
 Monthly plans are costly 

Split tunneling is not available on iOS

Netherlands-based jurisdiction with potential government data-sharing obligations.
Surfshark VPN – An Overview 
Surfshark has carved its place as a leading VPN provider by delivering impressive speeds, unlimited connections, a user-friendly Windows app, and an extensive server network. Additionally, Surfshark offers convenient privacy features, enhancing its appeal with no buffering issues and remarkable access to over 30+ Netflix libraries, among other streaming apps. With all these remarkable offerings bundled into an affordable package, Surfshark emerges as a compelling choice, providing excellent value for a wide range of users in need of a VPN solution.
Surfshark – Features and Capabilities 
Surfshark shines as a highly secure VPN service provider, prioritizing user safety. With an audited no-logs policy in place, Surfshark ensures that your data remains completely private. You have the flexibility to choose your preferred encryption standard and benefit from the safest tunneling protocols available, namely OpenVPN and WireGuard.
When it comes to safeguarding your personal information, Surfshark takes no chances. The service only requires your email to create an account, and it employs advanced hash functions to secure your passwords, rendering them virtually impossible to crack.
Let's delve into some key features that establish Surfshark as a secure VPN option:
Encryption

Tunneling protocols

MultiHop

Search

DNS leak protection

Nexus

Kill switch

RAM-only servers

Audits

Camouflage mode
Surfshark – Privacy & Security 
Surfshark takes data encryption seriously by utilizing the robust AES (Advanced Encryption Standard) with 256-bit keys (AES-256). This ensures that your data remains encrypted and well-protected, minimizing the risk of any leaks or unauthorized access.
For enhanced security, Surfshark offers the Search feature as part of Surfshark One, available for an additional cost. This feature not only blocks ads and malware but also provides protection against phishing attempts. Furthermore, Surfshark One (a comprehensive package) includes a valuable personal data breach alert feature and an antivirus to safeguard your devices from malware threats.
Additionally, Surfshark goes the extra mile to prioritize your data security by employing strong encryption measures, offering ad and malware blocking capabilities, proactive alerts for personal data breaches, and antivirus protection to create a safe online environment.
Surfshark Top Features Review 
Let's talk about the features that Surfshark offers, starting with:
1. Multihop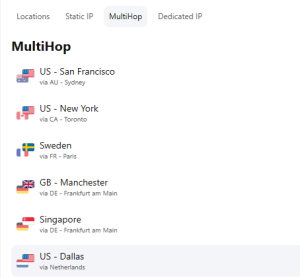 Surfshark introduces a unique feature that enables users to connect to two distinct VPN servers simultaneously. Typically, this entails connecting to servers located in different countries. The primary advantage of this functionality is the ability to enhance security by effectively concealing your real location. By leveraging this feature, Surfshark suggests that users may also experience potential improvements in internet speeds, offering an additional benefit alongside heightened privacy and security measures.
Example: I connected to Surfshark's MultiHop server, which sends traffic through Canada – Toronto, to connect to a US New York server. I visited both locations remotely.
This hides your physical IP address when switching virtual locales. Users can choose from several options when Surfshark is launched.
2. Split Tunneling 
Surfshark provides a user-friendly split tunneling feature known as Bypasser, which simplifies the process of accessing specific websites that typically block VPN connections. Unlike other VPN providers, Surfshark streamlines the usage of this feature, eliminating the need for constant VPN connect and disconnect cycles.
With Bypasser, you gain the flexibility to direct certain internet traffic through your regular internet provider while routing the rest through the VPN. This means you can seamlessly access websites or devices that necessitate direct internet access without the hassle of repeatedly toggling your VPN connection on and off. Surfshark's Bypasser feature offers a convenient solution that enhances your browsing experience and provides greater control over your online activities.
3. Kill Switch 
To ensure your privacy remains intact even if your VPN connection unexpectedly drops, Surfshark, like many other VPNs, incorporates a Kill Switch feature. The Kill Switch acts as a safeguard by automatically disabling your internet connection in such situations. By doing so, it prevents any potential exposure of your sensitive information, offering an additional layer of protection and peace of mind.
4. Dedicated IP 
A dedicated IP allows users to access the internet using a unique IP address for enhanced internet security. The best thing is that Surfshark does offer it in locations: the United States — Los Angeles, the United Kingdom — London, the Netherlands — Amsterdam, and Germany — Frankfurt. You can easily create your account and buy one. 
5. Anonymous Browsing Feature 
Surfshark VPN employs advanced techniques to conceal your real address and operates in a mode referred to as "camouflage mode," ensuring that your ISP is unaware of your VPN usage. With a strong commitment to privacy, Surfshark does not retain any activity logs, including details of your browsing history and DNS queries. By implementing these measures, Surfshark prioritizes anonymity and safeguards online activities.
6. Leak Protection 
Surfshark takes immediate action to protect against DNS, IP, and WebRTC leaks as soon as you connect to any of its servers. This ensures that all requests originating from your device are blocked, preventing potential leaks. Furthermore, Surfshark owns and operates its own DNS servers, ensuring no activity or connection logs are recorded and eliminating third-party interference. With end-to-end encryption applied to all your traffic, Surfshark guarantees the privacy and security of your online activities.
While these leaks can occur due to various reasons, such as improper manual VPN configuration, the consequences remain consistent. Without proper protection, your online traffic becomes susceptible to tracking by third parties, including your ISP, thereby exposing your browsing activity. By addressing this vulnerability, Surfshark mitigates the risks associated with IP, DNS, and webRTC leaks, preserving your online privacy and enhancing your overall security. 
Just to be sure, we put this to the test to see if there were any DNS, IP, and webRTC leaks while connected to the USA Dallas server. Here are the results:
IP leak test:
WebRTC leak test: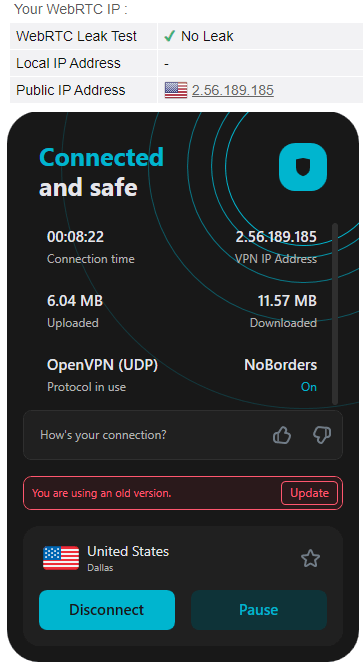 DNS leak test: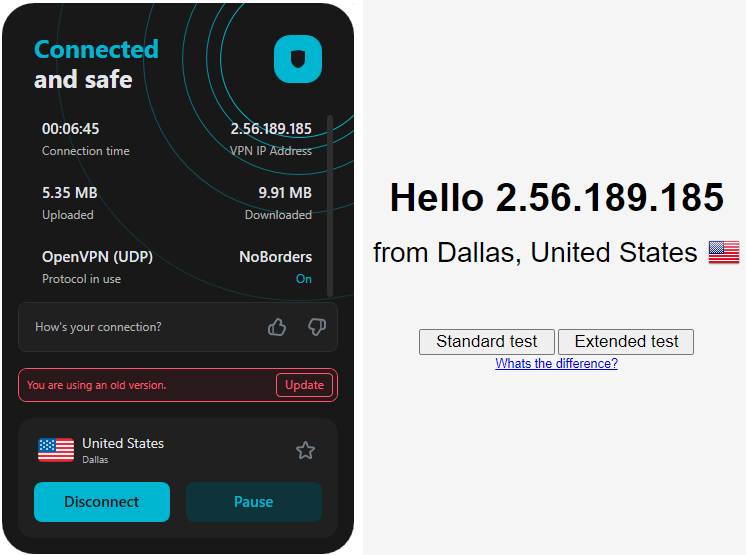 7. Nexus 
Surfshark introduces Nexus, its latest security feature that leverages Software Defined Networking (SDN) to seamlessly connect its VPN servers into a unified network. With Nexus technology, user traffic is routed through an extensive network of servers, expanding beyond a single VPN encryption tunnel.
Nexus offers more than just traffic concealment; it enhances overall performance stability and can potentially improve VPN connection speeds. By utilizing this innovative feature, Surfshark ensures that users not only benefit from increased privacy but also enjoy a more reliable and optimized VPN experience.
8. NoBorders 
NoBorders is a technology that circumvents internet censorship and restrictions by providing users with the freedom to access worldwide content. You'll get what the feature name says. NoBorders refers to the absence of limitations or restrictions in any country with regard to VPN connectivity. This Surfshark feature is designed to be activated exclusively in countries or regions with high levels of censorship. Countries that implement restrictions on unrestricted network access, such as China and Russia.
Surfshark Pricing Review for 2023 
Surfshark offers flexible subscription options for its VPN service, including month-to-month and one-year plans. Additionally, there is an enticing introductory BOGO (Buy One Get One) deal, which grants users two years of service for the price of one, along with an additional bonus month. It's important to note that the BOGO offer will automatically renew at the annual rate.
To accommodate diverse preferences, Surfshark accepts various payment methods, including credit cards, PayPal,  Amazon Pay, Google Pay, and cryptocurrencies. Check out the mentioned table below to see Surfshark's latest pricing. 
| | |
| --- | --- |
| Surfshark Subscription Plans | Pricing Options |
| Monthly  | $15.45 |
| Annual  | $3.99/mo billed at $59.76 thereafter. |
| 2-Years + two free bonus months  | $2.30/mo. billed at $59.76 for 26 months, then USD $59.76 annually  |
Surfshark Compatibility with Devices
Surfshark sets itself apart by offering the convenience of unlimited simultaneous device connections, allowing you to connect an unlimited number of devices simultaneously without any restrictions. Fortunately, this is a notable advantage compared to the typical limit of five to seven devices imposed by most other VPN providers.
Surfshark is designed to work seamlessly across a wide range of hardware and software platforms, including:
Desktops and laptops:

Surfshark is compatible with popular operating systems such as Windows, macOS, and Linux.

Smartphones and tablets:

Surfshark supports both Android and iOS devices, ensuring protection for your mobile browsing. You can also use it on

Firestick

,

Kodi

, and

Roku

.

Routers:

Certain routers can be configured with Surfshark to provide VPN protection for all devices connected to the router.

Streaming devices:

Surfshark is compatible with streaming devices like LG TV, Apple TV, and Android TV, enabling secure access to your favorite streaming platforms.

Gaming consoles

: Surfshark extends its compatibility to gaming consoles such as PlayStation, Nintendo Switch, and Xbox, allowing you to enjoy gaming with enhanced privacy and security.

Browser extension:

Surfshark offers a dedicated browser extension for Chrome, providing a streamlined VPN experience directly within your browser.
Besides its extensive device compatibility and user-friendly features, Surfshark ensures that you can protect your online activities and enjoy a secure browsing experience across a wide range of devices and platforms.
Surfshark Security Protocols Review 

WireGuard®
WireGuard® is a lightweight protocol. Moreover, with its compact codebase of 4,000 lines, exhibits enhanced resilience against security vulnerabilities due to its streamlined manageability and scalability. The low mass construction facilitates rapid data transmission while maintaining robust security measures.
IKEv2
IKEv2, also known as Internet Key Exchange version 2, is a protocol that offers efficient and robust security measures. The system has undergone multiple iterations of enhancement. IKEv2, also known as Internet Key Exchange version 2, is widely favored by mobile users because of its high performance and seamless network switching capabilities.
OpenVPN
OpenVPN is a software application developed and released as an open-source project. This implies that it has undergone scrutiny and validation by security experts on a global scale. OpenVPN is comparatively larger in size when compared to WireGuard® and IKEv2 protocols. However, it is widely supported by a majority of routers.
Surfshark Review for Speed Test 
When it comes to streaming or playing games it is very much necessary to keep an eye on the server speed. Therefore, being interested in both, I tested most of the servers of Surfshark to ensure its performance. here are some of the quick speed test snaps I performed.
US Server Chicago Speed Test

Surfshark Indian Server Speed Test

Surfshark London, UK Server Speed Test

Reviewing these Speed tests, I discovered some of the best Surfshark servers that are based in the US. As you can see, the speeds of different servers from India, the US, and the UK and the best speeds were served by the US and UK servers. Moreover, while playing games online, I also came to know that these servers assisted me in having low latency and no buffering or lagging issues while gaming with my friends in other countries.
This significant speed boost of over 100Mbps demonstrates the dedication of Surfshark's developers to continuously enhance and future-proof their service, particularly as gigabit connections become more widespread worldwide.
While the speeds achieved using OpenVPN were not as remarkable, reaching a maximum of 160Mbps, it still provides more than enough speed for the average user. However, it falls short compared to the 400Mbps+ speeds observed with other providers.
But does this speed difference really matter? For the majority of users, not at all. WireGuard has become the standard protocol for VPNs, and Surfshark uses it as the default option. Moreover, this means that nearly every user will be connecting with WireGuard, benefiting from its excellent speed and performance.
Overall, there's no need to worry about speed when using Surfshark VPN. It can easily keep up with the fastest internet connections available, ensuring a seamless browsing experience for users around the globe.
Surfshark Device Compatibility Review
One notable advantage of investing in Surfshark is its extensive device compatibility.
Until recently, Surfshark only supported a small number of devices, but now it's available for most of the popular models. Having extensive compatibility with a wide range of devices and applications is not the sole advantage. It enables concurrent connections to an unlimited number of devices.
Let us examine the types of devices that are compatible with Surfshark:
| | |
| --- | --- |
| Windows | Routers |
| macOS | Kodi |
| Linux | Chrome |
| Android | Apple TV |
| iOS | FireStick |
| Xbox | And many more… |
| PlayStation | |
Surfshark VPN for Gaming- Performance Review 
Surfshark is a fast and reliable option for gaming on local servers, offering seamless gameplay with minimal load times and lag. By utilizing the "Fastest server" feature, I could enjoy gaming with excellent speeds that rival my base internet connection. However, I encountered significant delays and latency issues when attempting to connect to distant servers like those in Australia.
For a smooth online gaming experience, it is recommended to have download speeds of 15+ Mbps, upload speeds of at least 1 Mbps, and the lowest possible ping. Latency exceeding 100 ms can introduce substantial lag, making fast-paced gameplay nearly impossible.
To put Surfshark to the test, I initiated my gaming session by utilizing the "Fastest server" feature, which connected me to a server in the UK. Within a matter of seconds, I loaded Team Fortress 2 on Steam and joined a match without any interruptions or slowdowns. Encouraged by the positive experience, I then connected to a server in the Netherlands, yielding similar results.
However, when I decided to test Surfshark's performance on long-distance servers, such as the one in New York, I experienced a slight slowdown in loading times, taking approximately 2 minutes. Fortunately, I did not encounter any noticeable lag during gameplay. Conversely, when connected to servers on the West Coast, such as Los Angeles and San Francisco, I did experience more significant slowdowns. It took me longer to react to attacks and find cover, impacting my ability to respond swiftly to the opposing team's shots.
Surfshark's GPS Spoofing on Android 
To address the concern of personal information privacy on mobile devices, Surfshark goes beyond the standard VPN protection. It offers a unique GPS spoofing feature that tackles the use of GPS to track your location by certain sites and apps. Therefore, by connecting to a Surfshark VPN server, this feature makes it appear as if you are physically located in the same place as the server, masking both your IP address and GPS coordinates. This ensures that no intrusive apps can track your whereabouts for marketing or other purposes.
Is Surfshark a Good Torrenting VPN?
While torrenting is not the primary focus of Surfshark, it does support P2P connections on most of its servers. In addition, this allows users to engage in torrenting activities while benefiting from the platform's features. Therefore, for enhanced anonymity, Surfshark also accepts payments in cryptocurrencies such as Bitcoin.
Overall, Surfshark can be used for torrenting purposes, providing satisfactory performance. However, other VPN providers with more extensive torrenting-specific features better meet the needs of dedicated torrents.
What are the Latest Updates and Features on Surfshark?
Surfshark is widely regarded as a top-tier VPN, positioning it as one of the leading providers in the industry. Since the previous year, significant updates have been implemented, such as the integration of the WireGuard protocol, the expansion of server infrastructure, and the addition of advanced security functionalities.
Support for the Apple M1 chip
Surfshark has achieved complete compatibility with the Apple M1 chip, providing advantageous prospects for macOS users. For individuals who possess Apple's latest iteration of MacBook or iMac, it is unnecessary to utilize Surfshark VPN due to built-in features.
What is the mechanism by which it provides assistance?
It provides enhanced battery longevity
Improves or maintains processing speed.
Enhances network connectivity for macOS devices running newer software iterations.
Surfshark consistently demonstrates exceptional performance and has recently achieved compatibility with the Apple M1 chip, positioning it as one of the leading VPNs.
Surfshark Review – Final Verdict 
In our assessment, Surfshark VPN offers a solid and reliable service with several noteworthy features. It provides good speeds, unlimited simultaneous connections, and a user-friendly interface across various devices and platforms. The company's commitment to privacy is evident through its strict no-logs policy and strong encryption protocols. Additionally, features like CleanWeb, GPS spoofing, and split tunneling add extra value to the service.
Moreover, while Surfshark performs well in most areas, there may be some limitations for long-distance gaming and slower speeds when using OpenVPN compared to other protocols. However, these factors are often outweighed by the VPN's overall performance and security.