Hey Firestick users! I have come with another guide on how to clear cache on Firestick. I will show you some simple and pretty decent tricks to improve your Firestick performance.
One of the major causes of disruptive and slow Firestick performance is corrupted cache.
Hence, this blog is my little effort to guide readers to improve Firestick performance and learn how to clear cache on Firestick.
Furthermore, I will outline methods to clear Firestick cache that you can almost always use on any Firestick device, including Firestick Lite, Fire TV Cube, Firestick 4K, Firestick 2nd Gen, and other Fire TV devices.
What problems can you face when you don't clear cache on Firestick?
Device gets slower
Storage problems
Receive error messages for certain apps
Lag issues
App crashes.
Get VPN Now
What is a Firestick Cache?
Firestick is a media streaming device that lets you install apps for streaming content.
You can install apps for streaming movies, listening to music, and watching your favorite sports events.
When you install apps on Firestick, each app comes with a set of temporary files. These temporary files help the installed app to function accordingly.
The temporary files of each app installed on your Firestick device are called cache or cache files.
Some cache files delete themselves once the app is closed. However, some cache files accumulate with time and eat up your device storage.
Why Do You Need to Clear Cache on Firestick?
Like I mentioned above, every app that you install on a Firestick device comes with temporary cache files. These cache files accumulate on your device and occupy a substantial device space, resulting in slow device performance.
You may also experience various buffering issues and app crashes. The best way to resolve buffering and low-speed performance is to clear cache on Firestick or Fire TV.
In case clearing cache on Firestick is not enough to resolve your issues, you may also consider clearing app data, clearing cookies, or resetting the Firestick device to its factory settings.
How to clear cache on Firestick?
Now, I will show you some important instructions to clear cache on Firestick and Fire TV. Following these steps, you will also know about the cache size of any specific Firestick app.
Moreover, if you want to clear cache for certain apps, you cannot use any third-party app for the removal of cache. Only an app itself can remove its cache.
Here's how to clear the cache on Firestick and other Fire TV devices:
Open your Firestick Home screen, select Settings from the top menu.
In the Setting menu, select Applications.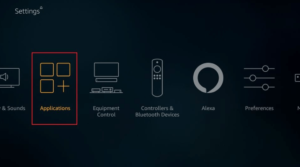 Select Manage Installed Applications.
You will see a list of the installed apps; pick one app whose cache you want to clear. You will also see the cache size of the same app on the right side.
Now, click Clear cache on the next window.
You can now check the app cache size. If it is zero, you have successfully cleared cache for the app.
Head back, select another app and click clear cache again.
Which App Has the Largest Cache Size?
It is noticed that usually screensaver apps accumulate and consume a large device space. It is highly recommended to frequently clear cache of the screensaver app.
What to Do If My Firestick Is Running Slow After Clearing the Apps Cache?
Clearing apps cache is a basic troubleshooting step to keep the device running smoothly.
If clearing apps cache is not enough to boost your device performance, you should try some other options.
Firstly, ensure using the most up-to-date version of Firestick OS. Also, keep updating all the apps that you've installed on your device.
Moreover, delete apps and content that you don't frequently use. Unlimited apps will eat up the storage and will reduce the performance efficiency of your device.
You can also reset your Firestick device to its factory reset settings, but it will delete everything off your Firestick. However, resetting Firestick to factory reset is one of the best ways to fix device speed and performance issues.
Wrapping Up
If you want your device to keep working smoothly, it's essential to clear cache on Firestick. You can follow our outlined steps to manage device performance and storage management. Also, get the most out of your Firestick experience by connecting to a VPN to stream without restrictions.