Disney Plus is no doubt one of the best, but it would be even better when paired with Roku! This guide will show you how to watch Disney Plus on Roku using a VPN in 2022. Plus, with a VPN, you'd be able to access the service from any country around the world!
Table of Contents
Roku is a hardware device that enables users to stream media on their TV. If you decide to go for Roku, there is an option, whether to opt for a Roku TV with built-in Roku technology or you have a Roku player that will turn any simple TV into a smart TV.
If you already have a TV, then it would be a wise decision to go for a Roku player. It is a compact cord-cutter streaming device that was developed back in 2008.
The Roku hardware device connects with your TV using an HDMI cable. This streaming platform provides a dead-simple way to watch numerous services like Netflix, YouTube, Amazon Prime Video, and much more.
Among these services, Roku is currently one of the best to get access to Disney Plus, it being one of the most popular streaming services now days. In this guide we'll show you how to watch Disney Plus on Roku, and how to get it in a country where it's geo-restricted, with the help of the best VPN.
Quick Guide – How to Install Disney Plus on Roku
If Disney Plus is available in your country, here's a quick guide showing you how to install and watch it on Roku:
Start your Roku device by pressing on the home button.
Click on "Streaming Channels" from the list and then click on "OK."
Next, in the search box, type "Disney Plus."
Click on "Disney Plus" from the list to add the channel.
Wait for the app to download, and then click on "Go to Channel."
Either sign in to your Disney Plus account or sign up for the service.
That's all! You can now watch unlimited streaming content with Disney Plus on Roku.
The Disney Plus app will open on your TV, allowing you to binge on your favorite Pixar animations or classic movies. If, however, Disney Plus is not available where you're located, you can use the best Roku VPN and one that also works with Disney Plus. This way you'll be able to unblock Disney Plus on your Roku devices.
We'll get to that tutorial futher down this guide, but first, take a look at the best Roku VPNs you can use, mentioned on our list below.
Roundup of the Best VPNs to Watch Disney Plus on Roku
Disney Plus, even though is easily available on most Roku devices, comes with setbacks. This happens when you live in a country where Disney Plus is geo-resricted. To circumvent around this block, you will need the best VPN to change your IP address; preferably to a US one. Here are the top 5 providers that are currenlty the most reliable:
Surfshark is one of the more user-friendly VPNs that caters to online privacy, access to geo-restricted streaming services like Disney+ and offers fast speeds. It offers around 3200+ servers in 65 countries, all of which are optimized to access international streaming services. The server coverage in the US is plenty enough to get to access to Disney Plus on Roku. Additionally, Surfshark allows its users unlimited device connections on every subscription, and comes with a 30-day money-back guarantee. You can use this refund period to sign up and test Disney+ on Roku.
NordVPN is known for its security features and its ability to unblock Disney Plus among other streaming services. Among its list of 5400+ servers in 60 countries, around 1970+ servers are located in the US. You can connect to any one of those to watch Disney Plus on Roku in any country that falls under the geo-restricted issue. NordVPN is compatible with most Roku devices, and even offers a SmartPlay DNS proxy. You can either use the proxy or the VPN on your router to extend the connection to your Roku devices. Need to test the VPN? NordVPN comes with a 30-day money-back guarantee that you can use instead.
With over 3000+ servers in 94 countries, ExpressVPN is currently the best VPN to unblock selective streaming services from anywhere in the world. The perks also lies in its speed results; ExpressVPN brings on some of the best streaming speeds to avoid the backlash of buffering issues. This means you will be able to unblock Disney Plus on Roku from anywhere in the world, and with fast speeds. Sure, the provider is slightly on the expensive side, but it has a lot to offer. You could always test the VPN using its 30-day money-back guarantee.

If you're looking for a VPN that supports Roku and Disney Plus, and one that is currently the most affordable, FastestVPN is the best choice. It offers around 550+ servers in 40+ locations, all of which you can use to unblock most streaming services. We tested the US servers and were able to unblock Disney Plus, and other Roku channels. There is no free trial but you can use its 15-day money-back guarantee to test the VPN risk-free.

Last on the list, we have CyberGhost. It's not just user-friendly, but capable to unblock a large number of streaming services. Within its 7000+ servers in 91 countries, around 1317 of them are in the US. You can connect to any of them to unblock and wtach Disney Plus on Roku. Plus, CyberGhost is big for online privacy. You can secure your connection and remain anonymous with its encryption and protocols. Test CyberGhost with Disney Plus on Roku during its 1-day free trial for Windows or jump into its 45-day money-back guarantee.

How do you Watch Disney Plus on Roku Outside the US?
Since a VPN app cannot be directly installed on Roku, you will need other ways to create a connection. To do that, you can insall the VPN on your router, use a Smart DNS proxy, or install the VPN on your laptop to create a hotspot.
For the tutorial below, we'll be using Surfshark, since it comes the most highly recommended. Here's how to ue a VPN to watch Disney Plus on Roku:
Create your Surfshark account by signing up for the service.
Add the Surfshark VPN connection to Roku via router or by setting up a virtual router connection.
Connect to the VPN and choose a US server.
Now, create a US Roku account. (Tutorial highlighted below)
Select a US location and add a US Zip Code. (you can easily look them up)
Once created, head to the Roku home screen.
Click on "Streaming Channels" > "OK"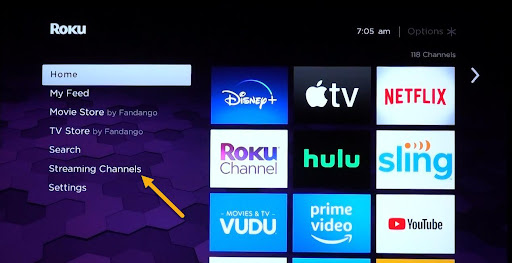 Search for "Disney Plus" by typing it in the "Search Channels" box.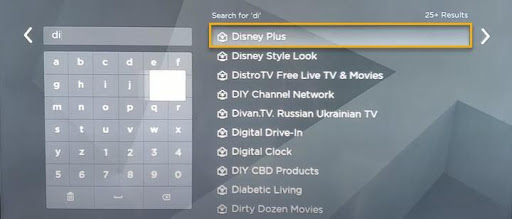 Click on Disney Plus channel to add the app to your Roku.
Now, click on "Go to Channel" and sign up for a Disney Plus account, if you don't already have one.
Watch Disney Plus on Roku outside the US with the best VPN for it.
How to Create a US Roku Account to Watch Disney Plus
If you don't have a US Roku account because of the country you live in, here's what you can do:
Establish a VPN connection to your Roku device.
Connect to a US server.
Now, head to https://my.roku.com/signup to create your account.
Fill in all the necessary details like your name, email, password etc. and click on "Continue."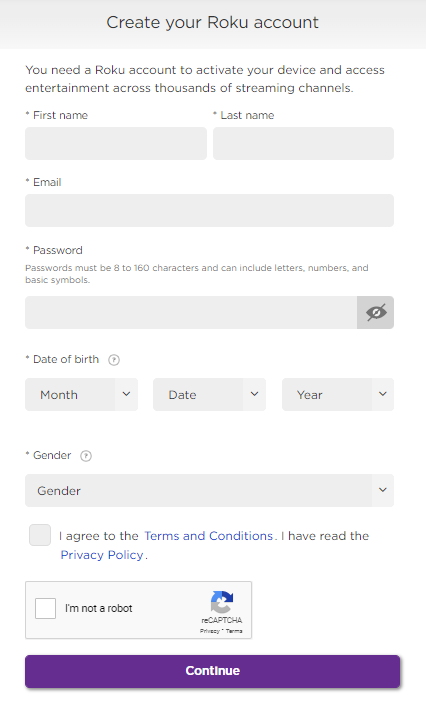 Select a pin option. This allows you to maintain security on your Roku account, just in case anyone tries and hacks it, to make purchases against your will. Click on "Continue" to proceed.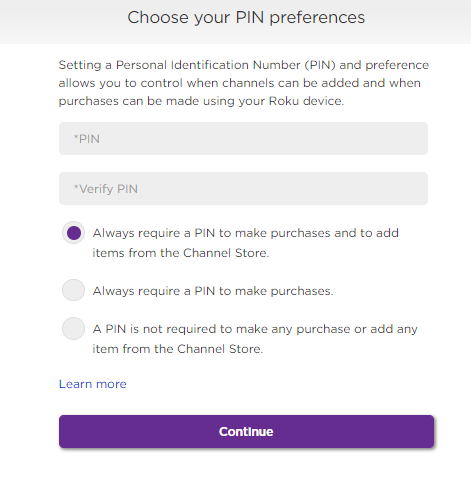 Now, make your payments. If you already have a US credit card issued, you can proceed to pay with it. However, if you're outside the US and don't have a US credit card, you can choose the PayPal option. The location of your PayPal account won't interfere with your Roku account. For this, enter a valid US Zip code and address; you can Google it or use a Zip code generator.
Click on "Save and continue."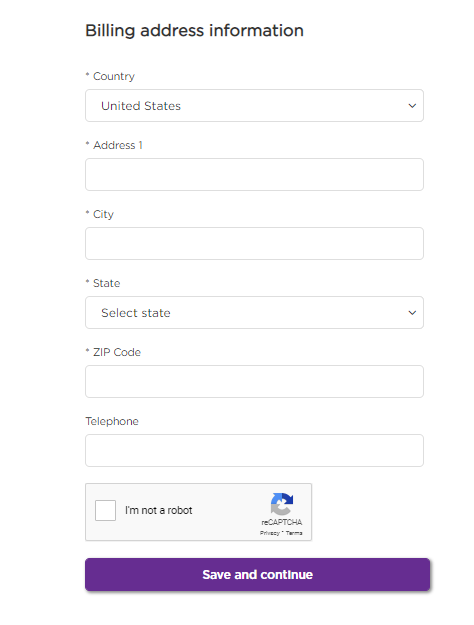 That's all! You've now created your US Roku account.
Don't have a Disney Plus account? Take a look at the tutorial below.
How to Sign Up for Disney Plus
Thankfully signing up for Disney Plus in or outside the US is easier than you think. If you've already downloaded and installed the Disney Plus app on Roku with our guide above, follow the steps below on how to sign up for a Disney Plus account:
Go to disneyplus.com and click on either "GET THE DISNEY BUNDLE" or "Sign up for Disney+ only."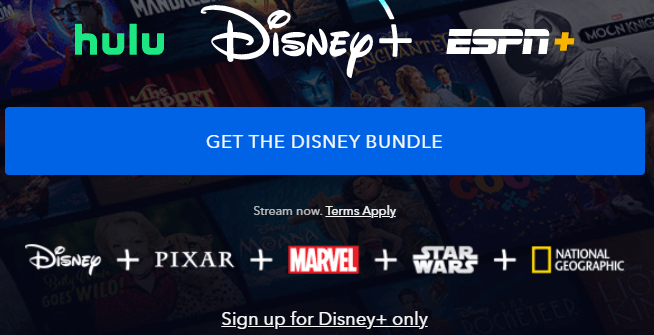 Enter your email address and click on "AGREE & CONTINUE."
Create a password and click on "CONTINUE."
Choose your payment method and then click on "AGREE & SUBSCRIBE."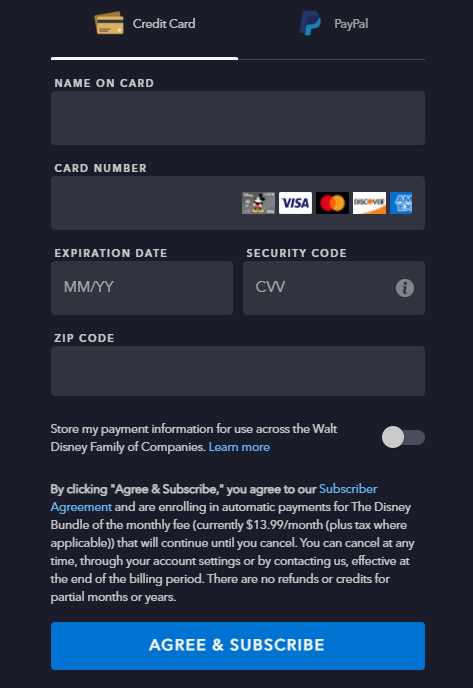 You've now created your Disney Plus account and will be able to sign in and watch Disney Plus on Roku.
If you're living outside the US, simply connect to a US server on the VPN you went with and continue with all the steps on top. If Disney Plus is not working on Roku or in general, there are a number of things you can fix instead of just using a VPN.
Disney+ Pricing
Although the Disney+ app is free to download across all platforms, to watch it, you need to invest in its subscription. There are two options either you pick the Disney+ only or the GET THE DISNEY BUNDLE
Disney+ only: The plan only provides access to Disney content and costs you $7.99/month or $79.99/year.
The Disney Plus Bundle includes Disney+, Hulu (Ad-supported), and ESPN+ within just a single subscription. The package is priced at $13.99/mo. There is also the option to buy a Disney Plus bundle with the No-Ads version of Hulu, costing $19.99/month.
Disney has also announced that it will offer an ad-supported version late in 2022, which is expected to be even cheaper than its existing plan.
Disney Plus compatible Roku devices
You want to watch Disney plus on Roku? Before that happens, you need to make sure whether it is supported on your device. Yes, unfortunately, Disney plus is not available on all the Roku devices.
Disney Plus can be streamed on the following Roku devices:
Roku Express
Roku Express+
Roku 1
Roku 2
Roku 3
Roku 4
Roku LT (2700X)
4K Roku Premiere
4K Roku Premiere+
4K Roku Ultra
4K Roku Ultra LT
Roku Streaming Stick
4K Roku Streaming Stick+
4K Roku Smart Speaker
Roku TV
Can I stream 4K on Roku Devices?
Yes,  you can since Disney Plus supports 4K streaming, and on ROku devices that allow 4K quality. However, you will not be able to stream 4K if your Roku device does not support it. The good news is that most of the Roku devices support 4K streams. Some of them include: Roku Ultra, Roku 4, Roku Premiere and Premiere+.
To find out if your Roku device supports 4K HDR, it should be mentioned on the package or even on the TV. You could alternatively Google up the model to get more information on it.
Frequently Asked Questions
Can I get Disney Plus on Roku?
Yes, you can get Disney Plus on a variety of Roku TV models, but it's sadly not available for older models. To get Disney Plus on your Roku TV, you can get the app from the Roku channel store, or on your Home Screen in the "Movies & TV" category under "Streaming Channels."
Why can't I find Disney Plus on my Roku?
Even though Disney Plus might be available in your country, there is high chance that the Roku app is geo-restricted there. The Roku app is only available in a few countries.
Can I get Disney Plus on Roku for free?
No, Disney Plus is a paid subscription service. It means that you can't watch it for free on Roku TV. However, you will be able to download and install the Disney Plus app on your Roku for free. And, with FastestVPN, you'll be able to unblock the service on your Roku from countries that obstruct access to it.
Why is Disney Plus not working on Roku?
There are a number of reasons why Disney Plus is not working on Roku, however, you can easily fix that. First, you can reset your Roku TV, or unplug the Roku device and TV and replug it again after a while. The issue could always be the Disney Plus servers, so check to see whether they're down or reinstall the Disney+ app. Lastly, check to see if your internet is working.
How do I add Disney Plus to Roku?
It's pretty simple. You first get your Roku device started, and head to the home screen. Next, click on "Streaming Channels," and then on "OK." Now look for "Search Channels" and enter "Disney+." Select the app and add the channel to start the download. When Disney+ is added, click on "Go to Channel" and then sign in to your account.
Is my Roku device too old for Disney Plus?
We know that Roku does not support older models, and only is compatible with models 2012 and onwards. If your Roku device is 2011 and earlier, your Roku is too old for Disney Plus. You can, however, upgrade your old Roku model and then access Disney Plus.
Is there a monthly fee for Roku?
You can grab a Roku streaming player for just $29.99. It is a one-time cost for the device. The company also owns a channel that is available to stream after free registration. The Roku streaming channel is home to movies, sports, news, and shows.
Conclusion
Whenever I hear the word Disney, I start thinking about animated movies. However, with the subscription of Disney Plus, the company enables the users to enjoy quality home theater. Whether you are a fan of Marvel or Disney-developed movies, Disney plus can push away the boredom from you.
I like the Disney Plus bundle that comprises Hulu, ESPN+, and Disney+ so that whenever I want to enjoy a movie or more, I don't need to buy any other subscription separately. I hope our guide on how to watch Disney Plus on Roku helped; if not let us know in the comments below.