Looking for the best comedy movies on Hulu? Look no further!
Nothing screams a great Friday night like a good comedy movie marathon! It's one of the greatest genres in the entertainment world, especially when the whole family is together! Hulu is one of the top streaming services at the moment that offers some of the best comedy shows and movies you can get your hands on!
Can't decide which movie to go with first? We've got you covered! Our team of movie enthusiasts have put together a list of the absolute best comedy movies on Hulu that will make you a whole lot lighter!
The movies were also selected on some of the best hits dating right back in late 1990's till date. They're a mixture of dark comedy, with a hint of romance, dark comedy, drama, action and thriller all in one! Ready to get started?
Short on time? The best comedy movies on Hulu are:
Get VPN Now
Can't access Hulu?
The top 15 best comedy movies on Hulu, some of which are originals, are bound to leave you satisfied. Some of the best movies are often old ones, and the list above is proof of its versatility. However, Hulu is only available in the US, and a few countries around the world. If, however, you are located in a country that restricts access to Hulu, we recommend using ExpressVPN for it. There are quite a few, but if we had to recommend one, it would have to be ExpressVPN.
With the help of ExpressVPN, you can flawlessly unblock and watch Hulu in geo-restricted countries, such as Canada, Ireland, New Zealand, South Africa, and India. Additionally, ExpressVPN being the best US VPN enables you to unblock other streaming services too like Disney Plus, Netflix, Amazon Prime, HBO Max, etc.
How to unblock Hulu with a VPN
Subscribe and sign up with ExpressVPN.
Download and install the VPN app on your streaming device.
Launch the VPN, and sign in to your account.
Connect to a US server.
Open up the Hulu app or website to sign up for the service.
Start streaming the best comedy movies on Hulu!
15 of the best comedy movies on Hulu
These are just a few of the best comedy movies on Hulu by popular opinion and personal preference. You could however look up other great watches! The best comedy movies on Hulu right now are:
Band Aid (2017)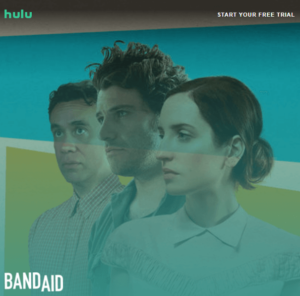 In no particular ranking, we have our first Hulu romantic comedy, Band aid. It's a bitter-sweet movie about a couple who has marital issues, who soon embark on a last attempt to heal their marriage. This movie is perfect for all those who love a little extra music, since the playing couple transforms each fight into a song, ultimately forming a band. What's also beautiful about the film is that it featured a majority of females in the crew, which we all know is hardly noticeable in today's world.
Bad Teacher (2011)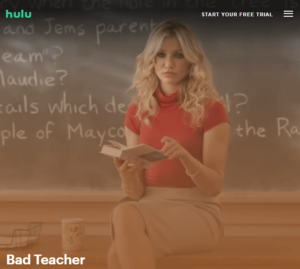 Playing the role of Elizabeth Halsey, we have the beautiful and most talented Cameron Diaz who never fails to grasp the audience. She plays the role of a bad, foul-mouthed teacher, who often slips out a sexual innuendo or two, heaped with a bizarre outlook on life. As all good movies are expected to have a happy ending, this one does too, with hints of comedy splattered all across the movie. We must also bring to light the role of Amy Squirrel, played by the comedic actress Lucy Punch who never disappoints! Watch it to know why it's currently one of the best comedy movies on Hulu!
Big Time Adolescence (2019)
Coming to a Hulu original, we have a coming of age movie, featuring a little bit of drama that is bound to grab the attention of teens and millennials. It's about a suburban teenager, who is under the guidance of his older best friend and college-dropout – played by Pete Davidson, who by the way is starring in his second coming-of-age story. It may seem like the typical college party drama, but the storyline allows every adolescent the chance to figure things out when the time is right; rather than forced on.
Bill & Ted Face the Music (2020)
Who doesn't love a good Keanu Reeves movie? Starring beside Alex Winter, playing the role of Bill & Ted, the movie highlights a whole lot of rock and roll. Mixed with time travel and the destiny to save mankind with their song, this movie might only appeal to a few. It kind of reminded me of the movie "dude where's my car" if I'm being honest. Amidst the fight to save mankind with song, they were also helped by their daughters, who follow their footsteps. How will their song defeat evil and save the world? Watch the movie to find out!
Blast from the Past (1999)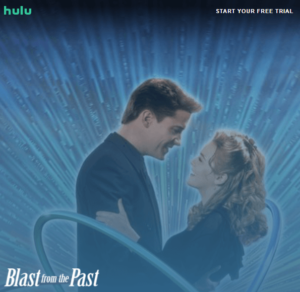 Stuck in time and in the 60s, we have Brendan Fraser playing a goofy man-child, who grew up in an underground shelter, seeing the light of day for the first time in years. It's a big leap from his debut in "The Mummy" sagas, so, not sure how everyone will take the acting. The movie is a sweet mellow-dramatic comedy, where Adam Webber (Brendan Fraser) knows not much about life other than what he picked up from old-timey television. The movie ultimately turns into a romantic comedy where he meets the girl he always wished for.
Bookmart (2019)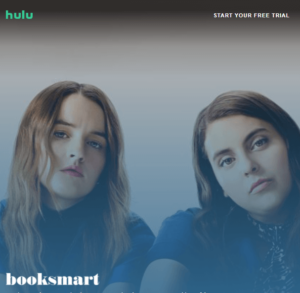 Booksmart is a personal favorite, if you love cliche chick-flicks! It's for all the booksmart youth who managed to marry the books and miss out on so much more in life. The movie is about two teenage top-rankers, who on their last day before graduation set a goal to cram in 4 years worth of partying in one night and finally get even with their peers. Perfect for a Friday girls or boys night in! Get on the jammies, grab the popcorn and hit play!
Get VPN Now
Caddyshack (1980)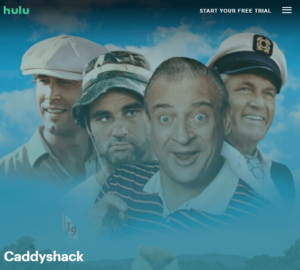 If you're in for some good old-timey American comedies, then Caddyshack is right up your alley, especially with the 4 strong characters starring. Anyone who knows Chevy Chase, Bill Muray, Rodney Dangerfield, and Ted Knight, knows that the movie is definitely going to be full of a different nostalgic kind of laughter. Golf, sporting rivalries, money, and a whole lot of crazy is what you should be expecting!
Don't Think Twice (2016)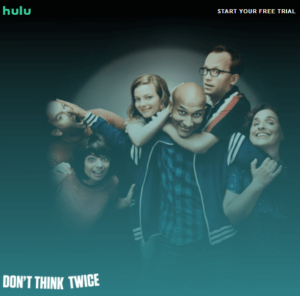 If you know about Mike Birbiglia and if you love a good standup or improv comedy, then this will be a real treat for you. He not only directs, and writes in this production but is starring in it, alongside a great bunch known for their comedic roles in most movies. It's about a group of improv comedians who come together, with eventually only one member making it big. Does jealousy strike? Watch the movie to find out! The movie "Don't Think Twice" also stars Gillian Jacobs, Kate Micucci, and Keegan-Michael Key.
A Fish called Wanda (1988)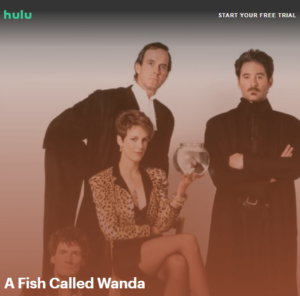 I love a good line up of classic actors who never cease to make the audience laugh. A Fish Called Wanda stars Oscar winners John Cleese, Jamie Lee Curtis, Kevin Kline, and Michael Palin. The movie is about a jewel robbery that heads in a very wrong direction, a barrister who gets pulled in the twist, and a fish named Wanda that gets caught in the middle of it all.
Greener Grass (2019)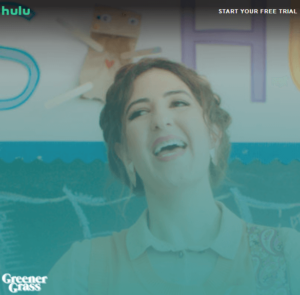 Said to be a cult classic, we have Greener Grass, displaying a bizarre world of suburban life, with a span of weird events in every fold. To truly understand this comedy movie, you will need to watch it with great concentration.
Happiest Season (2020)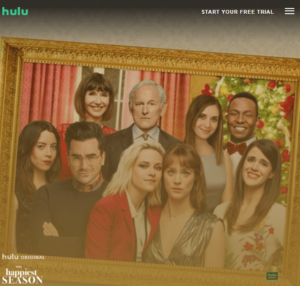 The season of Christmas brings out the best in people, but this Christmas in particular brings out a lot of secrets, drama, and a whole lot of love! Starring the fabulous Kristen Stewart and Mackenzie Davis.
Hearts Beat Loud (2018)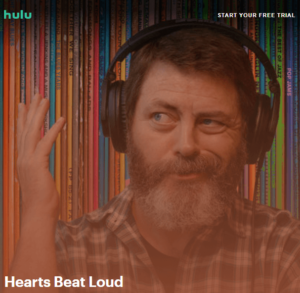 Hearts Beat Loud is an Indie film that will send you through a whole wave of emotions. Single father Frank and his onscreen daughter Sam, write and record a song that bring in a lot of attention, and went viral! Frank wants to take things further and start a band, where as his daughter wants other things. A whirlpool of emotions, watch Hearts Beat Loud if you love music, and family movies.
Heathers (1989)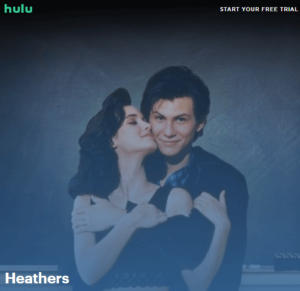 We all know the Heathers in most highschool movies, but this movie in general brings on a killer twist, a rather dark comedy about the reality of high school life, teen drama, and…murder.
Hunt for the Wilderpeople (2016)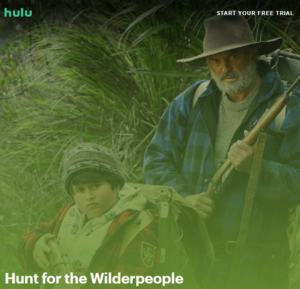 This movie is a rather cute one, which the whole family will adore! Aired back in 2016, the Hunt for the Wilderpeople depicts comedy and adventure about bad-egg Ricky Baker (Julian Dennison) and his grumpy yet mysteriously loving foster father Hec played by the famous Sam Neill. He's more famously known for starring the lead in Jurassic Park. The dynamic duo in the movie reminds me of the characters in the animated movie "Up." Definitely one of my favourites on this list!
Hello, My Name is Doris (2015)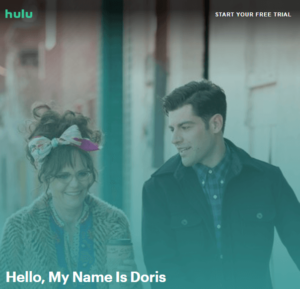 We all know Sally Field who played the wife in "Mrs. Doubtfire", and it's rather different watching her switch up the roles in "Hello, My Name is Doris." She plays the role of an eccentric woman in her sixties, who pursues to get romantically involved with her younger co-worker. The movie reflects drama, comedy, and a little romance. The character played is a little tough to love, but will soon grow on you.
To conclude
And that's all folks! These are currently the best comedy movies on Hulu that you can binge on over the weekend if you haven't already watched them. There are many more options out there, but these highlighted picks are often missed out on. Also, remember that if you can't access Hulu from where you're located, there is a tutorial on top that you can use. Even if you have access to Hulu, a VPN also helps you bypass ISP throttling and gives you online privacy.