Disney Plus is one of the best streaming services, but is it available worldwide? No, because Disney+ is only accessible in a few countries. You will need a VPN to unblock its content from another country where it's restricted. Among some of the best VPNs for it is NordVPN. This guide will show you how to watch Disney Plus with NordVPN and how to sign up for the service anywhere.
Table of Contents
Quick guide – How to watch Disney Plus with NordVPN
Get a NordVPN subscription by creating your account.
Download and install the VPN on your device.
Launch NordVPN and sign in.
Connect to a US server
Sign up for Disney+ if you don't have an account.
Watch Disney Plus with NordVPN.
About Disney Plus
Since its launch in November 2019, Disney+ has managed to earn a place in the hearts of people and managed to spring a large base of over 129.8 million users till 2022.
With such a high pace of increasing users, Disney is expected to reach 230-260 million paid users by the end of September 2024. The service supports 4K HDR streaming, allowing its users to stream its content with crystal clear quality.
It's not just Disney's pricing strategy that is helping them to attract more and more users but also a big catalogue of movies and TV shows. With just a single subscription, you can enjoy the content produced by Disney, Marvel Studios, Pixar animations, and Star Wars films.
Like some other streaming services, Disney plus is limited to a few regions. With that in mind, if you're planning on watching Disney exclusive content from outside the accessible regions, there are chances you won't be able to do so.
But, don't worry! Sit back and relax as we've got a perfect working solution for you on how to watch Disney+ using NordVPN. The best part of this solution is that it will work irrespective of your region.
Why Do You Need a VPN to Watch Disney Plus
If Disney Plus is not available in your location, a VPN is the safest option to unblock Disney+. A VPN swaps your location with a Disney-supported region and lets you enjoy the content without physically moving anywhere. However, not just any VPN will work with it, as the service often blocks certain unregistered IP addresses from the service if you're outside the location.
For this reason, we've recommended and tested NordVPN with Disney Plus. When you connect to a Disney+ accessible server, you will easily be able to unblock the service from anywhere. Plus, you can even use it to access a Disney Plus free trial if that's what you're looking for.
For example, Disney+ is unavailable in your location but using the NordVPN USA server; you can access all the content without any hassle.
How to Download And Sign Up for NordVPN to watch Disney Plus
In order to watch Disney Plus with NordVPN, you will need to download and install the VPN first. NordVPN offers apps for almost all platforms, some of which include PCs, smartphones, TV devices, and web browsers.
Without further ado, here's how you can sign up for NordVPN in order to access Disney Plus:
Go to the NordVPN website.
Click on either "Grab the Deal" or "Get NordVPN."
The page will take you to the pricing page. Click on a suitable plan for you.

Go to the next page and enter in your email ID to create your account.

Choose a payment option. NordVPN offers several.

After you have successfully made the payment, now go back to the NordVPN website and then click on Download NordVPN to download the app.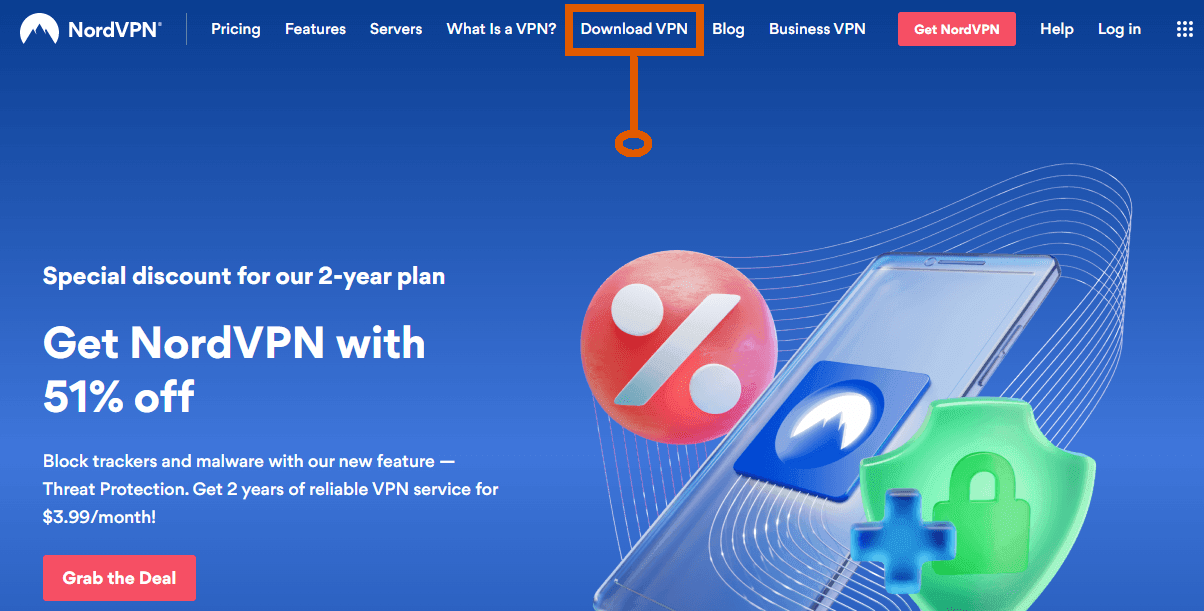 Choose the app you wish to download.

Once downloaded and installed, launch the VPN, sign in. You can switch your protocols, but Nordlyx comes recommended.

Connect to a US server to watch Disney Plus with NordVPN.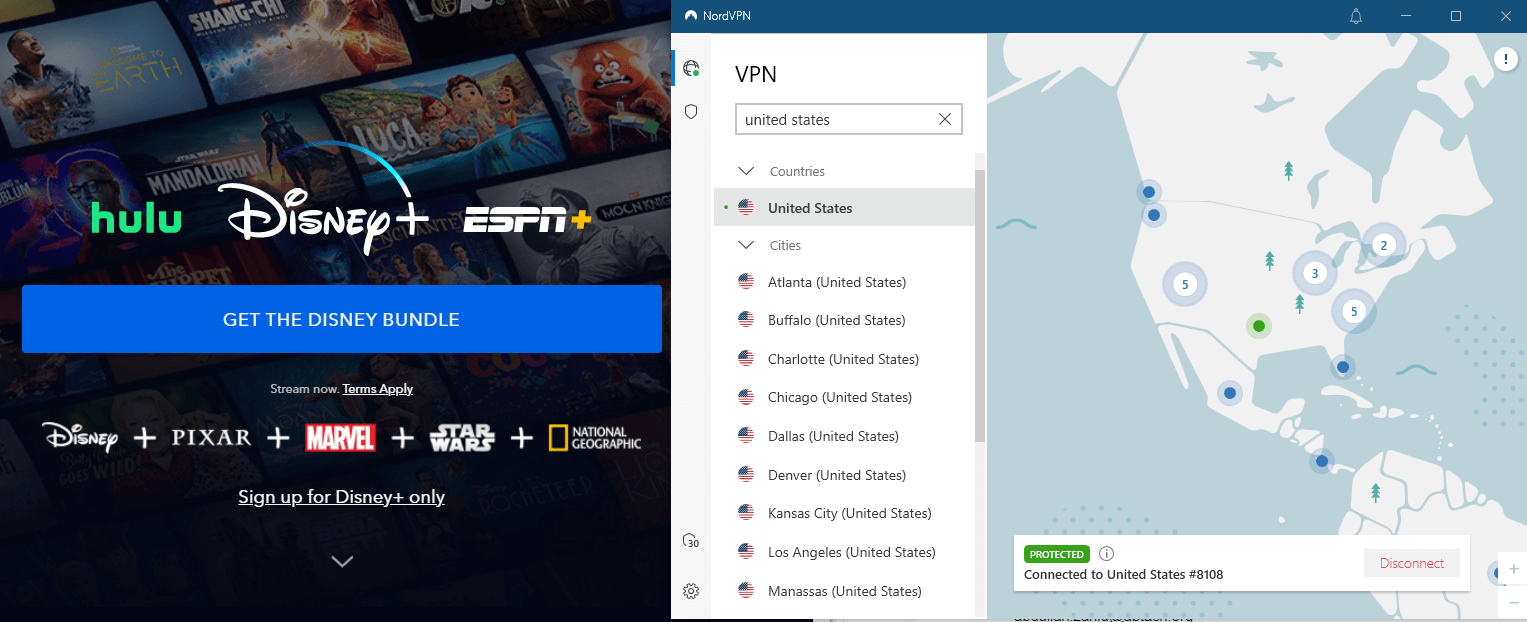 Now, once you've got access to a NordVPN account, you'll easily be able to sign up for a Disney+ subscription. Find out how in the tutorial below.
How to Sign Up for Disney Plus with NordVPN
Signing up for Disney+ is as easy as signing up for any other service. Follow these steps to create a Disney+ account in minutes. However, if you can't access the website because of where you live, connect to NordVPN and to its US server to sign up for a Disney account. Here's how:
Sign up and get NordVPN on your streaming device.
Go to the Disney+ website.
Click on the signup button; it will take you to the signup page.
Enter your email address to register your account. Click on "AGREE & CONTINUE." Enter in your password on the next page.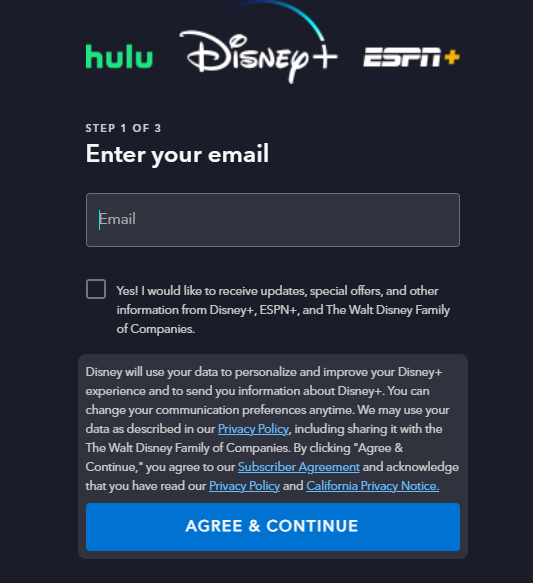 Now select the subscription plan you want to buy, followed by your payment method and type in the payment details.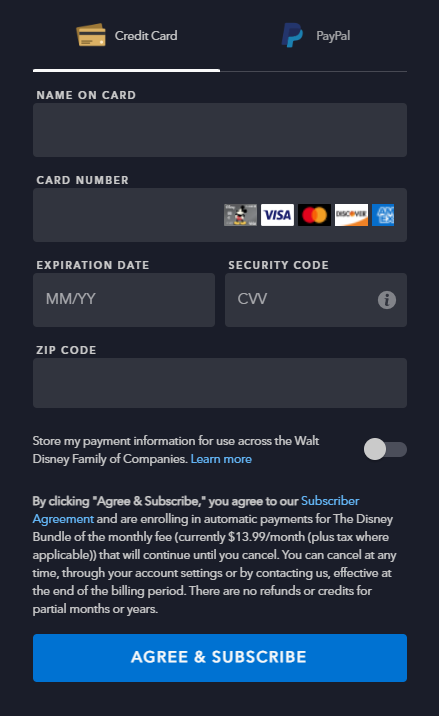 Now you will receive the confirmation on the email you provided.
That's it, you should successfully be able to watch Disney Plus with NordVPN.
How to Use NordVPN for Disney Plus
NordVPN comes with a user-friendly interface, which means even a complete beginner would be able to use it. Here's how you can use the NordVPN app to watch Disney Plus:
After signing up for NordVPN, launch the app.
Login to the account on which you have purchased NordVPN.
Now you're on the homepage of the NordVPN app.
Select the server you want to connect to by going to the server menu. You can also use the search bar to connect to a specific server to watch Disney Plus.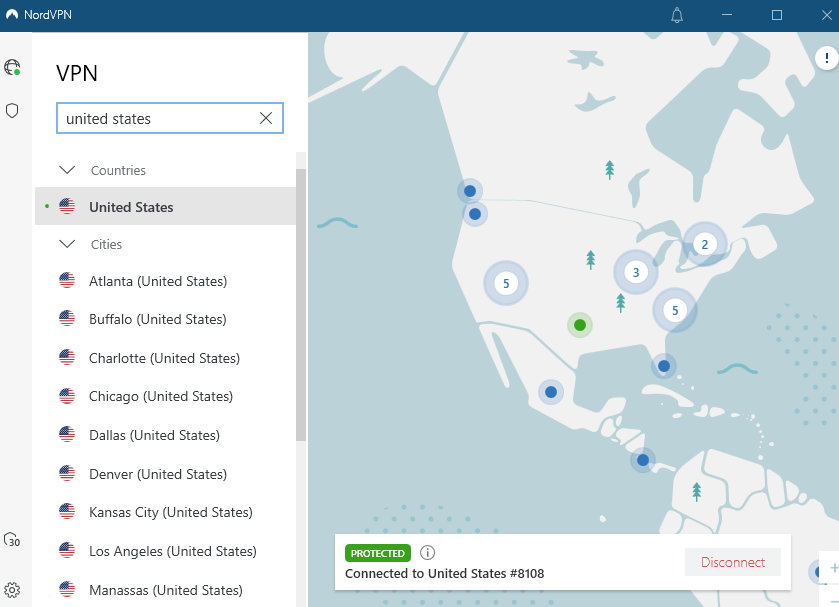 Alternatively, you can let NordVPN connect to the best server for you by clicking the Connect button. Nord VPN will scan for the best possible server to provide you with the highest connection speed possible.
Disney Plus with NordVPN on various supported devices
There are a few streaming devices that are popularly used to watch Disney Plus with NordVPN. For instance, using NordVPN, you can stream Disney Plus on Roku, Firestick, smartphones, Android TV, and many other devices. We've highlighted a couple of tutorials on them below:
How to Download Disney+ on Android Devices using NordVPN
Getting Disney Plus on Android smart TVs are just as simple as downloading the app on your Android smartphone. However, for most Android devices, you will need to have a Google account to download the Disney app from PlayStore.
Just in case Disney+ is not available in your country, connect to NordVPN to get started. Here's how you can download Disney Plus from Play Store using NordVPN:
Connect to NordVPN to watch Disney Plus.
Open the Play Store.
Sign in to your google account if you have't already.
Click on the search bar.
Type "Disney Plus".
Now click on the Disney app and download it.
How to Download Disney+ on iOS using NordVPN
To begin, make sure you're logged in to your iCloud account to download Disney Plus from Apple App Store. Then, you should be able to download Disney+ on your iOS devices, (Apple TV or iPad etc.) Alternatively, you can use NordVPN just in case Disney Plus is not available in your country. Here's how:
Connect to a NordVPN US server on your iOS device.
Open App Store available on your iOS device. (It will only work if your iCloud ID is signed in.)
Click on the search icon.
Type "Disney Plus".
Now select the Disney app from the list.
After that, click on the download button.
Wait a bit for the installation process to end.
Experiencing some issues? Here's a guide on why Disney Plus is not working.
Why NordVPN for Disney Plus?
NordVPN is the name of trust in the online world; that's why it is one of the most growing VPNs in the market. It boasts a lot of good features like bufferless streaming, a no-log policy, the latest NordLynx protocol that' built around WireGuard technology, military-grade AES 256-bit encryption, and much more.
Getting the title of one of the fastest VPNs for streaming makes it a great choice for you. After streaming, if anonymity is your second concern, you can't go wrong by investing in this VPN. One of NordVPN's top priorities is to secure the users' data and information.
On top of that, many big publishers have named it the best VPN provider around the web. What makes it reliable for you? More than 5400 servers combined with 6730+ Mbps of connection speed and the experience of over a decade are what makes it a good VPN.
Moreover, its no-log policy is another beloved feature. That means NordVPN doesn't keep internet activities of its users, which is already proven by independent tests.
Read More: How to watch Disney Plus VPN with Surfshark
How Much is NordVPN Going to Cost You?
Understanding the NordVPN pricing structure is pretty straightforward. The rule is simple: the longer the billing cycle, the more discounted price per month will be. Like if I make the payment for the whole year at once, the price will be significantly lower than the month-to-month billing cycle.
Out of three plans, the monthly plan starts at $11.99/month. There are cheaper options over the 1-year plan of $4.99/mo. and a 2-year plan that costs $4.99/mo.
On the other hand, there is a way for you to test Disney Plus with a free NordVPN trial or use its 30-day money-back guarantee over any device.
Disney Plus Pricing
Disney plus starts from $7.99 if you buy a one-month subscription and $79.99 for the yearly subscription.
Thankfully, Disney+ also offers a Disney bundle for its fans that include the Disney+, ESPN+, and Hulu for just $13.99/month (contains ads). However, if you go for an ad-free version to fully enjoy your moments with Disney+ without any interruption, it will cost you $19.99/month. This isn't a bad deal considering you both get ESPN+ and Hulu.
Furthermore, the company has also announced the Disney+ plan with ads that will make it even more affordable. The plan is expected to launch in late 2022.
Does NordVPN work with Disney Plus?
Yes, NordVPN does work with Disney Plus. To get access, you can connect to any NordVPN server that is optimized to unblock it. However, we would recommend connecting to a NordVPN US server to unblock Disney Plus outside the United Stated.
Do VPNs work with Disney Plus?
Yes, there are some reliable VPNs that work with Disney Plus and because of that NordVPN is currently one of the few that do work with it.
Does Disney Plus ban VPNs?
Disney Plus doesn't exactly block VPNs, but blocks VPN IP addresses from being used to access its service. There are various licensing agreements, in place with most of the content on Disney Plus. In order to protect every license, users that are outside the persmissible regions are restricted to access the service with a VPN IP address.
Can I watch Disney Plus for free with NordVPN?
You can't watch Disney Plus content for free since it's a paid subscription service. However, you can still stream the service using NordVPN for free. It's because NordVPN offers  a 30-day money-back guarantee.
Is it illegal to use NordVPN to stream on Disney Plus?
It's not illegal to access Disney Pus with a VPN; which means NordVPN is in the clear. Using a VPN for Disney Plus is not illegal but it does go against the Disney Plus policies and terms of service.
Why is Disney+ not working with NordVPN?
If NordVPN is not working to unblock Disney Plus, as most VPNs often do, you can either restart the VPN or connect to a new server.
Note –  Just in case you're looking for more options to stream Disney Plus with a VPN, there are other providers that you can use with it. Since it's a very selective list, we only recommend a couple of VPNs for Disney Plus like Surfshark, ExpressVPN, FastestVPN and CyberGhost.
Conclusion
No matter where you are from, watching your favorite show on Disney plus will be no more a problem. By following our guide above on how to watch Disney Plus with NordVPN, you will be able to enjoy lag-free streaming or unlock its content from anywhere in the world.