Disney Plus is not available worldwide; it's a popular, but geo-restricted streaming service. To watch or unblock it outside the US, you will need to change your IP address and a VPN is the best for it. Surfshark is currently one of the best VPNs to unlock a large number of geo-restricted streaming services, including Disney Plus. With that said, this guide will show you how to watch Disney Plus with Surfshark and from anywhere in the world. We've also discussed methods on how to sign up with Surfshark, Disney Plus and how to use the VPN with it.
Table of Contents
Quick guide – Unblock and Watch Disney Plus with Surfshark
Subscribe to Surfshark and create your account.
Download and install the VPN on your device.
Start the VPN and connect to a US server.
Sign up with Disney Plus if you don't have an account.
Stream Disney+ with Surfshark.
When talking about the top streaming services, Disney Plus is surely one of them as it holds a wide range of Movies and TV shows. The streaming service comes with great convenience enabling you to access it on almost every platform. Some of these platforms include  Computers, Mobile/Tablets, Gaming Consoles, and TV (FireStick, AndroidTV, Apple TV, and more). Disney Plus is also the talk of the town where the best streaming services matter, because of its affordable plans.
However, a slight shortcoming is attached to Disney Plus; it is not available in all regions. But as George Herbert quotes: "Where there's a will, there's a way." With that said, we have the ultimate workaround solution.
This means you can watch Disney Plus using a VPN service. But, since you're probably looking for the best VPN service to access Disney Plus, Surfshark does come highly recommended. In this guide we've covered everything on how to watch Disney Plus with Surfshark.
Why Do You Need a VPN to Watch Disney Plus?
At the moment, Disney Plus is only available to 61 countries. You'll find access to it across North America, Asia/Pacific, Europe, and Latin America. As Disney plus is not accessible in all the countries, and some of its content is also specific to countries, you can't access it beyond the boundaries of that country.
The best solution to get around these blocks is by using a VPN. However, not just any VPN will do. You will need one that offers the best streaming experience with unlimited bandwidth, and there's nothing better than Surfshark right now. So, yes, you can easily watch Disney Plus with Surfshark; we've tested it out!
How to Use Surfshark to access Disney Plus
Luckily, Surfshark offers an easy-to-use interface that makes it easier to watch Disney Plus with Surfshark. After installing, open the Surfshark app and then log in.
Once you've signed in, you will see hundreds of servers from different locations. You can also search for the desired server. For example, if you want to access the US version of Disney+ just search for the United States Surfshark server and then hit the Connect button.
How to Download Disney+ on Android Devices using Surfshark
If you have ever used an Android smartphone, installing Disney+ on Android TV is as simple as installing apps on Android phones.
So, for Android devices, you must have a Google account to download the Disney app from PlayStore. However, before starting, connect to Surfshark just in case Disney Plus is not available in your country. Following are the steps to download Disney Plus from Play Store:
Connect to the VPN to watch Disney Plus with Surfshark.
Open Play Store.
Sign in to your google account if you haven't before.
Tap on the search bar.
Type "Disney Plus".
Now tap on the Disney app and download.
Also read – How to Watch Disney Plus on Roku – Unblock it Globally
How to Download Disney+ on iOS using Surfshark
Downloading from Apple's App Store is required to log in to your iCloud.
After that, follow the steps below to download Disney+ on iOS devices, whether it's Apple TV or iPad. Alternatively, you can use Surfshark just in case Disney Plus is not available in your country. Here's how:
Open App Store is available on your iOS device. (It will only work if your iCloud ID is signed in.)
Tap on the search icon.
Type "Disney Plus".
Now select the Disney app from the given list.
After that, tap on the download button.
Now, wait until the installation finishes.
Ran into a problem? Here are some helpful tips on why Disney Plus is not working.
How to Sign Up for Surfshark to unblock Disney Plus
It's pretty simple to sign up for a Surfshark account. All you need to do is go to the account creation page and create your account, choose a payment option and proceed using the Surfshark app to unblock Disney Plus.  However, you can also use the VPN for free to access Disney Plus, if it's just for testing purposes.
Surfshark free trial
Surfshark gives you 7-days of free trial to get a full glimpse of its premium services. Before you rush to take advantage of their free trial here, note that it is only available for Android, iOS, and macOS devices.
For a free trial, you have to provide your payment details. Don't worry, this is practiced by most VPN companies to avoid spam accounts.
After the free trial ends, Surfshark will ask you to buy a subscription. Buying a subscription will still give you a 30-day money-back guarantee. If you don't want it anymore, you can ask for a refund before 30 days end. This is a good chance for you to use the VPN for accessing a Disney Plus free trial.
The 30-day money-back guarantee
However, to watch Disney Plus with Surfshark, we'd recommend going for the 30-day money-back guarantee. This will allow you to use the VPN on more than just your smartphone; in fact on unlimited devices. To do that, follow the tutorial below: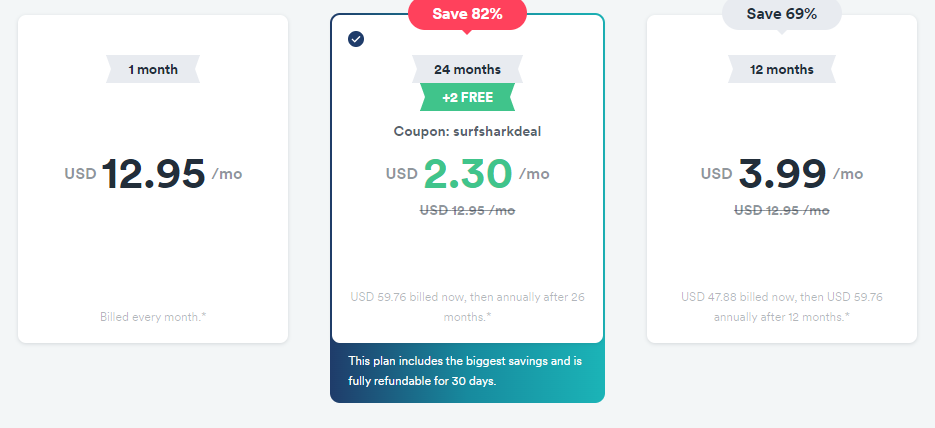 Create your account by entering in your email ID.

Select add-on features if you'd like that come at additional charges.
Select a payment method and fill in your details.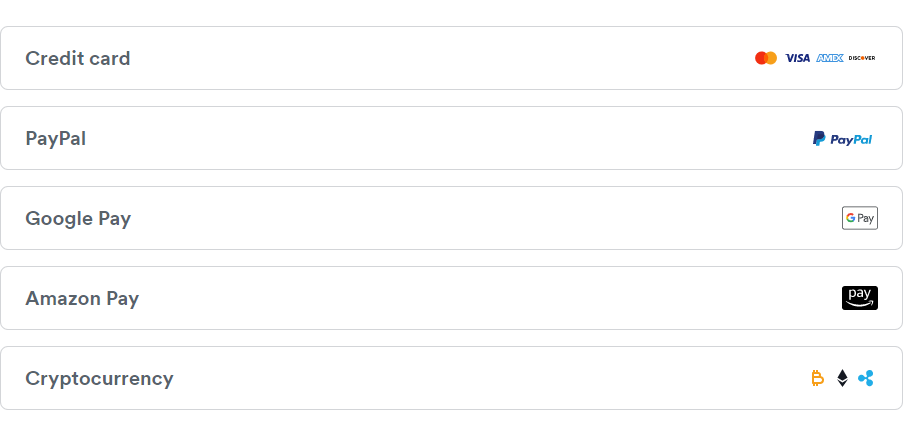 Click on "Complete purchase" to check out.3

That's about it! Just follow the on screen instructions and you should be able to use this 30-day money-back guarantee to stream Disney Plus with the Surfshark VPN.
How to Sign Up for Disney Plus
Signing up for Disney Plus is like a walk in the park. Again, if you can't access the Disney+ website to sign up, make sure you're connected to Surfshark and its US server before proceeding. Below are the few simple steps you need to follow:
First, open your favorite browser and go to www.disneyplus.com.
There you will see two options (plans) either to go for Disney Bundle or just the Disney+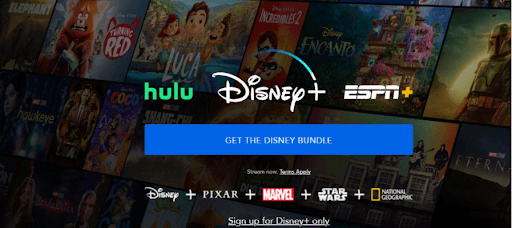 Disney+ Only: It allows the subscriber to watch the Walt Disney Studios content (movies and shows) and a cheaper plan than the Disney+ Bundle. This plan costs you $7.99/month.
Disney Bundle: It includes subscriptions for multiple services, including Disney Plus, ESPN+, and Hulu. You can get all these with a single plan at just $13.99/month.
Tip: if you separately subscribe for Hulu and ESPN+, it is going to cost more. So the bundle is the best deal giving you around $8 saving per month.
Click on any option, and you will land on the sign up page.
Now, just follow the steps by providing the email address and password.
Upon clicking the Continue button, now you can select the billing cycle with Monthly or Annual.
Then add your payment details. After the successful payment, you will see a message saying, "Enjoy Endless Entertainment."
There you go, now you can start streaming.
Disney has announced an ad-supported version of Disney+ that will be even cheaper than the existing plans. As per Disney, you can expect this plan later this year.
If you're not able to sign up, and get the message that says, "Sorry, Disney+ is not available in your region" like in the image below: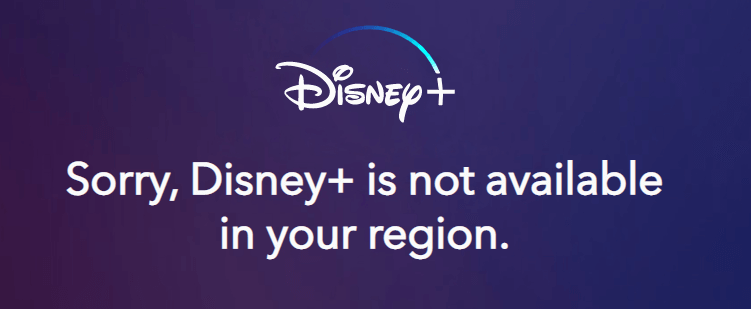 Then connect to a Surfshark US server (Dallas) and try again. You can use either the OpenVPN (UDP) or the Wireguard protocols, or let Surfshark select the best one for you. Here's what you should see with a VPN connection: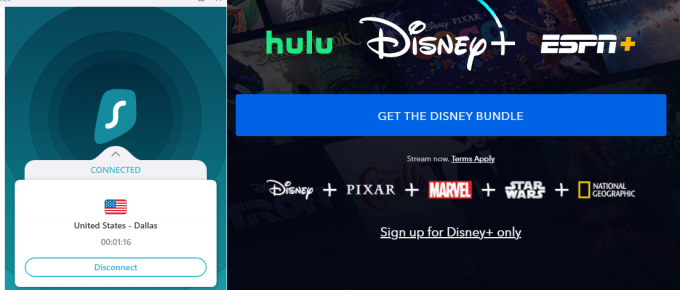 Why Surfshark for Disney Plus?
Surfshark VPN is one of the most popular VPNs for live streaming and unblocking sites. The support of smart DNS makes it stand on top. Smart DNS allows you to change your address on devices that don't support VPN apps. By doing that, you will be able to watch geo-restricted content.
To use the Smart DNS feature, first, log in to your Surfshark account and then activate Smart DNS. After that, replace the previous address of your device with a new Smart DNS given by Surfshark.
Because of the new US-based address, you will get access to US-only content available on Disney plus.
But keep in mind this feature is only for steaming purposes means it does not provide any privacy or security. It only changes your DNS keeping your IP address the same.
Apart from streaming, Surfshark comes with an enormous set of security features and nearly uncrackable encryption. Furthermore, it offers WireGuard protocol, GPS spoofing, dedicated P2P servers, and Split Tunneling.
Compared to its competitors, it provides simultaneous connections on unlimited devices, making it a one-of-a-kind VPN service in the market.
How Much is Surfshark Premium Going to Cost you?
Surfshark billing is pretty straightforward; however, remember that the cost per month depends on the length of the subscription.
So, if you go for just a one-month premium subscription, it will cost you $12.95/mo, while if you choose a 1-year subscription plan, the per month cost is cut down significantly to merely $3.99/mo. The price will go down further to $2.49/month for a 2-year plan.
Does Surfshark work with Disney Plus?
Yes, Surfshark does work with Disney Plus and in fact, offers the best speeds that won't slow you down. This is great considering that you won't have to wait ages for your movie or TV show to load. Additionally, Surfshark offers adequate security measures for online protection and US servers that you can connect with, to unblock Disney+.
Does VPN work with Disney+?
Thankfully, yes, a VPN does work with Disney Plus. With that said, Surfshark currently offers around 3200+ servers that you can connect with, and US coverage to access Disney Plus in those countries where it is blocked. Using a VPN while streaming on Disney Plus also means encrypting your connection to prevent online surveillance or data logging. Surfshark comes with a no-logs policy and keeps your connection secure.
Can I stream Disney Plus on Firestick using Surfshark?
yes. Disney Plus works smoothly on your Firestick using Surfshark. The Disney+ app is easily available on the Amazon Store, but if it's not available in your country, you can connect to a Surfshark server and access it.
Why is Disney Plus not working with Surfshark?
Just in case Disney Plus is not working with Surfshark, you can fix the issue with a few steps. The easiest solution would be to turn off and restart your WiFi after 10-30 seconds. Other than that, switch servers, update your streaming device, clear cache on your browser, or restart the VPN.
Is Surfshark a good VPN?
Surfshark is currenty one of the best top providers in the market. It's able to unblock the best streaming services, and makes a great choice for online security. Other than that, these and more reasons are why Surfshark i a great choice to watch Disney Plus.
Why does my Disney Plus not work?
If Disney Plus is not working for you, there are a few things you can do. You can first check to see if Disney+ is compatible with your device. Next, restart your streaming devcie or restart the internet connection. You can also use an ethernet cable and connect your Disney Plus device to your router.
Is it illegal to watch Disney Plus with Surfshark?
No. Using a VPN to watch Disney Plus might go against the service's terms of service and license agreements, but using a VPN to access it is not illegal. There are many countries that allow access to Disney Plus with a VPN. This is especially true when active Disney Plus users travel to another country; they will need a VPN to sign in to their accounts.
Can I use a free VPN to watch Disney Plus?
You can, but it's not something we would recommend. Free VPNs often steal user data or spread viruses to your operating system. Other than that, a free VPN does not offer the right number of servers nor the best encryption standards to secure your connection.
Note: Just in case you're looking for more options to stream Disney Plus with a VPN, there are other proviers that you can use with it. Since it's a very selective list, we only recommend a couple of VPNs for Disney Plus like NordVPN, ExpressVPN, FastestVPN and CyberGhost.
Conclusion
We are pretty sure now you have mastered the process on how to watch Disney Plus with Surfshark. Now, it's time to enjoy. Go ahead and stream what you want to see as Disney+ holds the best content from studios like Marvel, Pixar, and more.
Get ready to stream Disney Plus with Surfshark and all your favorite movies in Ultra HD and HD quality without a snag!