Ola TV is one of the more popular streaming services that makes a great addition to your Firestick. However, if you're not too sure about how to install Ola TV on Firestick, then this guide should help you. Also note, this tutorial works well for all Firestick versions. Our team has tested it on Fire TV Cube, Firestick 4K, and other older versions.
Let's begin?
About Ola TV
As mentioned above, Ola TV is among the more popular streaming services used on Firestick. If you've heard of Relax TV, Ola TV is the new re-casted replacement of it. This app gives users access to over 1300 cable TV channels all bunched together from countries like the US, Canada, United Kingdom, Brazil, India and many others. You will find content ranging from music, TV shows, movies, and at times on-demand movies.
Here is the thing, Ola TV won't work on Firestick until and unless you download an MX Player or a VLC Player. So, make sure you download them before or after installing Ola TV on your Firestick.
WARNING!
Although Ola TV is fairly safe to use on your Firestick, there are still many online threats or cyber-attacks to stay wary off. Also understand that government surveillance and ISP throttling is a growing issue in the modern internet. You can bypass all these issues by using the best VPN. I recommend FastestVPN, since it is safe, fast, and reliable and is quite budgeted.
How to install Ola TV on Firestick
Ola TV is a third-party app. It means you won't find it readily available on the Amazon Store. To download this app on your Firestick, you will need to use the Sideloading method with the help of the Downloader app. Here is how you get started:
On your Firestick home screen, go to the menu bar and click on "Find" and then on "Search."
Now, type "Downloader" in the search bar and look for the appropriate app. Follow the onscreen instructions and install the downloader app.
Go back to your Firestick home screen and click on the settings gear icon.
Click on "My Fire TV."
You will now see a list of options, click on "Developer options."
Click on "Install Unknown Apps" and then on "Downloader" to switch it on.
Launch the Downloader app and follow the onscreen instructions. They are pretty straight forward.
Now, you will see the main screen of the Downloader app. There will be a URL field. Enter in https://olatv.me/apk/ in URL section. Click on "Go."
The Ola TV APK file should now begin to download. It won't take much time.
Once the Ola TV APK downloads, you will see an installation window, click on "Install" to proceed.
Again, Ola TV is a small file and won't take much time to install.
Once the app is installed, you will receive a confirmation text. Click on "Done."
Now, go back to the Downloader app and delete the Ola TV APK file to make some space. Since you now have the app, you won't have any need for the APK file. Click on "Delete" and then on "Delete" again.
That is just about it! You now know how to install Ola TV on Firestick!
How to use Ola TV on Firestick
Hold down the home key on the Firestick remote, and click on "Apps."
You will find a list of apps. Scroll through them and click on the on Ola TV once you find it. You can also move the Ola TV app up high on the list if you plan on using it often. Makes it easier to find it.
Once you click on it, you will find a wide variety of Live TV streaming categories and on-demand movies. Here's what it looks like: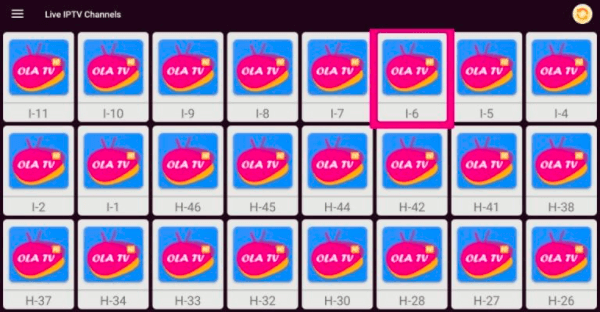 There will be a hamburger menu option on the top left corner of the screen. Click on it using the Mouse Toggle app to access the menu. The menu options range from: "Live IPTV Channels, Settings and Languages, and Disclaimer."
That's about it!
Are there any issues to stay clear of, to stream on Ola TV?
There are a few cons to the service, like:
There is no media Player built in the app.
You will need either MX Player or VLC Player. If none work, there are alternatives like Kshaw, and Ludio Player.
You will have to look for the best channel as not many work.
There are no sub-categories of TV channels. They are all displayed on the main screen, which makes it difficult to look for the best one.
All the channels cause confusion on the screen.
No customization option available for the apps.
Use a VPN
The only thing you need to remember is to use a VPN while streaming on Ola TV. It is always better to create a safe space online while accessing or using various apps. There are also circumstances where Ola TV might not be accessible where you're located. A VPN will help keep you private and maintain your anonymity online. There are other perks as well, like keeping your speeds stable by bypassing ISP throttling or even government online surveillance bodies.
How to get a VPN on Firestick for Ola TV
Go to the home screen of your Firestick and search for the VPN you require. I've recommended FastestVPN, but you can keep your options open.
Once you find the VPN app, click on "Download.
It won't take much time to download and install. Once that is done, sign in to your account if you have already subscribed to the service.
Connect to the best server, which in this case would be a US one, or one that is closest to your location.
To conclude
That is about it! You now know how to install Ola TV on Firestick! The tutorial mentioned above will help you get the fastest access to the app, simply follow the instructions step by step and you shouldn't face any issues.