Here's a one-stop guide showing you how to install CyberFlix TV on all your Firestick devices using two methods. The best part is that these methods also work on other devices that run on the Android operating system.
Before moving on with the guide, let's get a little acquainted with the CyberFlix app, understanding what it's all about, and why you should consider it.
What is CyberFlix TV?
CyberFlix is an on-demand APK app and is all that's buzzing right now. If you're familiar with all the age-old APK apps, then you've probably, at some point, heard of Terrarium. It used to be a high-quality platform, providing its users with numerous links to the best APK's. Sadly, it discontinued. The CyberFlix TV app is a copycat version of Terrarium.
There weren't many apps that could take Terrarium's place, but CyberFlix TV fits the description quite perfectly. It's designed using a similar interface, has a content-rich library with tons of movies, TV shows, and documentaries to stream, and the best part thing about it is that it's free!
Another significant aspect of the CyberFlix TV app is that you have the option to intertwine/integrate Real-Debrid on CyberFlix. So, if you have an account for it, all you have to do is sign in and enjoy many streaming links in high-definition.
Get VPN Now
The CyberFlix TV installation guide for Firestick
CyberFlix TV can be installed on your Firestick and any device that runs on Android OS, and there are two methods you can use to get started! However, before anything else, since CyberFlix is a third-party app, you're first going to need a "Downloader" app to install CyberFlix TV on your Fire device for the first method. For the second method, you'll have to download the ES File Explorer app from the Amazon Store.
Installing CyberFlix TV on Firestick – The Downloader app method
For that to happen, you'll need to tweak around and enable some settings. Here's how:
Go to your home screen settings on your Firestick, and click on the search icon.
Then click on "My Fire TV" or "Device" depending on what version you're using, and then on "Developer options."
You'll see a tab that says "Apps from Unknown Sources," turn it on.
Once that's done, download and install the Downloader App on your Firestick to move on to the next step, which is:
Launch the Downloader App, and in the URL section, enter the CyberFlix TV APK URL.
Click on "Go."
Once the app is downloaded, you will be redirected to install the app on Firestick. You will see an option that says "Cancel or Next." Don't click on either and scroll down and click on "Install."

Once you receive confirmation that your CyberFlix TV app is installed, click on "Done."
Now since the app is already downloaded on your Firestick, the CyberFlix TV APK file isn't required anymore. So proceed to delete it.
If you receive another pop-up asking confirmation of deletion, click on "Delete" again.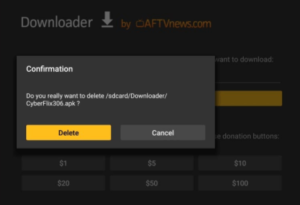 That's about it! You now have your CyberFlix TV app download, installed, and ready to use on your Firestick. Now let's move on to the second method.
Download and Install MX Player using the Downloader app
The last step to get your CyberFlix TV app up and going is by downloading the best media player for it. There's isn't any in-built player on the CyberFlix app. The most recommended one for it is the "MX Player." Here's how to get started:
Re-open the Downloader app, and fill in "http://bit.ly/mxfire" in the URL section. Click on "Go" and follow through with the instructions.
Installing CyberFlix TV APK on Firestick – ES File Explorer method
Even though the Downloader App is the most preferred method to sideload a third-party app like CyberFlix TV, there's another equally reliable method using ES File Explorer. You can use this method on all your Fire and Android devices. However, as mentioned above, that to proceed, you first need to download the ES File Explorer app from Amazon.
Here's how:
On the home screen page on your Firestick, type, and search for "ES File Explorer."
You'll be prompted with a few instructions.
Follow them step-by-step, download, and then install the app.
Once you have your ES File Explorer, continue to download and install CyberFlix TV on your Firestick. You start by:
Launching the ES File Explorer app and click on the Downloader icon.
You'll see a bunch of options below, click on "+New."
After that, you'll be prompted with a pop-up. Here's what you do: enter in the CyberFlix URL in the portion that says "Path," and name the app in the "Name" portion. Then click on "Download Now." Here's what it looks like: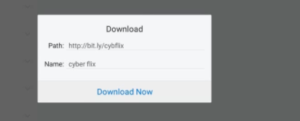 Once the file is downloaded, click on "Open file."
Then you click on "Install" when prompted.
You'll be redirected to the page shown below. When that happens, scroll to the bottom and click on "Install."

Once the app is installed, click on "Done."
Now you have your CyberFlix TV app ready to use.
The CyberFlix APK file is now not needed. Just in case you feel like deleting, which is usually recommended, you head over to the "Local" menu on the top left corner under settings, click on the second "Home" option, open the Download folder and delete the CyberFlix TV APK.
Download and Install MX Player using ES File Explorer
Just how you downloaded the MX Player for the Downloader version of the installation, you're also going to need the same if you're using the ES File Explorer technique. Here's what you should do:
Launch the ES File Explorer, and then on the "Downloader" icon. Click on "+New" and enter the "http://bit.ly/mxfire" URL in portion next to "Path," and name the player in the "Name" field. Click on "Download Now," then on "Install" and on "Install" again. That's all!
How to use CyberFlix TV on Firestick?
Now that you have the app downloaded, what's next? Start using the app! However, if you're not entirely familiar with how to use it, you can check the mini-tutorial below:
On the home screen of your Firestick, click the Home key on your remote and keep it pressed.
You'll then receive a menu.
Click on Apps.
Scroll through the list of apps on the screen until you find the CyberFlix TV app. You have the choice of moving it to the main home screen. If you need to do that, then select the app, and later on the menu button on your remote.
Click on the "Move" option, and add to the home screen.
Now, to run the app, head back to your home screen, and click on CyberFlix TV.
Choose the MX Player as your default, and then click on "Accept."
That's all. To navigate through the app, you'll find several options on the left to choose from. These are categorized under TV shows, Movies, Favorites, TV Calendar, Downloads, and Settings. Next to the settings, you have another set of options that lets you categorize the content you require. If you look below, you'll see what the list looks like:

Note
Since the CyberFlix TV platform promotes free content, it's recommended that you use a VPN to carry on with the service. There are circumstances where the content available might not be visible to you. This could be because of restrictions laid down by either an ISP or the government within your location. Using a VPN allows you anonymous streaming, safe connections, and higher speeds. The best for CyberFlix TV is definitely Surfshark.
CyberFlix TV Not Working – The Quick Fix
In case, Cyberflix TV fails to buffer videos on Firestick, you can fix the issue by clearing Cyberflix TV cache on Firestick. Here's how to do it:
Head to Settings
Select Applications
Select Manage Installed Applications
Scroll down and find Cyberflix TV
Open the Cyberflix TV app
Scroll down and select clear cache.
How to Download Cyberflix Movies with CyberFlix TV FireStick App
In 2022, Cyberflix also has a movie downloading feature that allows you to download movies so that you can watch it later. Here's how to use this feature:
Select any movie that you want to watch
Click on Download when you see a message pop-up
Wait for installation
Now, you will see your movie in the Finished tab. You can watch it.
Note: Before downloading a Cyberflix movie, always connect with a VPN to hide your network location from hackers and ISP.
What Are CyberFlix TV FireStick Alternatives?
Below is a quick rundown of some alternatives to CyberFlix you can use these apps and other Firestick apps for a perfect streaming experience.
FAQS
Is Cyberflix TV safe?
Cyberflix TV is absolutely safe as long as you're streaming on it with a VPN. Streaming copyrighted content without a premium VPN service might land you in legal trouble.
What to watch on Cyberflix TV?
Cyberflix is an on-demand app that enables you to watch unlimited movies and TV shows hassle-free.
Is Cyberflix TV better than Cinema HD APK?
In terms of quality, both Cinema HD and Cyberflix are the best streaming apps and fetch high-quality streaming links for you.
Is Cyberflix TV free?
Yes. The Cyberflix TV app on Firestick is completely free to you use. It allows you to watch and stream free movies, and TV shows.
Final Thoughts
There are many third-party apps available to get you the best streaming services available today, but not all of them offer much in functionality, features, and user-friendliness. CyberFlix TV is definitely a great APK streaming app that offers non-stop entertainment. Sideloading it on your Firestick may seem like a daunting task, but if you follow the step-by-step guide mentioned above, on how to install the CyberFlix app on your Firestick, you'll be on the right track in no time.