If you're an avid Kodi user who loves to stream Asian dramas, you must have heard about the Drama Cool Kodi addon. Drama Cool is a popular source for accessing a vast library of Asian dramas, including Korean, Japanese, Chinese, and more. This article will guide you through installing the Drama Cool Kodi addon on your device. So, let's get started!
Attention! Couldn't find your Bucket list shows or movies in your region? Get Surfshark and access the content that isn't accessible in your country. Get unlimited simultaneous connections on a single subscription and enjoy streaming on Kodi with Surfshark.
Let us move on and take you on a journey of Installing Drama Cool Kodi addons to watch your favorite Asian shows and movies.
What is Kodi?
Kodi is a free, open-source media player software that allows users to access a wide range of digital content, such as videos, music, podcasts, and more. Originally developed for the Xbox console, Kodi is now available on various platforms, including Windows, macOS, Android, iOS, and even some smart TVs.
Understanding Kodi Addons
Kodi addons are like extensions that enhance the functionality of Kodi by providing access to diverse content. Addons can offer streaming services, live TV channels, weather forecasts, and more. Drama Cool Kodi addon is one such extension that specializes in Asian dramas.
Drama Cool Kodi Addon – An Overview
This addon is a popular choice among fans of Asian dramas worldwide. It provides an extensive collection of dramas from different countries, making it a treasure trove for drama enthusiasts. The add-on offers a user-friendly interface, making navigating and finding your favorite shows easy.
Is Drama Cool Kodi Addon Legal?
As with many third-party Kodi addons, the legality of Drama Cool can be a topic of debate. The addon does not host content; it simply acts as a bridge to access external sources. Therefore, it's essential to check the copyright laws in your region and use Drama Cool responsibly.
Preparing Kodi for Addon Installation
Before installing the Drama Cool Kodi addon, you must adjust your settings.
– Ensuring Kodi's Compatibility
Drama Cool is compatible with Kodi 17 Krypton and above. Ensure that you are using a compatible version from the best Kodi Builds to avoid compatibility issues.
– Allowing Unknown Sources
Kodi blocks installations from unknown sources by default to prevent potential security risks. However, you'll need to enable this option to install Drama Cool.
Installing Drama Cool Kodi Addon
You must go to the Lime Add-ons Repo to install the DramaCool Kodi app. And to do that, you need to let Kodi play content from unknown sources. You can't add any third-party store or addon to Kodi by default. But since we're going to do that, here's how to turn on that feature in Kodi:
Part 1: Update your Kodi
Click the Settings Cog icon below the Kodi name on the Kodi home screen.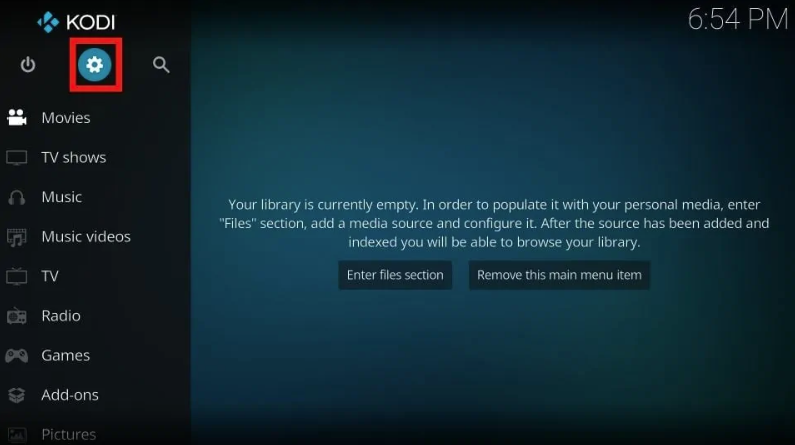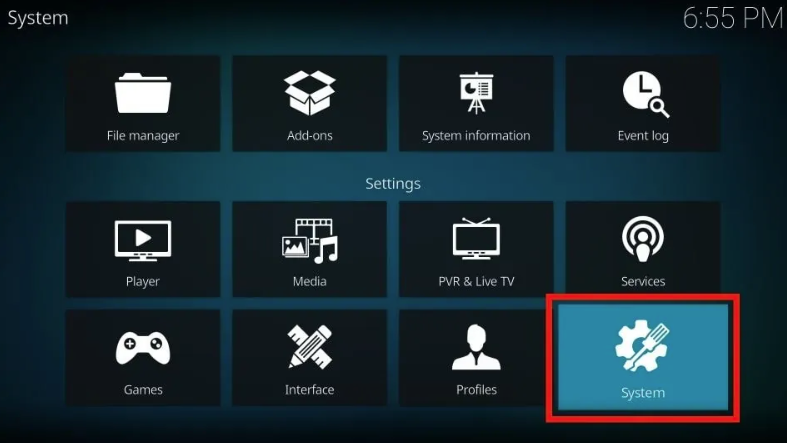 On the left side of the screen, click the Add-ons tab.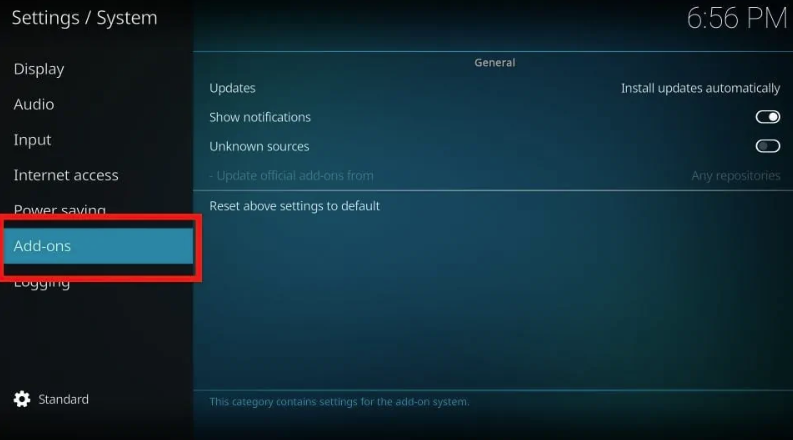 On the right side of your screen, click the box that says "Unknown sources."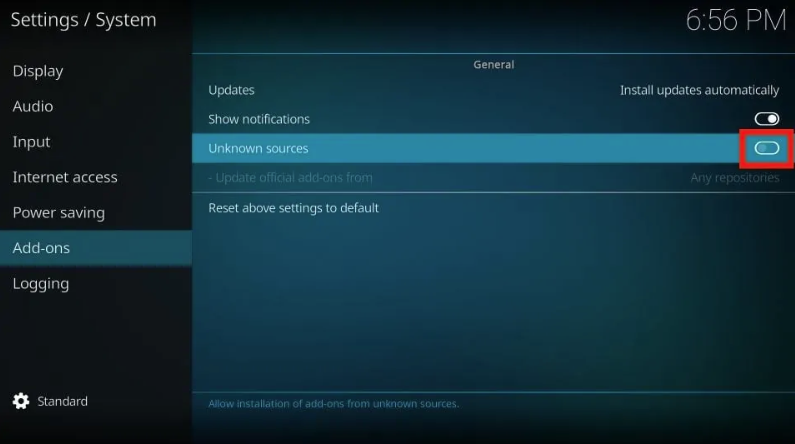 Kodi will send you a warning sign to inform you about allowing sources from strange people. Click "Yes" to keep going.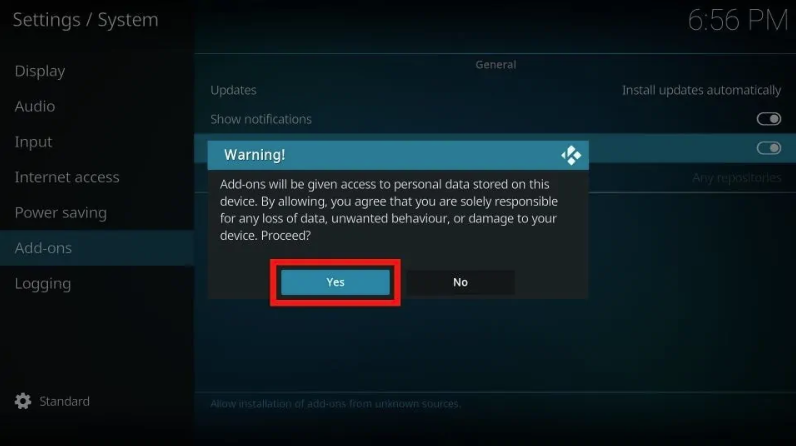 Only for users of Kodi 19 Matrix: Choose the choice that says "Update official add-ons from."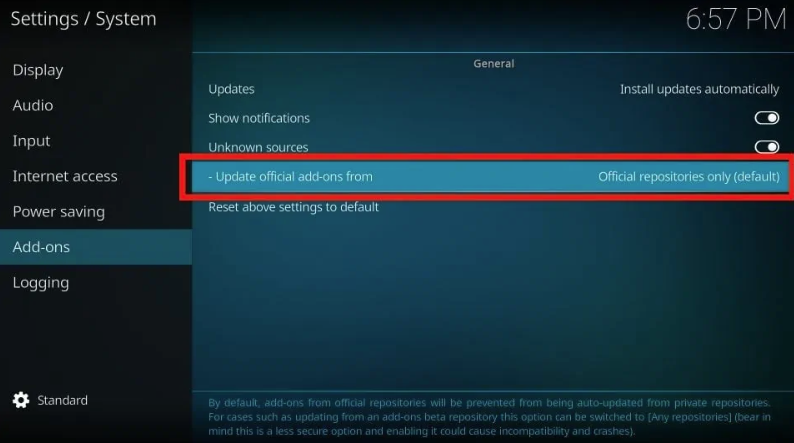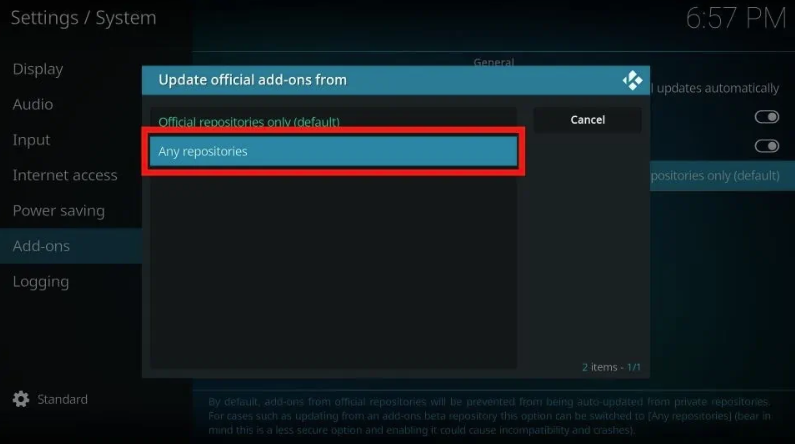 Note: The last two steps are for Kodi 19 Matrix users who want regular updates for both official and unofficial addons/repos.
Part 2: Use DramaCool to set up the repository
In this section, I'll show you how to load the DramaCool add-ons home, the Lime Add-ons library.
Click the Gear Cog button on the Kodi home screen to go to the settings page.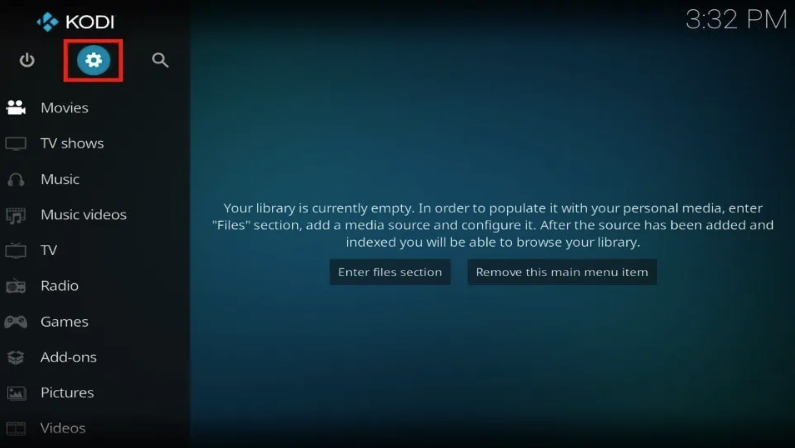 Pick the tile for the file manager.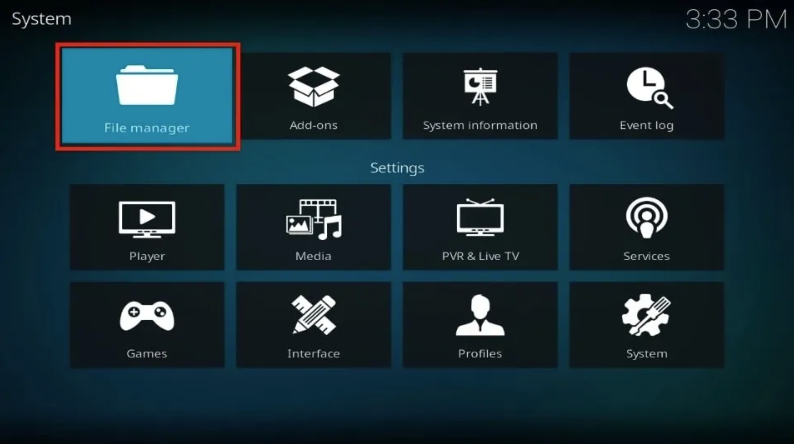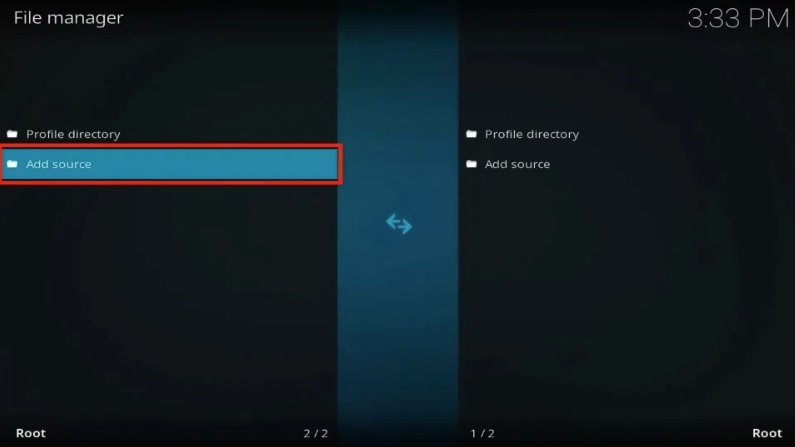 Note: The add source choice will be at the end of the list if you have already loaded too many repo sources.
When the Add file source window opens, choose "None."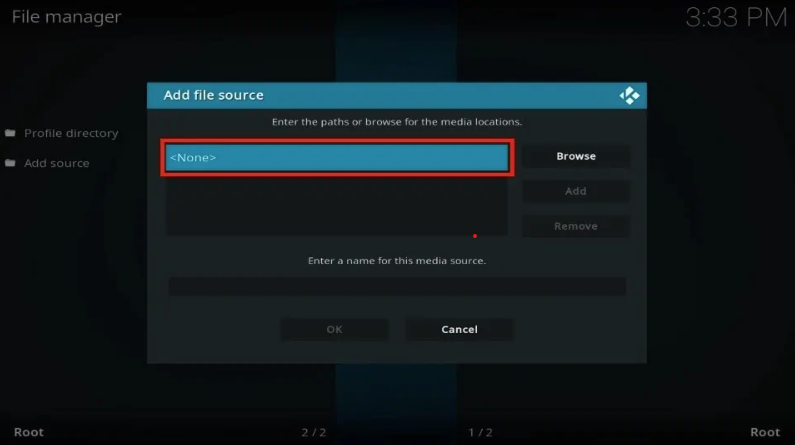 Type in the official URL for the Lime Add-ons folder, which is https://groggyegg.github.io, and click the OK button.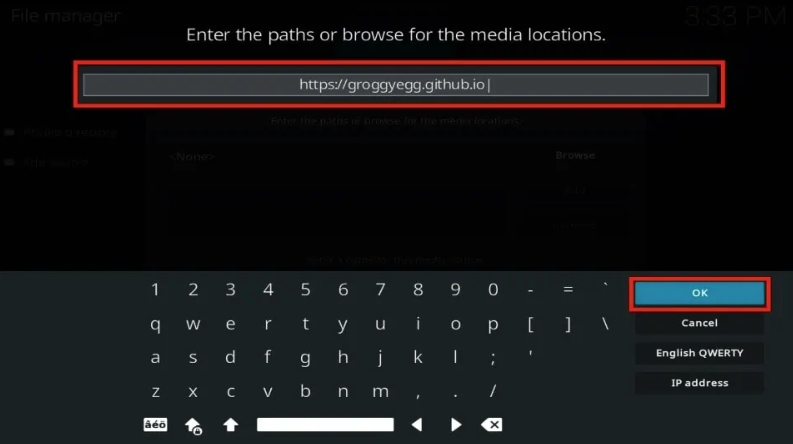 Note: The URL belongs to those who made the Lime Add-ons repository. I just started it here.
To give the source a name, click "Enter a name for this media source."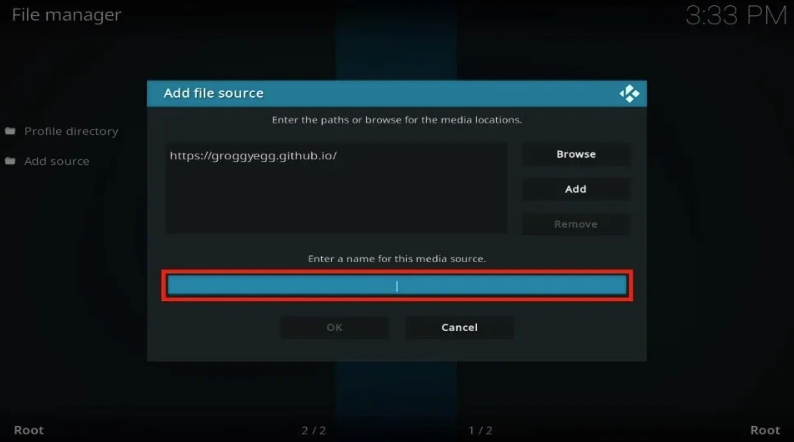 Choose a name. I chose "Stream Repository" and then click "OK" to save it.
Note: Choose a name that's easy to remember so you can use it in the next steps.
After double-checking your entered information, click the OK button to save the source.
You'll see that your source is now on the list of files in the File Manager.
Go back to the page for Settings and click on Add-ons.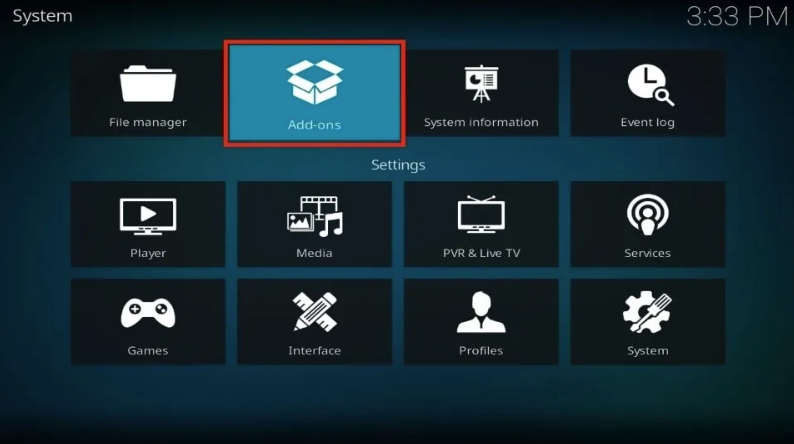 Choose the choice to install from a zip file.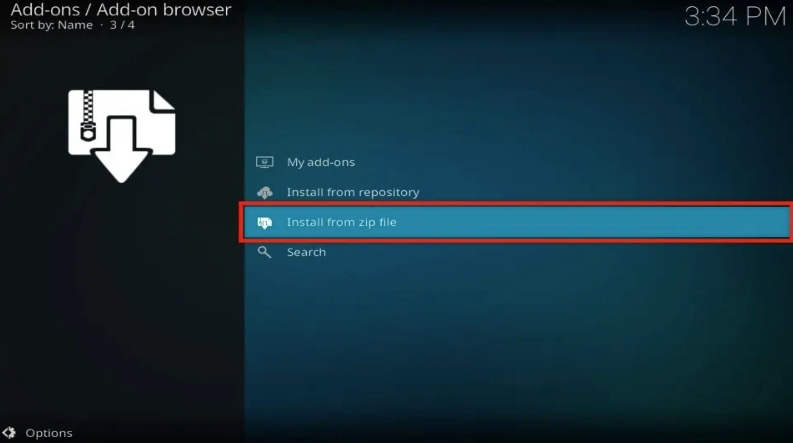 When the warning sign appears on your computer, click "Yes."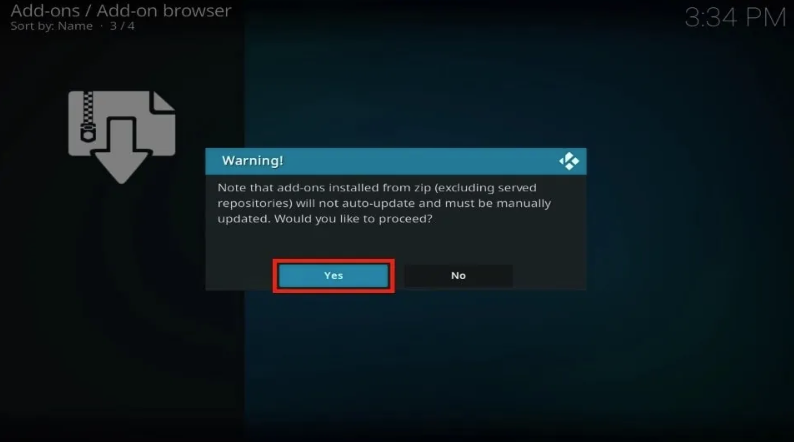 Note: The warning sign only shows up on Kodi 19 Matrix.
Choose the source's name. In my case, it's Stream Repository.
Pick repository.stream-X.X.X.zip from the list.
Note: The repo version can change, so I've called it X. When this was written, it was 1.0.3.
Once the repo is installed, a message will say, "Stream Add-ons Add-on installed," or what ever the name you have choosen.
Part 3: Put DramaCool in place
Here's how to install DramaCool using the Lime Add-ons repo, the last part of our journey.
On the same Add-ons screen, click "Install from repository."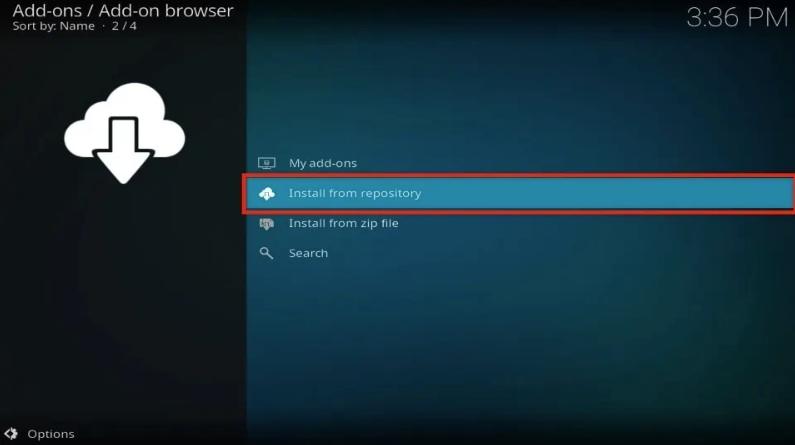 Move down the page and click on StreamAdd-ons or whatever the name you have given in the previous steps.
Open Video add-ons.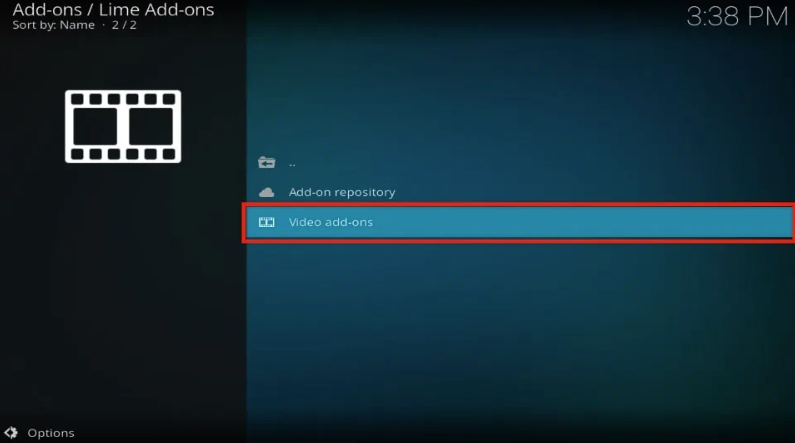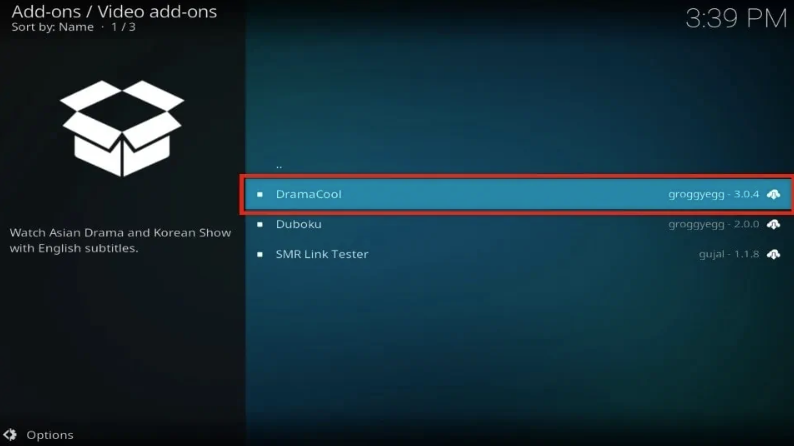 When the DramaCool menu appears on your screen, click the Install button.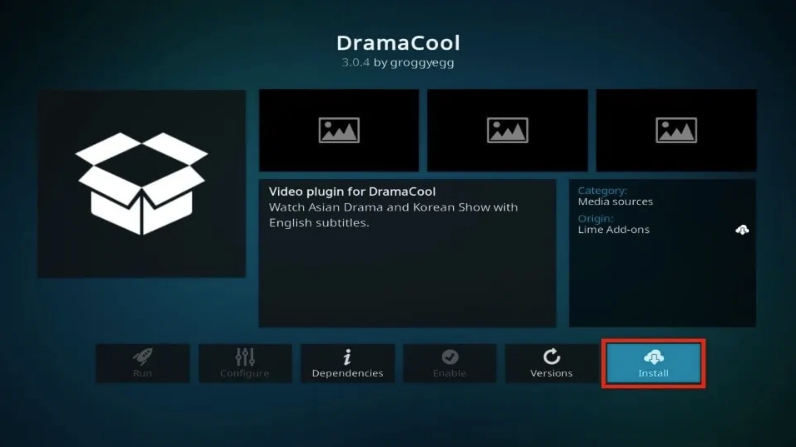 DramaCool will install a few extra add-ons; click OK to confirm.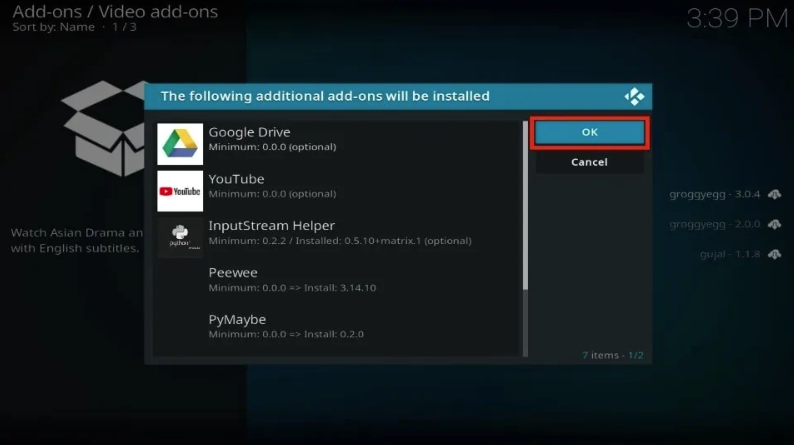 Wait until Kodi downloads DramaCool and installs it on your device.
When you're done, a message will say, "The DramaCool Add-on has been installed."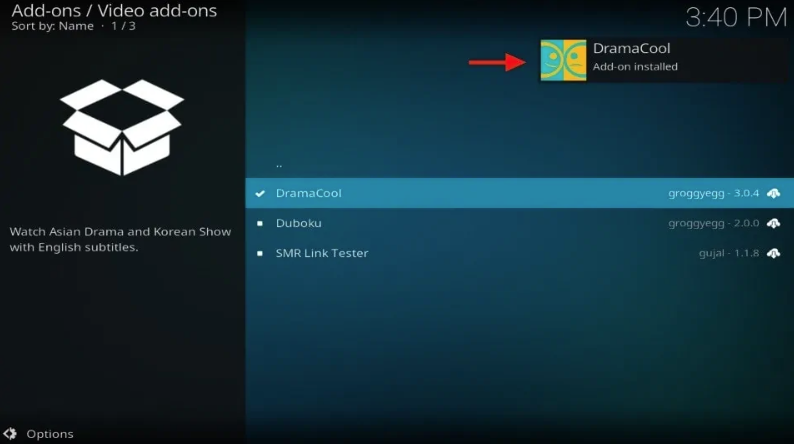 Congratulations! You're all set to use the DramaCool addon on your Kodi app.
Get The Best VPN to Stream Safe with Drama Cool Kodi Addon
Before you start streaming with Kodi Addons or Builds, it's important to know that your ISP and the government can keep track of everything you do online, including streaming. This means that accessing copyrighted material, like free movies, TV shows, live TV, and sports, could lead to legal problems.
But there is a good way to keep your streaming actions safe and private from nosy people. You can do this if you use a trusted VPN service with Kodi. A VPN will hide your real IP address (for example, 110.93.250.194) and let you avoid internet surveillance, throttling by your ISP, and content restrictions based on where you live.
From my own experience, Surfshark is a great VPN service that I highly suggest. It stands out because it is the fastest and safest choice. It also works with a wide range of streaming apps and devices, making it a useful and effective choice for your streaming needs. A VPN is the best way to protect your privacy while viewing online content.
Prerequisites to Install Surfshark on Kodi
Before diving into the installation process, there are a few essential steps to take:
Ensuring Kodi is Up-to-Date
Make sure you have the latest version of Kodi installed on your device. This ensures compatibility with the Surfshark add-on and guarantees a smooth installation process.
Signing Up for Surfshark Account
To proceed with the installation, you need an active Surfshark account. Head to the official Surfshark website and sign up for a plan that suits your needs. Remember to note down your login credentials, as you'll need them later during the setup.
How to Install Surfshark on Kodi: Quick Guide
Here are the easy steps to Install Surfshark on Kodi so you can stream safely and without limits:
Sign up for a VPN account through Surfshark.
Get the VPN app and put it on your viewing device.
Open the VPN app and sign in.
Choose where the computer is. (The USA is the best place to stream the most material.)
Open Kodi and choose whatever you'd like to watch.
All done. With Surfshark, you can now watch on Kodi.
Exploring Drama Cool Kodi Addon
Once you've installed Drama Cool, you can explore its vast library of Asian dramas.
– Understanding the Interface
Drama Cool's user-friendly interface allows you to navigate through various drama categories easily.
– Browsing and Searching for Dramas
You can browse dramas by category or use the search function to find specific titles.
– Managing Subtitles
Drama Cool offers subtitles in multiple languages, allowing you to enjoy dramas in your preferred language.
Troubleshooting Common Issues
Sometimes, Kodi addons may encounter issues. Here are some common problems and how to fix them:
– Fixing Playback Problems
If you experience buffering or playback issues, check your internet connection and consider clearing your Kodi cache.
– Dealing with Addon Crashes
Addon crashes may occur due to conflicts with other add-ons. Disable conflicting addons or update Kodi to resolve these crashes.
Drama Cool Addon Alternatives
While Drama Cool is one of the best kodi addons, it's always good to have alternatives if it experiences downtime or doesn't meet your specific preferences. Certainly! Here's a list of alternatives to Drama Cool for watching Asian dramas and movies:
Viki
Viu
Kocowa
Crunchyroll
OnDemandKorea
Netflix
AsianCrush
WeTV
MyDramaList
These platforms offer a variety of Asian content, including Korean dramas, Japanese dramas, Chinese dramas, and more. Remember to use legitimate and legal streaming services to support the creators and industry.
Staying Safe while Using Drama Cool Kodi Addon
Using Kodi addons comes with some risks. Here are some safety tips:
– Using a VPN for Privacy
A VPN (Virtual Private Network) can protect your online activities and keep your streaming data private.
– Keeping Kodi Updated
Always ensure you have the latest version of Kodi and addons to enjoy improved security and performance.
FAQs – Drama Cool Kodi Addon
What are the key features of the Drama Cool Kodi addon?
Drama Cool Kodi addon offers a vast library of Asian dramas, including Korean, Japanese, Chinese, and more. Its user-friendly interface makes it easy to navigate and find your favorite shows.
Is Drama Cool Kodi addon legal to use?
The legality of Drama Cool Kodi addon can be a topic of debate. While the addon doesn't host content, it acts as a bridge to access external sources. Users should be aware of copyright laws in their region and use Drama Cool responsibly.
How can I prepare Kodi for Drama Cool addon installation?
Before installing the Drama Cool Kodi addon, ensure your Kodi is up-to-date and enable installation from unknown sources in the settings.
What are some popular alternatives to Drama Cool for Asian dramas and movies?
If you're looking for alternatives to Drama Cool, consider platforms like Viki, Viu, Kocowa, Crunchyroll, OnDemandKorea, Netflix, AsianCrush, WeTV, and MyDramaList, which offer a diverse range of Asian content.
Why should I use a VPN like Surfshark with Kodi?
A VPN like Surfshark ensures your online privacy and security while streaming on Kodi. It hides your real IP address, allowing you to bypass geo-restrictions and protect your data from potential threats.
Are there any troubleshooting tips for common issues with Kodi add-ons?
If you encounter buffering or playback problems with Kodi addons, check your internet connection and consider clearing the Kodi cache. For addon crashes, try disabling conflicting addons or updating Kodi to the latest version.
What are the steps to install the Drama Cool Kodi addon?
To install the Drama Cool Kodi addon, add the Lime Add-ons Repo and then select Drama Cool from the repository to complete the installation.
In a Nutshell
Kodi users that enjoy watching Asian dramas from different nations have found the Drama Cool Kodi addon to be an excellent option. Drama fans love it because of its vast library and simple layout. However, users should be cognizant of copyright issues in their jurisdictions before installing third-party addons like Drama Cool. Using a reliable VPN service, such as Surfshark, is highly advised to improve the viewing experience and preserve online anonymity. A virtual private network (VPN) encrypts your data and masks your location so you can access Geo-blocked content and stream safely from anywhere in the world. By following the detailed instructions provided, users of Kodi can install Surfshark and gain the benefits of private and secure streaming. For optimal compatibility and performance, it is essential to maintain Kodi and its addons up to date.