Kodi is one of the best streaming applications a user can have for streaming TV shows, movies, and enticing series. Having variety is a good thing according to your taste, that's what Kodi offers to its consumers. The heavy users can agree using the regular Kodi daily looks could be boring. Hence, the great thing is Kodi offers a diversified number of elegant Kodi skins that can make the usual user interface more interesting.
What Are Kodi Skins?
Let me explain it to those of you who are not aware of Kodi skins. Kodi skins are free-of-cost legal files designed to change Kodi's screen visuals (UI). From reorganizing menus, changing designs, backgrounds, and themes, Kodi provides the user with a remarkable number of Kodi skins to put mesmerizing jazz-on effect while streaming Kodi.
By default, Kodi 19 Matrix provides an Estuary user interface, which is good. However, if consumers want to cherish beautifully designed screens with advanced animated features, they should download third-party Kodi skins to experience a different class of screens.
What cherry is on the top is the third-party Kodi skins have some user-oriented features like widgets, accent picker, accessibility customization, and even built-in Kodi add-ons and repositories. To stream a visually appealing user interface, take a look at the 11 best Kodi skins. I have chosen the best ones to recommend in this blog to save your day. Read the full blog to get along.
Why do you need to install the best Kodi skins in 2023?
Why? To live a diversified user interface that allows the user to stream Kodi in multiple screen designs that are intriguing to the eyes. The fantastic thing is Kodi skins convert your former Kodi screen with fresh ones of your choice with eye-catchy animations, whimsical colors, and premium functionality that are addictive enough for a consumer to the most extended hours of binge-watching.
Therefore, installing the best Kodi skins is essential to enhance the media streaming experience to its fullest– without any kind of interruption and technical problem while installing and streaming.
The task is difficult since having the wrong Kodi skins can waste your precious. That's why, to own the best ones, follow this tutorial till the end.
Get VPN Now
Best Kodi Skins in 2023
Following are the best kodi skins to you must try for an absolute Amazing Experience in 2023.
Aeon Nox (SiLVO)  Beautiful-Looking Kodi v19 Skin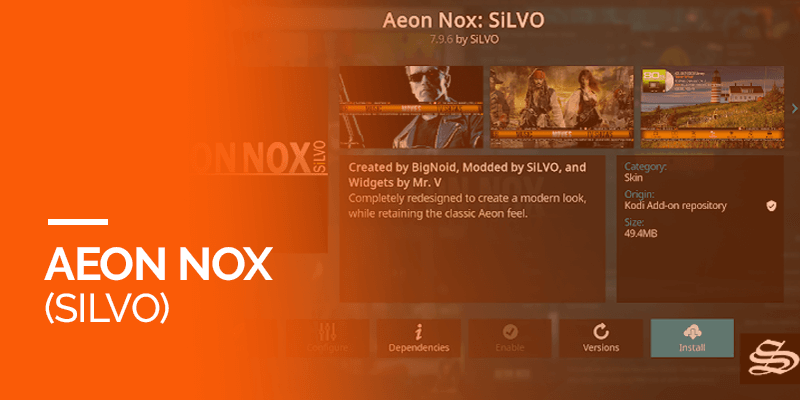 Designed by BigNoid Silvo, Aeon Nox has been one of the most demanding Kodi skin for many years, following several massive Kodi replications. Since every new update in Kodi demands updating every third-party Kodi skin, too, it is the oldest one that exists.
The unique selling point of the most premium Kodi skin is that Aeon Nox is focused on massive size screen visuals in your Kodi screen, which provides the best grid of media posters at your screen with navigation feasibility.
Installing the Aeon Nox Kodi skin can change the visual interface in the addons, photo gallery, movies, series, and music with a classical look to the Kodi library.
A user with a former version of the Kodi 19 matrix' can comfortably use this excellent Kodi skin to run smoothly on Kodi for a premium visual voyage full of exciting themes, colors, fonts, and customized settings.
Amber – Great for intense Customization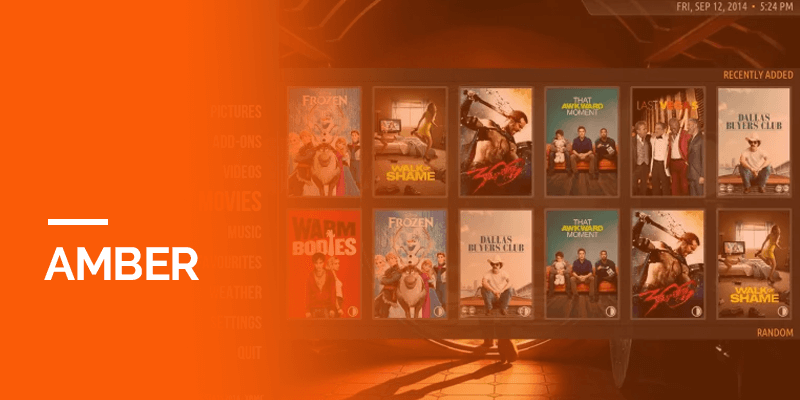 Designed by Pecinko, Jester Bsoriano, Amber is a lightweight, user-oriented interface with highly-customizable Kodi skin that offers lots of features, including horizontal menus along with main categories visible straightaway.
Rely upon your Kodi's media library; while scrolling through these categories, you can see high-resolution images in the background. After choosing a category, the screen leads you to the next page of horizontal rows filled with movie posters.
However, if horizontal navigation does not intrigue you, you can always prioritize main vertical menus. From the background to the home shelf and home menu, one can customize everything in Amber.
Arctic Zephyr 2 – Compatible for Large-Screens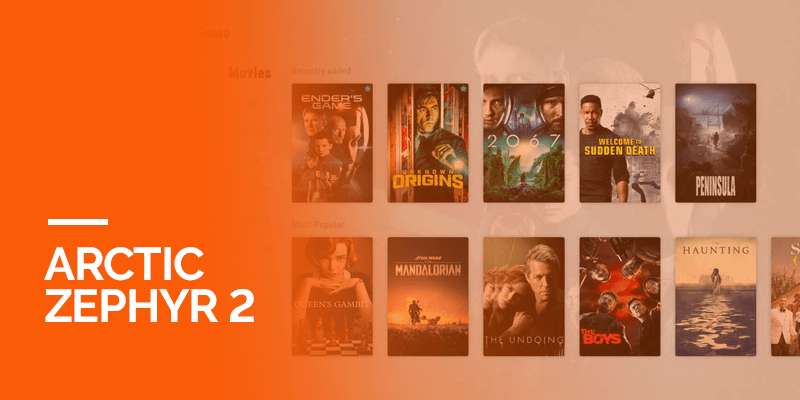 Designed by Jurial Munkey, Arctic Zephyr counts as the most polished and effective skin that provides the user with the most exquisite large-screen experience that others cannot. The exciting thing is it can change Kodi's interface effectively and convert it into an upgraded one for better experience.
By default, Arctic Zephyr provides Kodi's screen with a large bottom positioned bar to display main content categories, but you can enable shortcuts as per your demand. Selecting any category will provide the consumer with a clear representation of the media content they want to play.
Moreover, to stream live TV on your Kodi, Arctic Zephyr is the best Kodi skin that offers you the stunningly designed Television schedule of the upcoming series and movies you desire to stream.
Confluence – Perfect Skin for the admirers of Kodi's former user interface
Produced by Team Kodi, Jezz_X Confluence resembles Kodi's older version user interface. It is one of the best to fit in as the Kodi skins. To relive the former Kodi experience, a user can always install this Kodi skin. Having an influential impact on Kodi lovers, Confluence is the default skin on numerous Kodi versions. It offers a plethora of gradients and is designed upon the visually hefty elements and bright User Interface.
The primary menu is displayed in horizontal format, categories, and sub-categories of the media content available on the screen, with the most efficient navigation. However, admirers of the minimalistic or modernized Kodi skins should not go for this user interface.
Plus, using Confluence can facilitate the user with each media content's meta descriptions' displayed on the Kodi screen. You are already excited to start using it, aren't you?
Black Glass Nova – Influenced by Windows Aero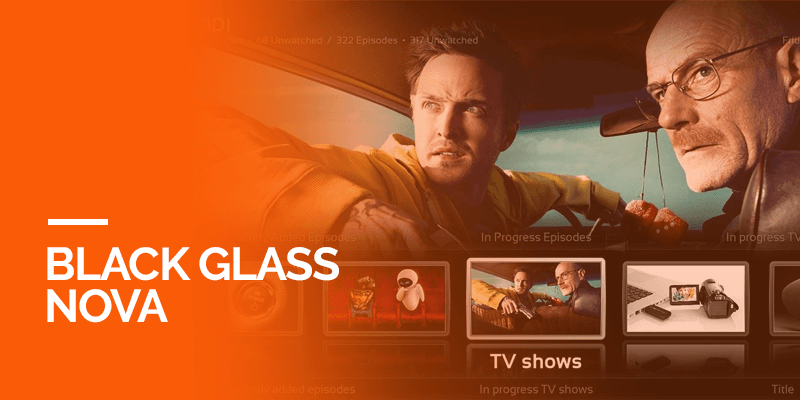 Designed by Tgx, Black Glass Nova transforms Kodi's user interface into horizontal navigation, along with a considerable thumbnail to follow. It shows images of every category portrayed on the Kodi screen; whenever you navigate the screen. Moreover, one can see the sub-menus of multiple media content at the bottom of the screen while browsing the desired media shows.
Hence, if we talk about the quality of visuals, Black Glass Nova's design is based on Windows Aero's visual aesthetics. Content sections, images, dialogue boxes arrive with transparent designed borders with delicate edges.
Moreover, Black Glass Nova is full of tiny details, including content and visuals; one should always opt to use it on a large premium TV for the best experience.
Unity – Best for the Fans of Google Material Design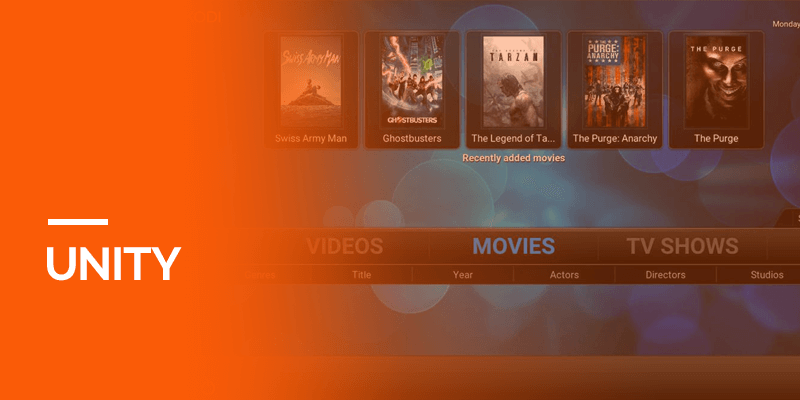 Unity falls in the category of one of the incredible Kodi skins, Unity is a must-have experience for Kodi consumers.  Hence, If you are not familiar with what Google Material Design is, let me explain it in a second. Material Design is a design language developed by Google in the year 2014, that deals with responsive animations, grid-based layouts, and transitions. However, ots fame is all about clear and concise visuals, and there are not any redundant features.
Nevertheless, you can have a smooth broadcasting time with elementary colors and buttons without transparency. The primary menu is displayed in a horizontal format as a sizeable gray bar with a white color menu and letters on the screen. One might not forget about taking this roller coaster ride on Unity skin to set forth the exciting journey. While scrolling, one can thoroughly check the features, which display related add-ons, artwork, and movie posters in the top part of the screen.
Get VPN Now
Embuary – Great for Emby Web's UI admirers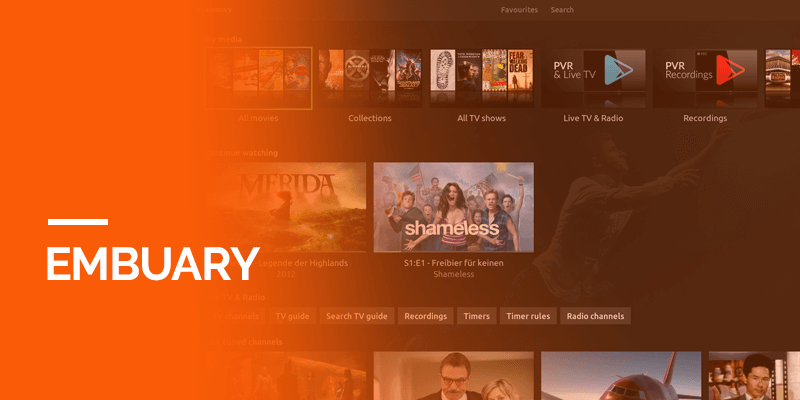 Designed by Sualfred, Emby is well-known for organizing all types of media libraries. It has become one of the most favorite and most demanding user interfaces since last year because of the spectacular designs. Now it has already taken the market as one of the most widely used Kodi interfaces.
The Embuary skin is focused on emphasizing horizontal and vertical grids and interests the user while using a Kodi remote at any of the media streaming devices.
The fantastic features are a big yes to use in Embuary anytime. it is an all-in-one skin with exciting functionality, modern looks, media playback to PVR, and user-friendly settings.
Titan – (Bingie Mod) Favorite for the Netflix's (UI) Fans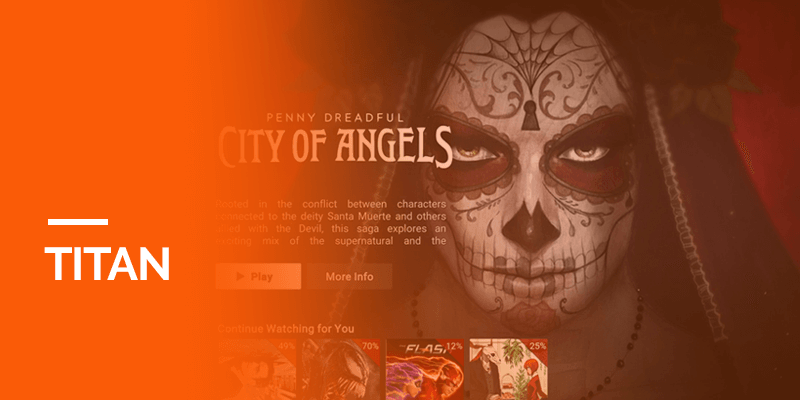 Powered by Achielles Punks, Titan (Bingie Mod) offers high-quality visuals along with a smooth user interface that resembles the look and feel of Netflix. It is perfectly suitable to run on consoles, media streaming devices, Smart TVs, etc.
Therefore, to use Titan's best Bingie Mod features as a perfect Kodi Skin, you can have an unforgettable streaming experience – operating it with your device's remote to navigate through individual files and media content categories of your desire.
BOX – Incredible for the Modular/Boxes Interfaces Fans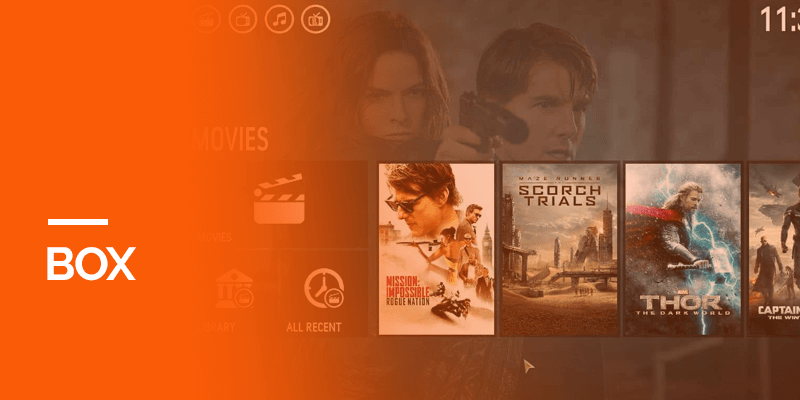 Developed by DjCisco, BOX is admired for its beautifully designed user interface, which is elegant to the eyes, user-oriented, and straightforward. Constant Kodi users can easily recall the previous versions named nBox and Lightbox, popular in the circle of former users. People who hold a great taste for aesthetics love the user interface of BOX.
Since it displays interesting pictorials with vibrant images for an exceptional user interface, with minimum text, which is a great way to avoid visual pollution. Besides, its diversified features related to different content type are the icing on the cake. It means one can cherish movies, shows, music, and other playlists, with highly different poster grids, along with the ratings, meta descriptions, and other display icons.
Nebula – unique Skin for former Kodi versions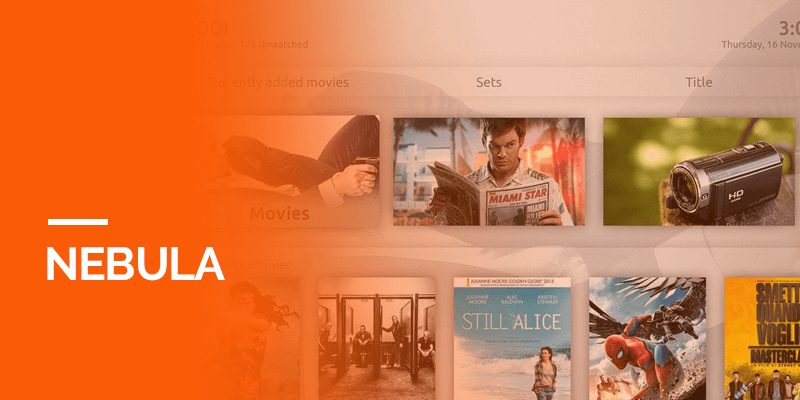 Designed by Tgx, Nebula is one of the greatest Kodi skins that provides a plethora of media streaming options to gather them in one place for a vast user experience at the same time. Hence, Nebula's user interface is very flexible without any complications.
Once you install the Nebula, your home screen of Kodi transforms into a soft white color surface with gray text. The main menu is settled between the screen's central part, and one can navigate it without hassle. Stopping on a certain category, a user can get acquainted with different options going from top to bottom accordingly. For instance, you can enter the movies firsthand without opening the main category first.
GRID – Amazing Skin with a Simple Interface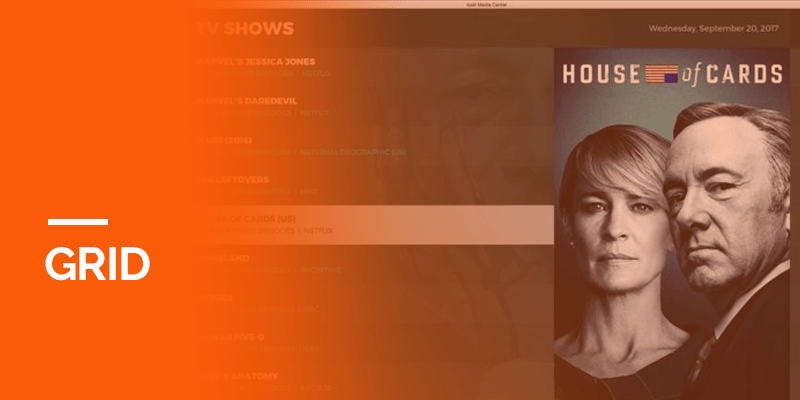 Produced by Jeroen, it is one of the most exciting Kodi skins till date. Do you think why? Let me tell you. GRID is categorized among the fastest skins since it is operated by an intellect team. Moving forward, GRID's horizontal transparent menu is displayed at the top left side of the screen, with mesmerizing background visuals.
Moreover, famous for its premium customization, GRID provides multiple displays. Entering the main category, you can see a horizontal grid displaying a variety of shows, and underneath them, there are meta descriptions and the number of episodes mentioned for a hassle-free user experience.
Furthermore, you can change the grid from horizontal to vertical anytime, along with the meta descriptions mentioned at the bottom.
Why Do You Need a VPN For Kodi?
For a safer and more secure experience, get a VPN to put a protected fence on their internet activities.
VPNs are designed for privacy protection, circumventing geo-restrictions, and living a wider internet life without the fear of losing your sensitive data or getting traced. Connecting a Kodi with a VPN promises reliability during quality media streaming time, without mishaps like ISP throttling.
Moreover, it facilitates users to connect with multiple Kodi skins and make their media streaming hours worth watching while having privacy, security, and anonymity.
Wrapping Up
Media exposure to the amazing add-ons and widgets is an excellent way of enhancing the experience on Kodi. These eleven Kodi skins could become anyone's favorite since they are highly user-oriented, gorgeously designed, and diversified.
You don't want to stream on the same old Kodi user interface when your friends are invited at the weekend, or do you?. Bring something new that excites the heaven out of the content lovers and make their media streaming choices worth remembering.