This article covers a tutorial for installing the Lepto Sports app on FireStick. While the sports application stays unavailable for FireStick, this guide will cover a comprehensive tutorial on downloading it on different FireStick versions.
Amidst the sports season, you may find yourself in search of a dedicated app for your Firestick. Look no further than Lepto Sports, tailored to meet your sports-watching demands. It's an ad-free service that grants access to popular sports leagues. Regrettably, due to privacy concerns, this specific application isn't accessible in the Amazon App Store for Firestick installation. Nevertheless, you need not seek an alternative app – you have the option to sideload the Lepto Sports app onto your Firestick device.
The Lepto Sports app hosts a vast library of live sports content over 200+ channels. With Lepto Sports, you can enjoy high-definition streaming of live matches without any disruptions. It offers an uncomplicated user interface with a built-in search bar for easily locating your preferred sports and sports channels. Furthermore, you can relish live streams of your favorite team's matches, complete with previews, match schedules, and additional features.
Note: Lepto Sports is a free sports streaming app, and it might contain illegal sports streams. FireTvSticks does not promote accessing unlicensed and illegal content. For a safe and secure streaming experience, we recommned using SurfShark.
Keep reading to find out all about the installation of Lepto sports app on the FireStick and what are the top Lepto sports alternative FireStick available.
What Is Lepto Sports on Firestick?
Lepto Sports is a streaming application recognized for extensively broadcasting live sporting events. It's a favored choice among sports fans as it offers access to various sports content on different devices, including FireStick.
It offers streams for:
Football
Basketball
Cricket
And many others.
Lepto Sports provides a platform for real-time viewing of your favorite games. Its user-friendly interface and live sports accessibility have contributed to its popularity. This makes it the top choice for those looking for a varied and dynamic sports-watching experience. Speaking of that, in a 2022 survey conducted in the United States, it was found that younger sports enthusiasts exhibited a higher tendency to enroll in multiple sports-centric streaming services.
Specifically, nearly 30% of sports fans aged 18 to 34 were subscribers to three or more sports streaming platforms. Contrasting with a lower figure of 14% for respondents aged 35 and above.
How to Install Lepto Sports App on Fire TV: A Step-By-Step Tutorial
Today, sports is proven to take great space in TV viewership reports. And, live sports streaming has only doubled in the past 6 years. To enjoy free live sports matches on Firestick devices, including Firestick Lite, 4K, and 4K Max, it's essential to sideload the Lepto Sports App on Firestick through the Downloader tool.
Here's how you can watch your favorite sports streams on Lepto Sports through your Fire TV device:
1. Power up your Firestick device and connect to the WiFi network.
2. Go to FireStick homepage>Find>Search.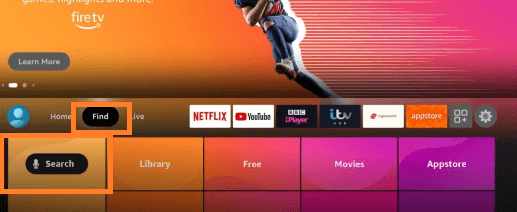 3. Using the virtual keyboard, type "Downloader" and press Enter.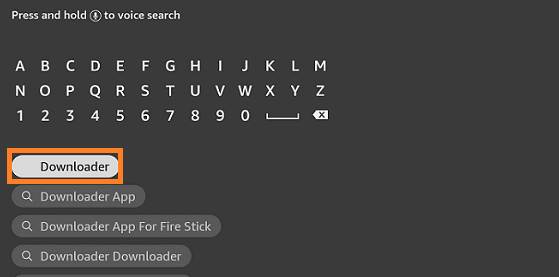 4. Select the Downloader tool from the search results.
5. Click on Get/Download to install the Downloader app on Firestick.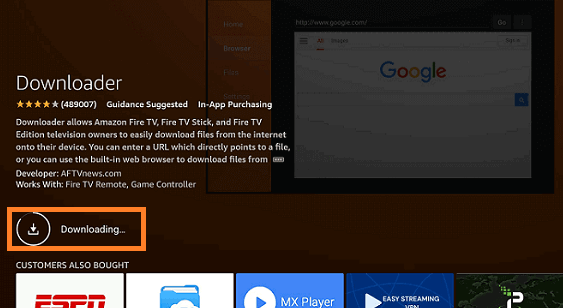 6. Return to Firestick homescreen. Navigate and click Settings.
7. Scroll down and choose My Fire TV.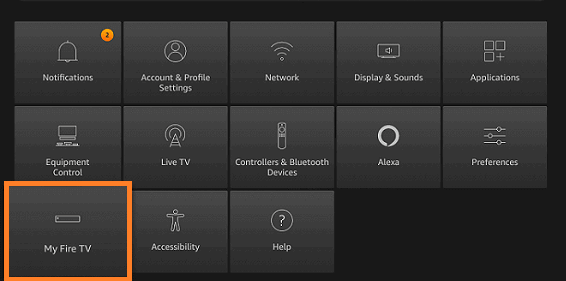 8. Within My Fire TV, select Developer Options.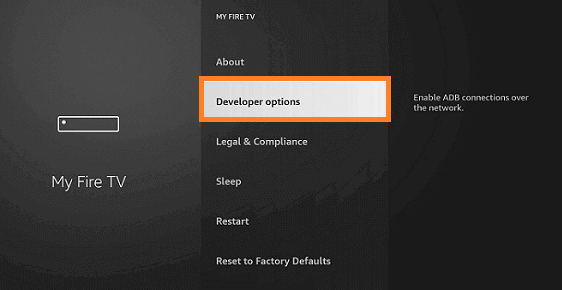 9. In the following screen, choose Install Unknown Apps.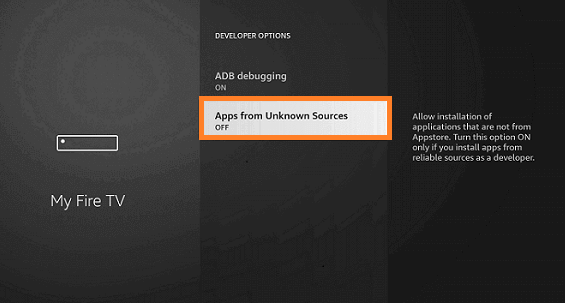 10. Enable the Downloader option.
11. Launch the Downloader app from the Apps section on your Firestick device.
12. Click on Allow to proceed.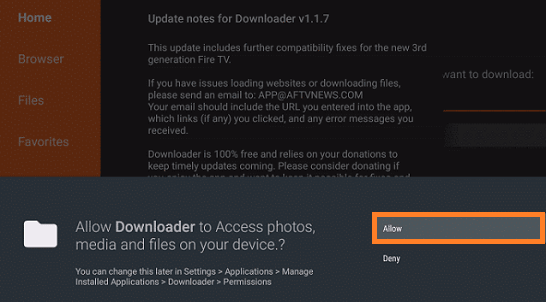 13. Now, paste the Lepto Sports URL into the provided field.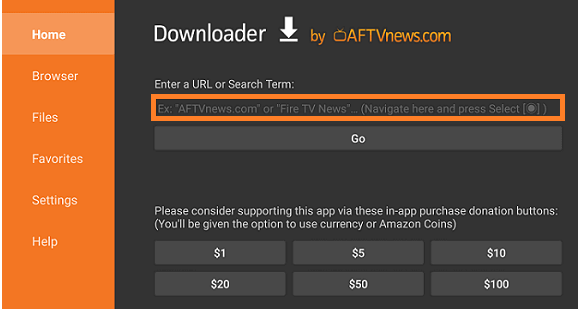 14. Click Go to download the APK file to your Firestick.
15. Next, press the Install button to download the Lepto Sports app.
16. Once you Download Lepto Sports app on Firestick, select Open to launch the app.
17. Now, you can access Lepto Sports and start streaming your favorite sports.
Why Is Lepto Sports Not Working On Firestick?
After you Download Lepto Sports app on Firestick, if you face any application errors, here's a troubleshooting guide to Lepto Sports not working on FireStick:
1. Clear the FireStick Cache
After installing the app, you might encounter problems such as lagging, buffering, or slow app launch. To address this, start by ensuring the stability and quality of your internet connection.
If your internet is in good shape, the next step is to clear your Firestick's cache from the settings menu.
Following are the steps to clear the cache:
Press the Home button on remote to return to the main screen.
Go to the Settings menu.
Choose the Applications menu.
Opt for Manage Installed Applications.
Select an app for cache clearance.
Click on Clear cache.
2. Reinstall the App
If you get a parsing error, then we recommend following these solutions:
Erase the cache.
Activate Play Protect.
Install the application on a different device, then move the APK to your device.
Reinstall the application.
3. Update the App
If you've attempted the previously mentioned solutions and the issue persists, the installed app may require an update. To address this:
Launch the app and access the menu by clicking on the menu icon.
You'll find an update icon or a notification in the menu indicating a new update is available.
Click on it and proceed to install the update for Lepto Sports.
If the errors persist, you can jump to the Lepto sports alternative FireStick
What Are the Lepto Sports Alternatives FireStick?
Despite all the popularity Lepto Sports has, you might not find it the best for you. Or there are too many errors to deal with after you Download Lepto Sports app on Firestick. And, you decide to jump to the Lepto sports alternative FireStick.
That said, here are the top 3 Lepto sports alternative FireStick that we recommend:
1. La Deportes
If you're a sports enthusiast searching for free and reliable sports streaming apps for your FireStick, this guide is tailored to your needs. Give La Deportes APK a try to enjoy many sports and live matches while on the move.
The application provides abundant live sports coverage, including:
Cricket
Football
BasketbalL
Volleyball
It's worth noting that the streaming is exclusively available on Matchdays. Meaning, you won't have the option to watch these matches or events at a later time.
2. Navix Sports
NavixSport is an IPTV platform that provides free access to a vast selection of live sports streams on any internet-connected device. And, this Lepto sports alternative FireStick offers all the premium options that are hard to miss out on.
The app offers a diverse array of sports categories, including:
Basketball
Baseball
Football
Hockey
Tennis
And much more
Here's what makes it popular:
Accessibility
User-friendliness
App customization options
3. LiveNet TV
LiveNet TV is one of the top Android-based sports add-ons for Firestick. Making it a standout choice among free sports APK options. By installing LiveNet TV on Firestick, you can avail of its exceptional sports channel selection.
This application provides access to video-on-demand, supports Chromecast, and allows playback through external players. Users can access a broad array of 800+ channels, most offering high-definition quality and operating without intrusive advertisements.
Here's what it primarily offers:
Extensive Sports Library
Broad Content Spectrum
Ad-Free Streaming
FAQs - Lepto Sports App on Firestick
How can I watch free sports on Fire Stick?
You can watch free sports on FireStick by installing free sports apps. For example, you can download Lepto Sports app on Firestick on FireStick or download Kodi. Along with that, you must use a trusted VPN, like SurfShark, to protect your digital privacy. 
How can I watch live cricket on Fire Stick?
You can watch live cricket through different sports app options. For example, you can install ESPN, Hotstar, or Willow TV to watch live cricket on Fire Stick.
How can I watch free sports on Fire Stick?
You can watch free sports on Fire TV by installing free sports apps, like you can download Lepto Sports app on Firestick. Since these apps don't abide by copyright laws, they can contain malicious files that affect your privacy. For that, you must use a trusted VPN, like SurfShark.
Wrapping Up
From football to basketball, the Lepto sports app is a one-stop solution for all streaming enthusiasts. But there's no official Lepto app available; you'll need to install the APK version.
You will require the downloader app for that, and once you've installed it, you can install the Lepto sports streaming app. In case you face application errors, you can head to our troubleshooting options mentioned in this article.