Yes, Harry Potter is on Netflix, but only in a few countries! There are only a couple Netflix libraries that have the Harry Potter series, and to watch it, you'll need a VPN.
Usually, I would simply recommend a VPN to help you get access into your Netflix account, but the circumstances are a little different here. Most users, even in the USA, assume that Harry Potter isn't available on Netflix mostly because it just simply doesn't show up in the content library.
It used to be available in Poland, Portugal, Spain, France, Belgium, and New Zealand libraries, but not anymore. Later on, it was said to work on the Australian and Turkey Netflix libraries on the 15th July, however, that too has been downsized to only Australia. If you try to access it from any other library, you're probably going to see the Netflix error code message:


Get VPN Now
Unblock Harry Potter on Netflix with the best VPN
Now, as mentioned above, we used a VPN to get access to Harry Potter on Netflix. However, not all VPNs are the same, nor are reliable enough to give you access to a service like Netflix, regardless of what movie you need to watch. This is why we chose only 5 of the best VPNs for Netflix that also offer Australian and numerous other servers.
This testing was conducted on the 8th of October' 2021, so it's pretty recent. We used only the best VPNs to help you sign into your Netflix accounts and watch the very limited Harry Potter film series. However, you could still test the services out to see which servers worked the best for you.
Also note, it's not about what VPN works the best, but mostly about which servers help users binge the Harry Potter film series on Netflix. If the tutorial below doesn't help you, my team and I have also provided a few alternative platforms that you can use to watch Harry Potter.
How to watch Harry Potter on Netflix globally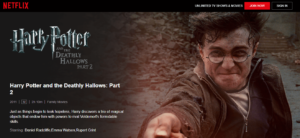 Subscribe to a VPN that works with Netflix. We've recommended 5.
Download and install the VPN on your device.
Make sure you clear the cookies and cache on your web browser before trying to watch Harry Potter on Netflix. This step is to ensure that nothing comes in the way once you change the Netflix region on your device.
Launch the VPN app and sign in to your account.
Connect to an Australian server since you're trying to watch Harry Potter on Netflix.
Open the Netflix app, and you should now see the Australian Netflix library.
Look for Harry Potter and start streaming whichever part you'd like!
Since you already have your VPN, this method works for almost any kind of streaming service or movie that you're trying to gain access to. For starters, if you're a US resident and are traveling abroad, all you need to do is connect to a US server and access the US Netflix library.
What Harry Potter film series is available on Netflix?
With a connection to an Australian VPN server, you can watch the following Harry Potter movies on Netflix:
Harry Potter and the Philosopher's Stone
Harry Potter and the Chamber of Secrets
Harry Potter and the Prisoner of Azkaban
Harry Potter and the Goblet of Fire
Harry Potter and the Order of the Phoenix
Harry Potter and the Half-Blood Prince
Harry Potter and the Deathly Hallows (Part 1)
Harry Potter and the Deathly Hallows (Part 2)
Where else can we stream all the Harry Potter series?
Just in case this tutorial didn't work for you, mostly because it's difficult to get past Netflix geo-blocks, especially if you're outside the region of access, you can, however, still watch all the Harry Potter film series on other platforms.
For now, you can stream all 8 Harry Potter series on Peacock TV. However, you will still need to buy a premium subscription account to watch all of them, or watch the first 3 for free on the free account. If you're looking for another service to watch Harry Potter in Australia, you could always try out Binge. It costs around $10/mo. AUD.
Also read: Is Peacock TV on Roku?
If you're a resident in the UK, you could try watching all 8 Harry Potter film series on Now TV, or use a VPN, connect to the UK server and stream it only if you're traveling abroad. For those living in India, or somewhere close by, you could try buying an Amazon Prime subscription to watch Harry Potter.