Showbox is an on-demand third-party application that allows you to stream a wide range of movies and shows on your Android devices. The best thing about Showbox is that its team regularly adds new content. You can watch HD content; the super light app does not downgrade your device performance. However, one important thing to mention is that the Showbox app is designed for Android mobiles; hence, it does not support Fire TV's remote. However, you can easily install a mouse toggle app to use Showbox on Firestick.
Alert: Showbox may contain malware and viruses since it's an unofficial app and doesn't have legal rights to stream media files. Therefore, it is suggested to use a Showbox VPN for secure and anonymous streaming. Get Unlimited Simoultaneous connections
How to Install Showbox on Firestick
Showbox is not an official app; therefore, it is unavailable in the Android app store. But you can install it from other third-party app sources.
There are two different methods available to download and install Showbox on Firestick.
Method 1: Download and Install Showbox on Firestick with Downloader App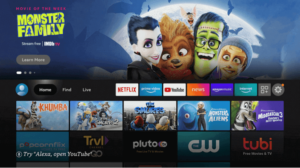 Click where you see the Settings icon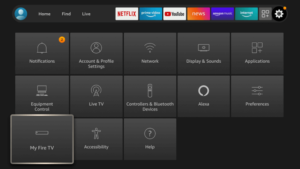 Choose Developers Options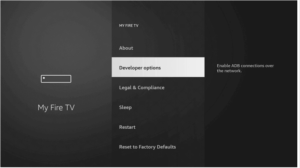 Click at Apps from Unknown Sources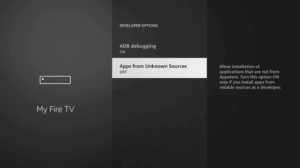 Turn on apps from unknown sources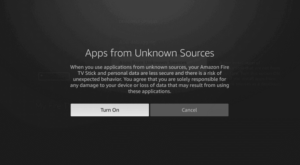 Head back to the home screen and select "Find."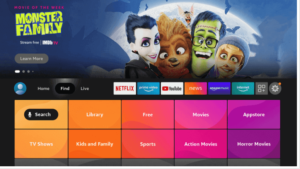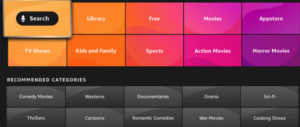 Note: Before downloading, make sure you are connected to the best VPN for cyber security. Therefore, get Surfshark to prevent from any viruses to be installed into your devices.
Type "Downloader" and select it from the available list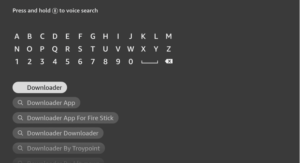 Click on the Downloader icon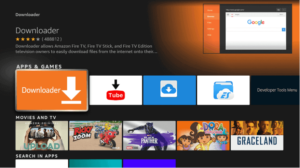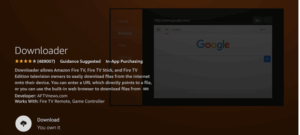 Now, wait for the installation; it will take a few minutes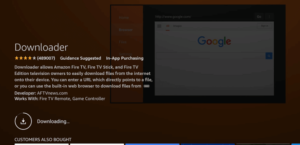 Click Open to launch the app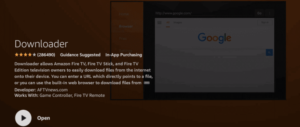 Tap on Allow after opening Downloader

Choose OK when you see a notification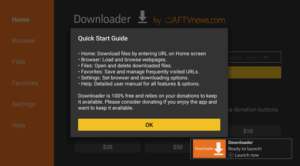 Now, you will see the by default home tab with some text on it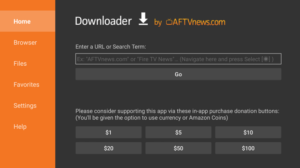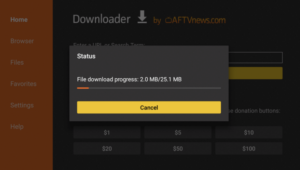 After installation, Click Next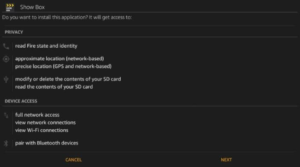 Click install and wait for a few minutes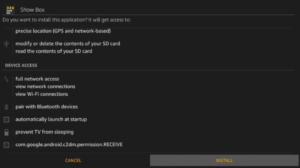 Click Done when you see a Showbox notification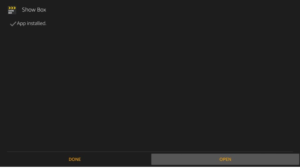 And that's it!
Note: To use Showbox on Firestick, long-press the home button, and select apps. From the available list, pick Showbox and open it. I will recommend installing a VPN before streaming on Showbox.
Method 2: Install Showbox App on Firestick Using Aptoide Store
You can also install Showbox on Firestick by using a third-party app store. Watch anime on Showbox and many more. Therefore, the third-party app store will work as the Amazon store alternative. Additionally, you can use Aptoide; it's a third-party app store that works for the Android app store and works on Firestick devices.
Open Aptoide, and it will directly open the Editor's choice section by default. You will see various apps on the right side, and the Showbox app will also appear in the same window.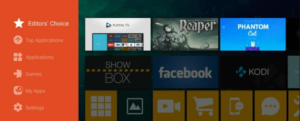 You can also tap on Top applications to see the most popular Android apps
If you still fail to find the Showbox option, head to Editor's choice again and click on the search icon to find the app
Tap where you see the Showbox icon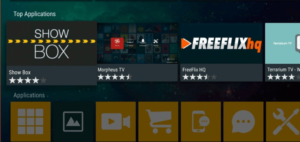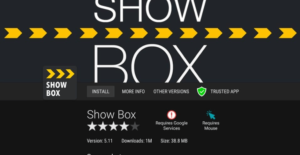 Click OK when you see a warning message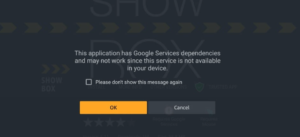 Wait for the download to complete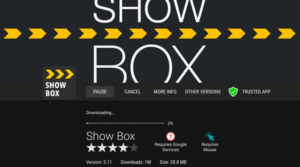 Click Next when you see a prompt on display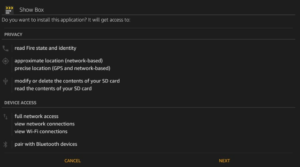 Click install in the next window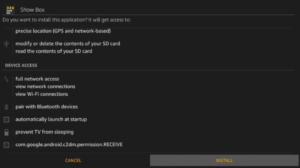 Wait for the app installation on Firestick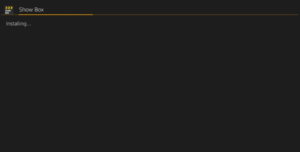 When you see the App Installed notification, click Open to launch the app. You may click Done if you want to use the app later.  To open the app, you can head to Your Apps & Channels section.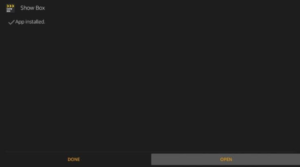 That's it! Now, you can use Showbox on Firestick.
Is Showbox Legal?
Showbox may contain pirated content that can land you in trouble as per your country's law. However, you can use a VPN service to stream on Showbox safely. A VPN hides your connection and protects you from ISP and government surveillance.
Features of Showbox
No sign-up required
No ad popups
HD quality with other viewing options
Subtitles are available
Movies genre, type, rating, and year are available
Easy-to-use interface
Download and watch later option is available.
How to fix Showbox error on Firestick
Go to Settings > Applications > Manage Installed Applications from the Fire TV menu. Select Showbox from the available list, and access the app info. Tap Clear Data and Clear Cache button. Now, restart your devices and reopen Showbox.
FAQs – Showbox on Firestick
How often is Showbox updated with new content?
Showbox aggregates content from various sources, so new movies and TV shows are usually added relatively quickly after release. However, the frequency of updates can vary, and the availability of specific content depends on the sources Showbox uses.
Is there a subscription fee for using Showbox on Firestick?
No, Showbox is a free streaming app; you do not need to pay any subscription fees. However, be cautious of websites or services claiming to provide a "premium" Showbox experience for a fee, as these might be scams.
Can I cast Showbox content from my phone to Firestick?
Using the built-in casting feature, you can cast Showbox content from your phone to Firestick. Ensure that your Firestick apps and phone are connected to the same Wi-Fi network, then use the casting option within the Showbox app.
Why does Showbox sometimes not work on Firestick?
Like many third-party apps, Showbox might experience technical issues due to server problems, outdated app versions, or changes in its source. If Showbox isn't working on your Firestick, you can clear the cache and app data, update the app, or use an alternative app.
Are there any alternatives to Showbox for Firestick?
Yes, there are several alternatives to Showbox that you can use on your Firestick, such as Kodi, Cinema HD, TeaTV, and Popcorn Time. These apps offer similar streaming capabilities.
Can I use a VPN with Showbox on Firestick?
Yes, it's recommended to use a VPN when streaming content from apps like Showbox. A VPN (Virtual Private Network) can help protect your privacy, secure your internet connection, and bypass region restrictions for certain content.
Is sideloading Showbox on Firestick safe and legal?
Sideloading apps like Showbox can have risks. The app itself might not always provide legal content, and there's a potential for security vulnerabilities. Only download the Showbox APK from trusted sources and use a VPN to protect your online privacy while using such apps.
How do I install Showbox on Firestick?
To install Showbox on Firestick, you'll need to enable "Apps from Unknown Sources" in the Firestick settings, download the Showbox APK file from a reliable source, and then use a third-party app like Downloader to install the APK onto your Firestick.
Is Showbox officially available on the Amazon App Store for Firestick?
No, Showbox is not officially available on the Amazon App Store. You need to sideload the app onto your Firestick if you want to use it.
Conclusion
With the following guide, you can easily install Showbox on Firestick. The methods mentioned will allow you to watch free movies and shows on Showbox. Using a VPN before installing Showbox on Firestick is highly recommended. Moreover, it will secure your network and enable you to stream anonymously from anywhere.