In this guide, we've highlighted the best VPN for Firestick and a guide showing you how to install and use it!
A Firestick VPN is the best way possible to help you access tons of content without geo-restrictions. This blog aims to feature the VPN for Firestick to let you make your Firestick device even useful.
With a Firestick VPN, you can access major streaming sites like BBC iPlayer, Hulu, and Peacock. These sites are otherwise blocked in various regions except their approved locations.
All the outlined streaming sites are great and offer content that people crave to watch across the globe. You can also watch and access unlimited content anonymously by using one of our listed VPN for Firestick. Read on carefully to know what are the best and the most secure Firestick VPN for 2022.
Here's a Quick Rundown of the Best Firestick VPN for 2022
All the mentioned VPNs work well with the Amazon Fire TV device lineup. However, the first-generation Fire TV Stick is not included because it does not support a VPN.
Get VPN Now
Best Firestick VPNs in 2022
We have tried and compiled a list of these five VPN providers that work best with the Amazon Fire TV Stick.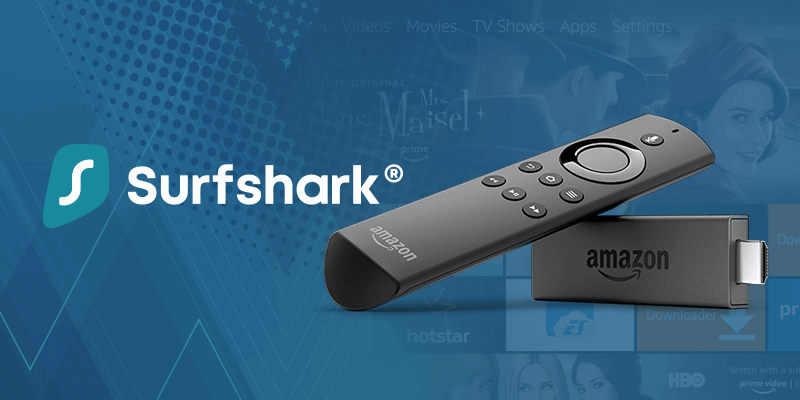 Surfshark is topping the chart of best Amazon Fire TV stick VPNs. It offers unlimited Firestick bandwidth that is a considerable feature to access FireStick content.
There are more significant features available with SurfShark. It has unlimited device connectivity, supporting major platforms i.e. macOS, Linus, and Apple TV. 
You can unlock content from any region with its widest range of 3200+ servers across 65 countries. Its strict no-logs policies will keep you at bay from major security risks.
Surfshark also offers a CleanWeb feature that allows you to unblock Netflix, Hulu, and Amazon prime videos smoothly without advertisements.
Top Features
Unlimited multi-logins with a no-logging policy
Ultra-fast speed for downloading and streaming content
1700+ Servers around the world
Kill switch
CleanWeb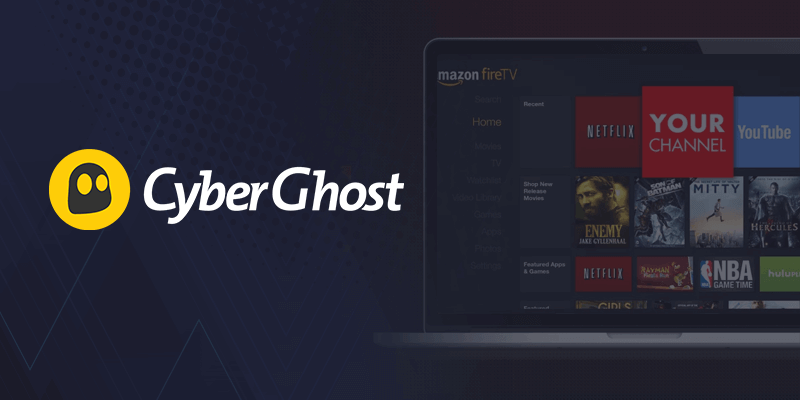 CyberGhost is another strong option to look for. It supports a native app for the Amazon Fire TV platform and is compatible with all Amazon devices with OS 4.6.  It ensures the highest security levels with strong 256-bit AES Encryption.
What's more? The VPN service operates 6000 servers globally, which lets you unlock content from any location around the world.
CyberGhost provides various top features that include an automatic kill switch, unlimited bandwidth for FireStick, and a no-logs policy. You can also connect up to 7 devices with your CyberGhost servers using a single account.
Top Features
DNS and IP leak Protection
Strict No Logs Policy
Open VPN, L2TP-IPsec and PPTP protocols
Enabled connection for up to 7 device
NordVPN provides a native app for Amazon Fire TV devices. You can experience smooth streaming since NordVPN covers you with 5000+ global servers across 59 countries. 
It Offers Military-grade encryption for a well-protected connection and compatible with all the major platforms i.e.  Windows, macOS, iOS, and Android.  NordVPN also has 256-bit encryption for the ultimate connection security.
It can connect up to 6 devices simultaneously.  You can enjoy Harry Potter on Netflix, comedy movies on Hulu, Amazon prime video using this VPN.
Top Features
5000 servers in 59 different locations
24/7 Live Chat Support
Connects 6 devices at the same time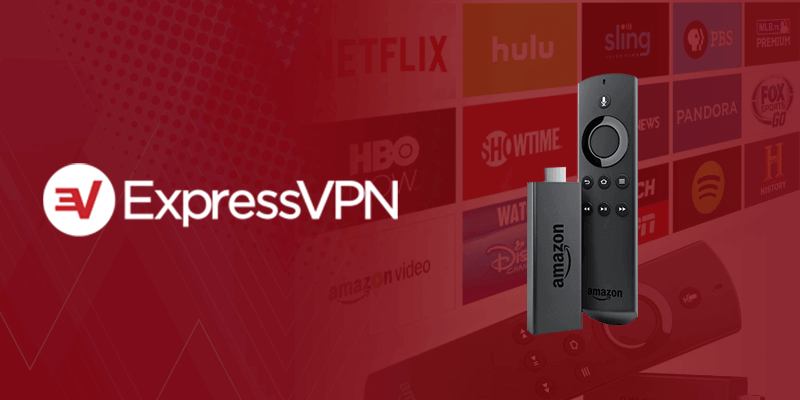 ExpressVPN is an authentic name in the world of VPNs. It has everything to get you a flawless streaming experience for all the Amazon prime content with native app support for Amazon Fire TV devices. ExpressVPN owns 3000 servers in 94 countries around the globe.
It supports 1080P and 4K HDR streams on the Fire TV Stick, plus, its no-logs policy ensures ultimate privacy. The downside is it can only connect 3 simultaneous connections.
Top Features
Unlimited Bandwidth
OpenVPN, L2TP-IPsec, SSTP, PPTP
Kill Switch
DNS leak protection
AES-256 cipher for encryption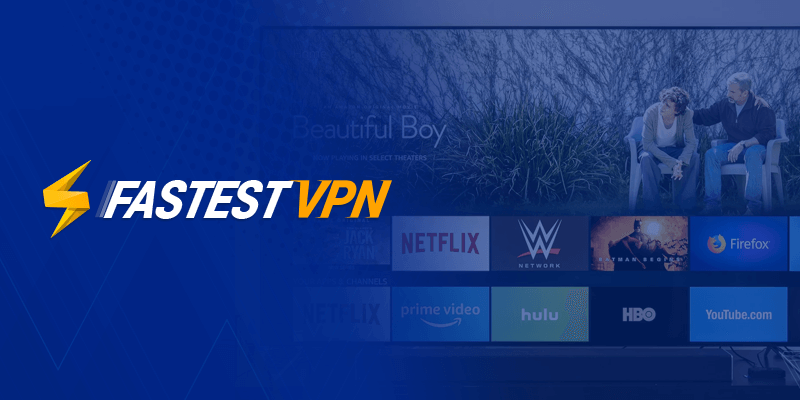 FastestVPN is the most growing VPN service offering the fastest speed with FireStick unlimited bandwidth. It can be the finest VPN for streaming FireStick because of its CleanWeb and internet kill switch feature.
It also provides multiple protocols and operates 550+servers in 40+countries worldwide, allowing you to stream on Firestick. You can even watch seasons of Game of Thrones on Fire TV, and more.
Top Features
15 Simultaneous connections
256-Bit AES Encryption
Internet Kill Switch
NAT Firewall
24/7 chat support
Unix-based P2P Optimized servers
Can I use a free VPN for Firestick?
That wouldn't be the best idea. You can find a few free VPNs for Amazon Fire TV devices, but eventually, it will leave you frustrated with zero streaming pleasure.
The first and the core problem with free Amazon Fire TV VPNs is that they are very limited when it comes to servers. It means that you will find connection errors while getting connected to your preferred server.
Also, some impose bandwidth limitations on their server usage, which means users can only have limited streaming data.
There are certain free VPN providers who sell customer data to marketers; violating users' privacy. Besides, many VPN providers add non-skippable video ads all along with tracking cookies into your browsing sessions. So, in my opinion, relying on a free Amazon Fire TV Stick VPN is not a good go for sure.
Moreover, there are many benefits of using a paid VPN with FireStick.  Just quickly go-through why you need a VPN for FireStick TV:
Evades FireStick Censorship
There are countries like China that restrict access to free content. If you will ever go to such countries you will experience troubles in unblocking various online content even with your FireStick.
A VPN will help you access all of the geo-restricted content. It will replace your real IP and mask it with a new IP of the same location you are at.
Unblocks Major Streaming Sites like Netflix
Streaming sites are bound to impose geo-restrictions. It means that such sites assure that the content is only available in legal places. For example, Netflix is the biggest content hub where you can find the largest content library including, TV shows, movies, videos and more.
The problem with Netflix is it is only available for USA users, and if you are outside the USA, you cannot unlock its content online with FireStick. But a VPN can do it for you. You can use any of the mentioned VPNs. All mentioned VPNs work great for FireStick Netflix.
A VPN makes browsing secure with its encryption technologies like IPsec. Moreover, a VPN hides your private information and hides it from the websites you are browsing. Like I mentioned earlier, a VPN masks your real IP with its provided IP. This way, no one can track your location and browsing activities, and you can securely access geo-blocked content.
What Makes the Best Firestick VPN?
When you buy a VPN service, your prime concerns are definitely privacy and speed but there are more areas that good VPN covers. It's one of the best ways to increase privacy on Firestick. In case, if you are planning to get a VPN for your Amazon Firestick devices then here's what to look for:
Amazon Fire TV stick is an amazing streaming device but unfortunately, there are some geo-location restrictions that will hold you back to access your favorite content. In order to unblock such content, you will need a VPN service.
Only VPNs with vast servers and locations will help you unblock content from anywhere you want. If the VPN doesn't have servers in your preferred location, you cannot access content to that specific location.
The best VPN services offer unlimited bandwidth. It enables users to enjoy their favorite content without limiting media streaming speeds.
Security and Complete Privacy
You can hide your location even with a free VPN, but there is no security of your data and online activities. As I mentioned above, free VPN providers sell users' data to marketers and earn from it.
However, the top-mentioned VPN services for Amazon Fire TV Stick ensure a no-logs policy and keep you safe and secure from hackers and never sell your data.
Compatibility With FireStick TV Remote
If you are selecting any VPN app from FireStick's store then make sure that the app must navigate with the FireStick remote or learn to use it without one. If you are getting an app externally, then you can search for the best Amazon TV remote. The two best available apps are Cetus Play and Remote for Fire TV. Both apps are available on the Amazon app store.
How to install & set up a Firestick VPN?
It's easy to use VPN with Fire TV Stick, make sure that your VPN provider must offer apps for the Amazon Fire TV app store. ExpressVPN is a good VPN app for FireStick. You just need to follow the quick steps below to set up a VPN with Firestick:
Subscribe to VPN
Download VPN App  (Must be compatible with your device)
Login
Select your VPN server
Now you can enjoy smooth streaming.
Note: Not all the VPNs have apps for the Amazon Fire TV app store. If this is the case with your VPN then here's an example for you downloading FastestVPN app manually on Fire TV Stick:
Settings and Open Device

Open Developer Options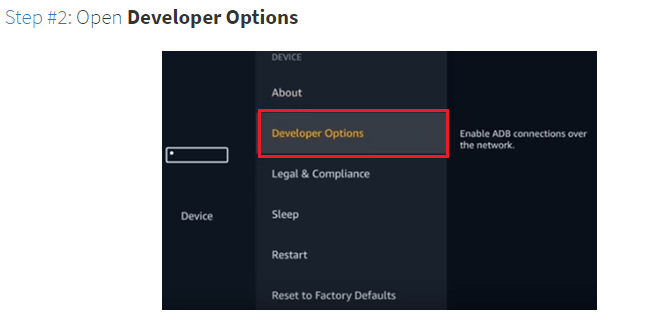 Go to ADB debugging
Go to Apps from Unknown Sources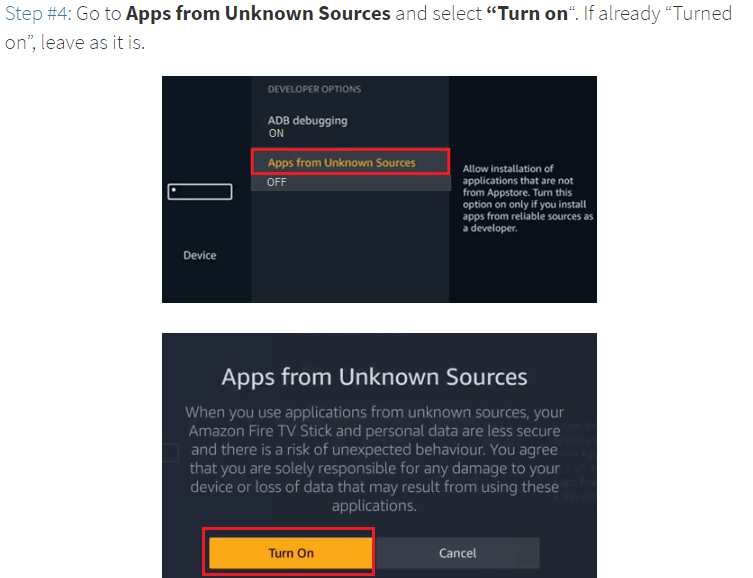 Now on your FireStick home, search for an App named "Downloader"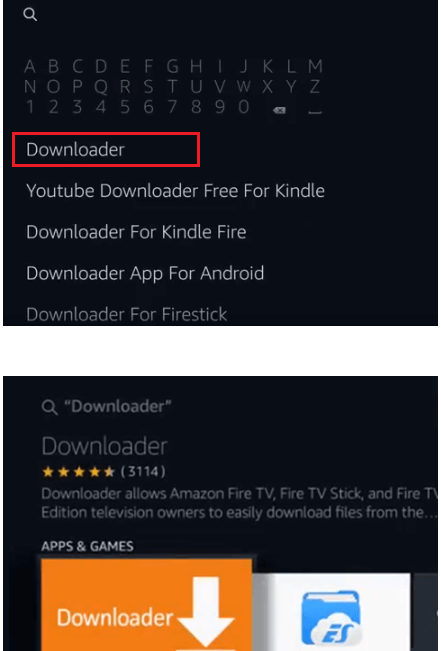 Downloader app installed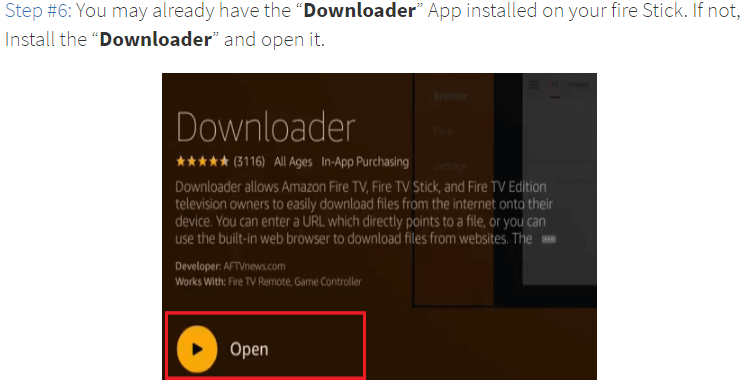 Launch the Downloader app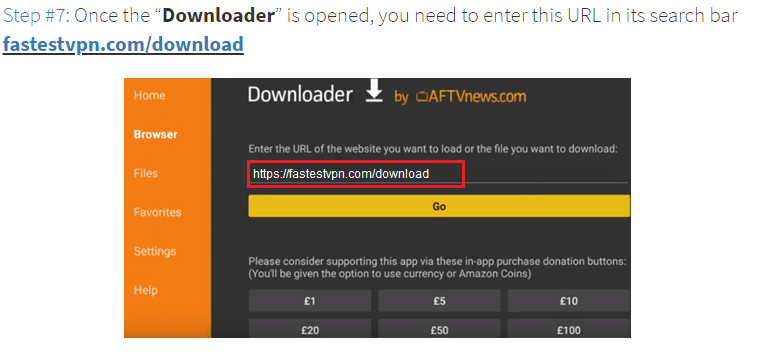 FireStick/ Android Box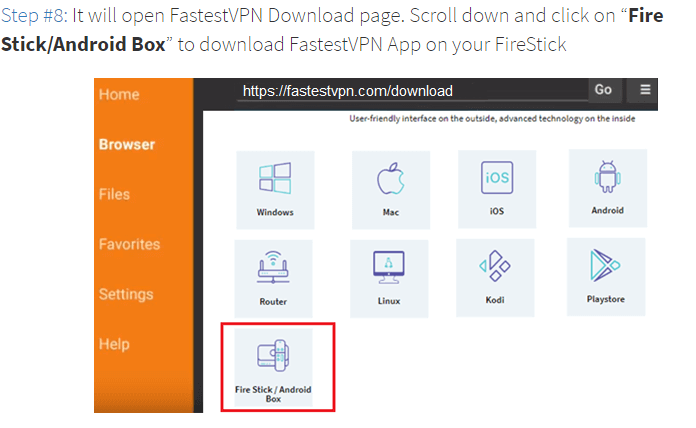 FastestVPN App Download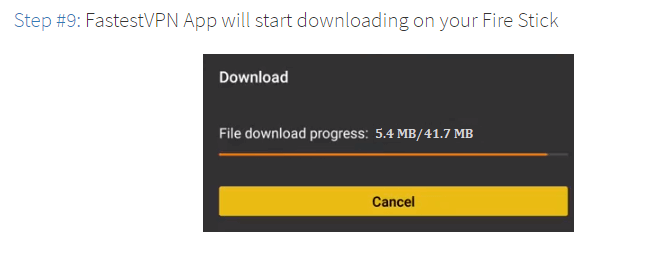 Click on open
Enter FastestVPN User Name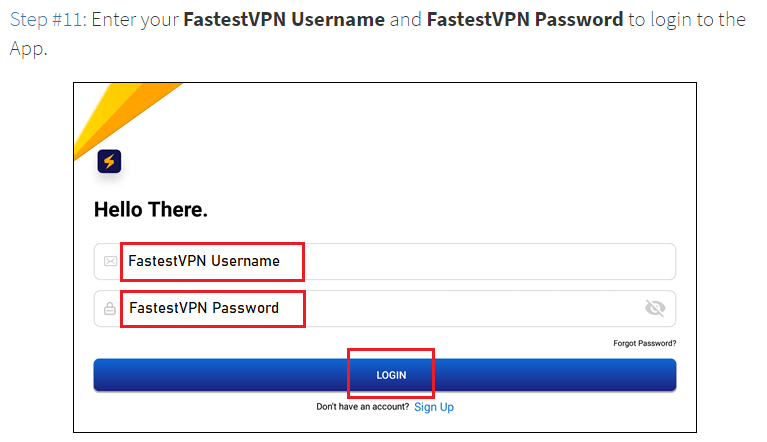 Connect to the best server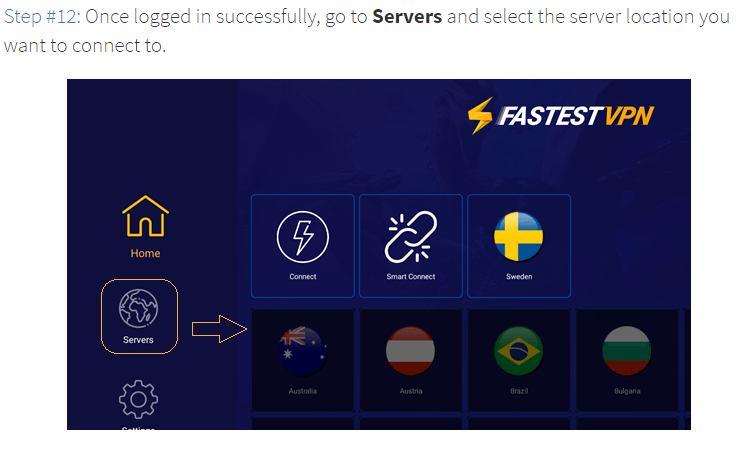 Shortly, you will see that the Fastest VPN connection will be established. A green button will appear on your screen; click to disconnect FastestVPN if needed.
Read also: Install and Use FileLinked on FireStick
Get VPN Now
Can't access the best content with your Firestick VPN?
Some users fail to access geo-restricted Fire TV content even after setting up a VPN. It happens because there are certain apps that demand a few more steps to be configured completely. Here's what you can do:
Alter Fire TV DNS settings
Fire TV users who are relying on a VPN with a physical router often required to change their DNS settings because Fire TV requests DNS without using the VPN tunnel.
You can simply change your DNS settings for the Fire TV. Make sure that your VPN provider has a DNS address that you can use. Here's how to do it:
Go to Settings Menu
Click at Systems
Select the Wi-Fi
Select Wi-Fi network and click at Forget Wifi-Network
Hit the Select Button
Select Wifi network
Enter the Wifi password and hit the Advance button
Enter the first three groups of numbers exactly the same as your router's IP then change the last digit.
Now add your router IP for gateway
Enter 24 as the  Network Prefix Length and Click Next
Now you will see DNS1 and DNS 2. Add both altered and primary DNS addresses
Now Click at Connect.
Alter your Fire TV Time Zone
Another thing that you can do to access blocked content on Fire TV Stick with a VPN is to change the Fire TV time zone as per the country you want to access.  Follow quick steps to change your Fire TV time zone:
Select settings from Home Menu
Click System and select Time Zone
Change time as per your desired location.
Alter Existing Amazon Account
To access Amazon Prime Video content, users are requested to change their amazon account to the USA or other countries. Here's how to do it:
Go to your Account
Select Manage your content and devices
Click at Setting Menu
Go to Country Settings and click at Change
Enter any USA address
Update.
Why do you need the best VPN for Firestick?
You must need a Firestick VPN, and there are many reasons for that. Firstly, a VPN secures your connection and saves you from unnecessary ISP and Government surveillance. Secondly, with a Firestick VPN, your ISP cannot throttle your speed because they cannot see or monitor your online activities. And thirdly, a Firestick VPN also helps you bypass content geo-restrictions and allows you to watch and enjoy the content of your heart regardless of your location.
Why should I not use a Free VPN for Firestick?
I would not recommend using a Free Firestick VPN. Free VPNs have such a bad reputation. These VPNs sell user data and track your online activities to know more about your interests, and later send you targeted advertisements for the sake of their profits. Moreover, they don't have a better connection speed and encryption protection to secure your network. All in all, using a free Firestick VPN is the same as using no VPN at all.
What is the best Jailbroken Firestick VPN?
Surfshark is considered the best Jailbroken Firestick VPN. If you're on a budget and looking for an affordable Jailbroken Firestick VPN, you can also try FastestVPN. It's comparatively cheap and performs equally well with Firestick.
Is Using a VPN for Firestick Legal?
VPN usage is completely legal across the world. However, depending upon your country's law, you have to be careful about what you're doing with a VPN. Attempting prohibited activities with a VPN is not lawful at all.
What things should I consider before subscribing to a Firestick VPN?
Below is a list of factors that you should consider before buying a VPN for Firestick:
Security features
Privacy policy
Server coverage
Available Simultaneous connections
Speed performance and bandwidth limits.
How to use a Firestick VPN?
Depending upon your VPN provider, the method of a VPN installation on Firestick can be different. However, here is a presentation of general steps required to use a Firestick VPN:
Open Firestick Home screen
Type your VPN provider name in the search bar
Download the app on your Firestick
Head to Firestick Settings, Select Applications
Select Manage Installed Applications
Pick the VPN app that you have installed and log in with your credentials
Select a server location
That's it.
Do all VPNs work On Firestick?
Not all VPNs are compatible with Firestick. Only VPNs that offer apps for Amazon devices work well with Firestick devices. Also, the first-generation Firestick devices are not compatible with VPNs at all.
Conclusion
Amazon FireStick is one of the low-cost entertainment gadgets that turn your HDTV into a smart TV. Using a VPN with the Amazon FireStick will let you access every content from any location around the world.
The top five VPNs that you can use with FireStick are Surfshark, CyberGhost, NordVPN, ExpressVPN, and FastestVPN. All these VPNs will let you unblock anything effortlessly. So, try any of the mentioned VPN and get access to your favorite content hubs.