Who needs satellite TV broadcasts when IPTV services are on a definite rise? While a few have successfully claimed a name in the market, others, like VorteXtreams IPTV, are relatively new. And climbing their way to the top might not be a flick of the wand.
Being new, these IPTV services don't break the bank and offer maximum features at one low price. But does that mean you should already expect cost-cutting features? This article answers all about Vortex streaming!
Today, being able to stream anything, free or paid, is a total bliss. And Netflix has already proven that for us. However, various other options are considerably good. Still, being new, there's significantly less that you can dig into to make the best choice. To make it all easier, I'll review VorteXtreams IPTV and provide insight into all you know. Buckle up!
Note: Not all IPTV services are safe; this review is only for informational purposes. We recommend using a trusted VPN, like SurfShark, to avoid cyber threats.
Short on Time? Here's an Overview
Before diving into the complete Vortex streaming review, here's the gist of what we've covered:
Pros of VorteXtreams IPTV
Starting with the positives of Vortex streaming review, here are the top pros we've covered in this article:
1. High-Quality Streaming
Vortex movie streaming promises a high-quality and reliable streaming experience committed to maintaining a 99% uptime. Ensuring uninterrupted enjoyment of your favorite content.
2. Affordable Pricing
Vortex movie streaming offers competitive pricing with flexible subscription plans, catering to various budget preferences.
3. Diverse International Channels
The service provides a wide selection of international channels, making it appealing to users who want to access content from different regions and cultures.
4. Multi-Connection Capability
Users can stream on multiple devices with a single subscription, convenient for households with multiple TVs or devices.
5. Electronic Program Guide (EPG)
Including an EPG simplifies content discovery and lets users easily plan their TV schedule.
6. Safety and Legal Compliance
VorteXtreams emphasizes using a VPN for added security and encourages users to abide by copyright rules when engaging in Vortex movie streaming. The site suggests that it operates on a legal and trusted model.
7. Frequent Upgrades
The service regularly updates its features, ensuring a continually improving streaming experience.
8. Trial Period
VorteXtreams offers a 48-hour trial period for just $1.99, allowing users to test the service before committing to a subscription.
9. Good Customer Support
The service prides itself on delivering excellent customer support, ensuring users have assistance when needed.
Cons of VorteXtreams IPTV
Here are the Vortex streaming negatives:
1. New in the Market
Being a relatively new player in the IPTV industry, VorteXtreams may have a weak track record compared to more established competitors.
2. VPN Recommended
While the service claims to be legal and safe, it still suggests using a VPN, which may raise concerns about its legal standing.
3. Content Restrictions
The legality of content and potential restrictions can vary by region, so users need to be aware of copyright rules and regulations in their area.
4. Limited Trial Features
The trial period offers limited features, which may not comprehensively understand the service's full capabilities.
5. No Mention of On-Demand Content
The review doesn't mention whether VorteXtreams offers on-demand content, an essential consideration for many users.
6. Subscription-Based Model
While this may not be a con for most users, some may prefer entirely free options over a paid subscription model.
What is VorteXtreams?
This IPTV service promises to provide a high-quality and reliable streaming experience. Regarding Vortex streaming, you're getting a dedicated commitment to delivering a top-tier streaming experience. They're all about long-term sustainability, which sets them apart from providers that may come and go.
Their dedication to providing a continuously high uptime is impressive. This implies that you may broadcast your chosen entertainment nonstop, which is terrific news for die-hard streamers. They aren't sitting back; their crew constantly works to enhance the service.
To improve your watching experience, frequent upgrades, and new features are available. But here's the real kicker: VorteXtreams prides itself on delivering excellent customer support. You're not alone in case you have questions or concerns.
They've got your back and are always ready to assist. With various channels and flexible packages, VorteXtreams aims to provide a personalized service that caters to individual preferences.
Is the VorteXtreams IPTV Safe?
Before trying the service, I went through VorteX's site, which looked trustworthy. If you're wondering about its reliability, safety, and streaming experience, VorteXtreams IPTV offers a 48-hour trial period at only $1.99, a total plus point for the network's attempt to allow affordable trials.
However, I subscribed to its 1 month plan for $9. Since this was only for testing purposes, the features were a tad limited, which gave me the gist of the service's overall performance.
Speaking of its safety, all content is categorized, and I found it safe. However, I recommend using a reliable VPN, like SurfShark. First, I didn't have to face any lags with that and stayed assured of complete online security. So, overall, safety was ensured while I leveraged an uninterrupted streaming experience from various 5500+ VorteX channels.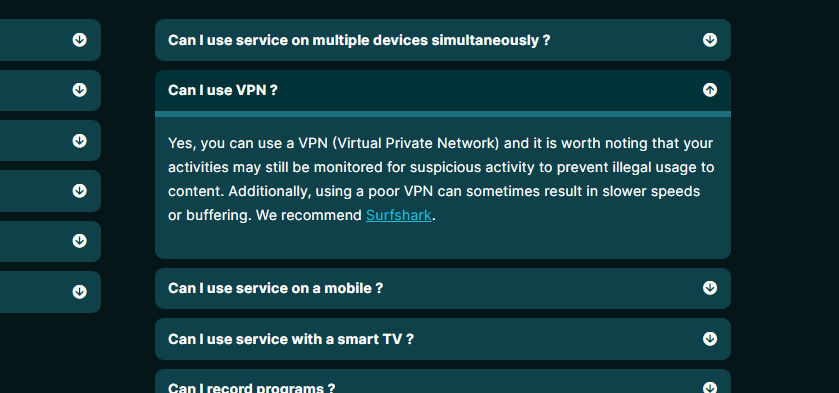 Pricing Plans – Vortex Streaming
VorteXtreams offers 4 different pricing plans, categorized as:
1 connection
2 connections
3 connections
Resellers
I'll highlight the best option available, i.e., the 3 connections. You get 4 subscription plans: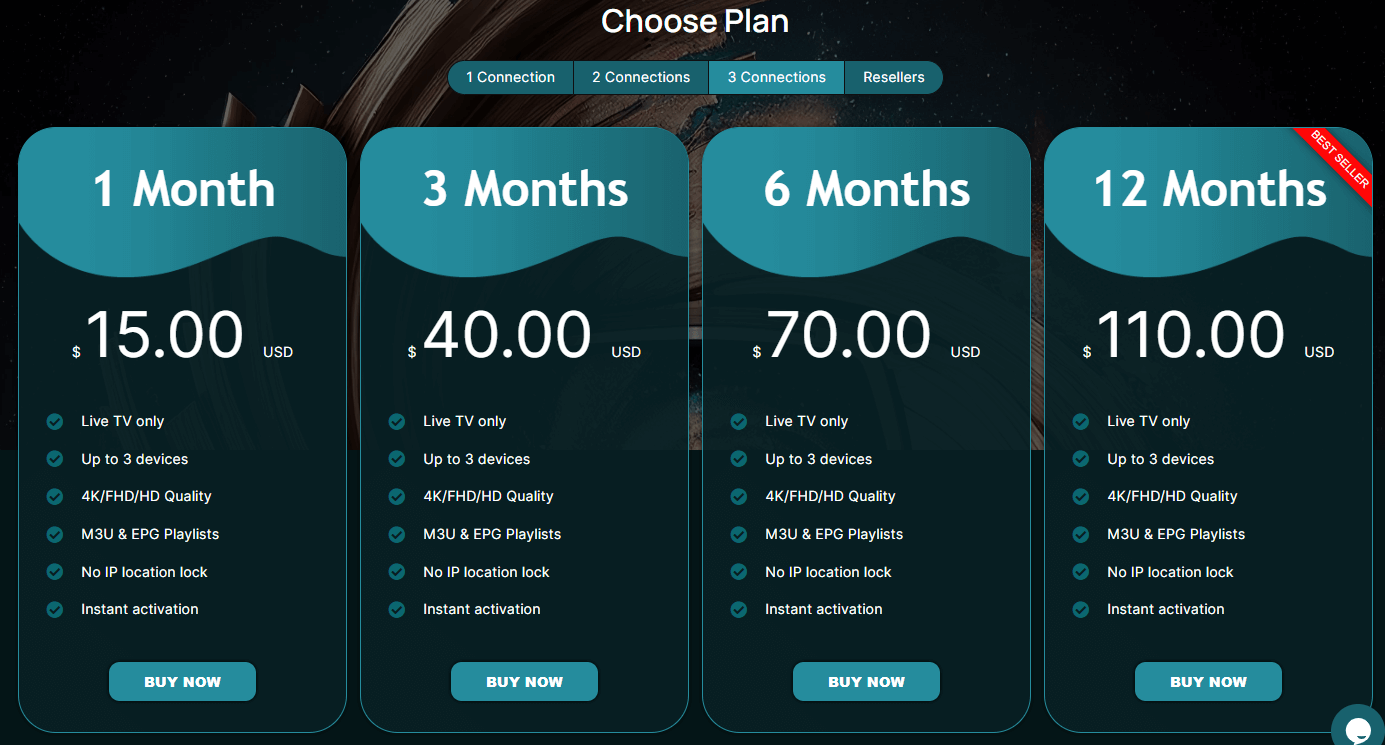 1 Month – $15
Live TV exclusively
Supports up to 3 devices
Offers 4K/FHD/HD Quality
Compatibility with M3U & EPG Playlists
No IP location restrictions
Immediate activation
3 Months – $40
Solely live TV
Supports a maximum of 3 devices
Provides quality in 4K, FHD, and HD
Works with M3U & EPG Playlists
No restrictions based on IP location
Activation is instantaneous
6 Months – $70
Exclusively live television
Support for up to three devices
Delivers quality in 4K, FHD, and HD
Compatible with M3U & EPG Playlists
Freedom from IP location restrictions
Activation happens instantly
12 Months – $110
Exclusively live television content
Supports three devices at most
Offers 4K, FHD, and HD video quality
Compatible with M3U & EPG Playlists
No restrictions based on IP location
Activation is immediate
Is VorteXtreams IPTV Legal?
As per the site information, Vortex movie streaming is legal. Comparatively, legality concerns mostly linger over free sites that offer pirated content. At the same time, this IPTV service is based on a paid subscription model.
I reviewed the site for legality concerns and dug into its FAQ section. As per the site owner, using a VPN is recommended to ensure complete anonymity and avoid engaging in illegal activities when opting for Vortex streaming.
Considering the emphasis, I generally find this IPTV trusted and legal. Moreover, the streaming experience speaks for itself.
Vortextreams Features – What Makes Vortex Streaming Popular
The following are the features of VorteXtreams: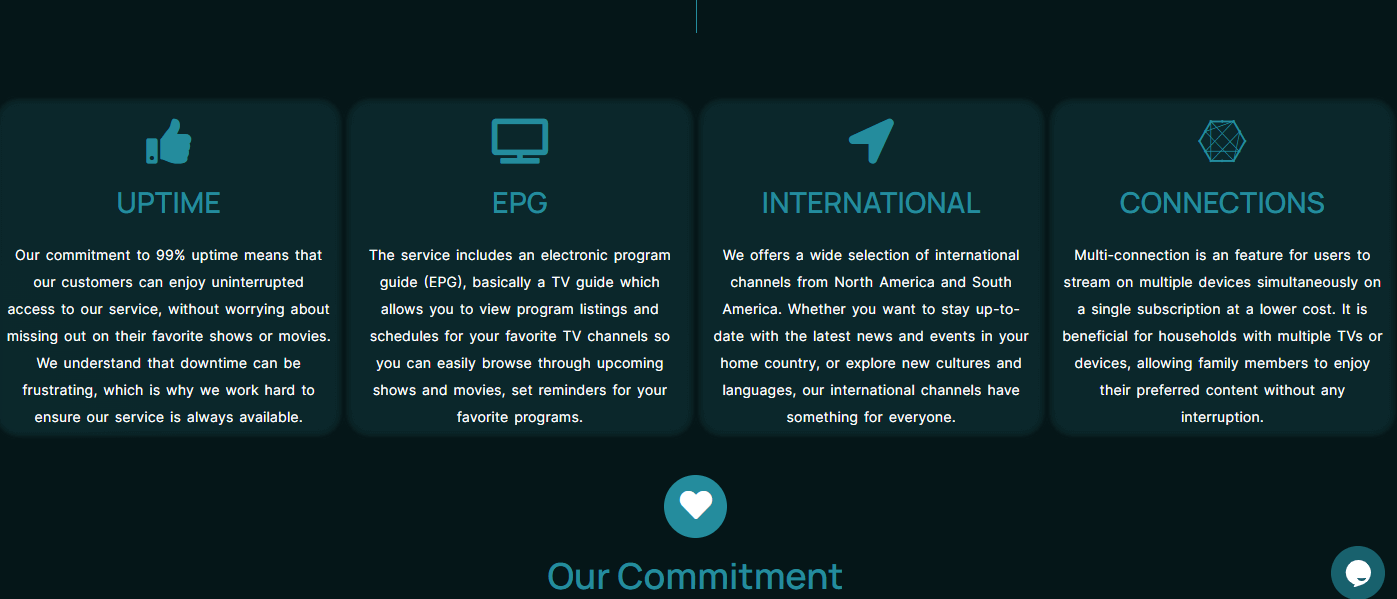 1. Service Reliability
What I appreciate about this service is their unwavering commitment to maintaining a 99% uptime. This ensures that, as a user, I can enjoy Vortex movie streaming without any annoying interruptions.
2. Electronic Program Guide (EPG)
The inclusion of an electronic program guide is a game-changer. It's a TV schedule that makes it a breeze to check out what's coming up on your favorite channels. This feature lets me easily browse upcoming shows and movies and set reminders for the ones I love.
3. Diverse International Channels
One of the standout aspects of this service is the wide selection of channels from North and South America. Whether I want to stay connected with my home country's news and events or dive into new cultures and languages, these international channels cater to diverse preferences.
4. Multi-Connection Capability
Here's an extremely convenient feature. It allows users to stream simultaneously on multiple devices with a single subscription, even at a lower cost. This is a real plus for households with multiple TVs or devices like mine. It ensures every family member can enjoy their chosen content without hiccups.
What Channels Does VorteXtreams Offer?
Digging into the channels, the list is never-ending! From movies to sports channels, VorteXtreams offers it all. Before purchasing a subscription plan, you can review all the channels provided through the IPTV service's site. Head to the channels list category, connect your Discord account and explore the list quickly.
The channels are categorized into different content types.
You can click any and find the options you're looking for from the list that appears.
How to Install VorteXtreams?
This IPTV service is available on multiple platforms, like Android, iOS, Windows, FireStick, etc. In this tutorial, I'll be showing how to install VorteXtreams on Android:
Go to Google Play Store and find "IPTV." Download and install the IPTV app.
Also, search for "MX Player" and install it on your Android device.
To ensure your connection's security, activate PureVPN.
Now, navigate to https://freedailyiptv.com, a significant IPTV list reference website. Choose your preferred list and copy one of its URLs ending with ".m3u."
Return to your device's home screen and launch the IPTV app. Look for and select the "+" icon at the top right corner.
A pop-up for adding a URL will appear. Paste the URL of your chosen IPTV list, whether free or paid. You can name the playlist for future reference.
Click "OK," and you're good to go.
FAQs - VorteXtreams IPTV
How legit is IPTV?
The legality of IPTV varies by area and content. Despite being a lawful technology, opting for Vortex movie streaming without the correct licensing may be against the law. When utilizing IPTV services, users should exercise caution, pick reliable providers, and adhere to copyright rules.
Should I subscribe to IPTV?
Many consumers find IPTV a helpful alternative since it may provide various content and flexibility. To use IPTV services responsibly, select a dependable supplier, comprehend the legality of the content you access, and adhere to copyright rules.
Can IPTV work on FireStick?
Yes, IPTV is compatible with FireStick. On a FireStick, you may install IPTV apps to view a range of content. Utilizing genuine applications and services is crucial to guarantee a safe and legal streaming experience while avoiding piracy and copyright concerns.
How does IPTV streaming work?
TV content is delivered over the internet using IPTV streaming. It transmits audio and video data in packets using the Internet Protocol (IP). 
Users can see on-demand and live TV using IPTV applications or set-top boxes to access material, which is then decrypted and presented on the users' displays.
Wrapping Up
VorteXtreams IPTV has become a potential player in the constantly changing field of streaming services. IPTV providers like VorteXtreams provide an affordable and feature-rich alternative to traditional cable and satellite TV. And, Vortex movie streaming is more accessible to the users.
Due to its commitment to dependability and ongoing uptime, high quality Vortex movie streaming makes the site stand out from the competition. This dedication to assuring uninterrupted customer enjoyment of their favorite material is of great quality. The Vortex streaming experience is improved by frequent updates and the presence of an Electronic Program Guide (EPG), which makes it simple for consumers to organize their TV schedules.
Another critical factor is safety, and VorteXtreams seems to take it seriously. Their classified information and dependable performance offer peace of mind, even though they advocate utilizing a VPN for increased protection. VorteXtreams is affordable for a broad range of tastes and budgets thanks to its flexible pricing. Their selection of overseas channels broadens the content's diversity and appeals to a worldwide audience.
The multi-connection function, which enables many devices to watch simultaneously on a single subscription, is one of the highlight features. This family-friendly choice greatly benefits homes with many TVs or other gadgets.
As a result, VorteXtreams IPTV establishes itself as a strong competitor in the IPTV industry by providing a dependable, feature-rich, and affordable streaming option. For people who want to switch to IPTV services, it's something to consider. For a secure and pleasurable streaming experience, users should always use care, respect copyright laws, and select trusted providers.