What is ResleekTV? In short, it is one of the best and most popular IPTV service providers that gives you access to over 15,000 TV channels, 30,000 VOD content and TV series, and various other genres. This IPTV service works best with Firestick products, like FireStick 4K, FireStick Lite, 4K Max, and Fire TV Cube. In this ResleekTV review, I'll be highlighting everything that this IPTV service offers, including its features, pricing, and more. I will also show you how to install ResleekTV on Firestick.
What is ResleekTV?
ResleekTV is among the most popular IPTV services in the industry. It gives you access to popular TV channels ranging from different genres like movies, TV shows, live sports, religious and adult content, and more. You can even access over 30,000 VOD content. There are around four packages that you can choose from, depending on what you'd prefer.
However, the best package is the 1-year plan that costs €84.95. ResleekTV even has an EPG TV guide, automatic channel updates, and supports IPTV players like IPTV Smarters PRO and more. You don't even have to worry about streaming quality since its channels are in HD, 4K, and FHD.
Alert! FireTVSticks does not own nor is affiliated with ResleekTV or any IPTV services. This guide is purely for informational purposes. However, due to the nature of certain IPTV services, we recommend using Surfshark with it.
ResleekTV Review – Features
The main point of a ResleekTV review or any IPTV service is its features. We can most certainly vouch for Resleek and its growing popularity because of the features and services it offers. All of its users get access to numerous Live TV options and beyond, ranging from various content categories like sports, kids shows, adult content, documentaries, and more. Here is what to expect with the Resleek IPTV packages:
30,000+ VOD content, TV series, and movies
15,000+ premium live TV channels
M3U and MAG availability
EPG TV guide
PPV
Channels in HD, FHD, and 4K quality
Intuitive UI
Automatic channel updates
Supports multiple devices (TV, PC, Smartphones, Tablet)
Supports IPTV players like IPTV Smarters PRO, Tivimate IPTV Player, and XCIptv
Easy to install and update for free
100% uptime on website servers
24/7 customer support
Multiple genres to choose from
24-hour free trial
ResleekTV IPTV is accessible globally. However, there are some countries that might block access to it. You can still access them with the help of the best VPN. This is especially relevant considering that ResleekTV is compatible with VPNs. We will show you how to download and install ResleekTV on Firestick, but before that, let's review the ResleekTV prices.
How Much Does ResleekTV Cost?
To give you a better glance at what the product is about in this ResleekTV review, let us now discuss the prices and its various packages. In short, Resleek TV has four tiers you can choose from. They are:
1 month package is for €13.95
The 3 month plan is for €29.95
6 month package for €54.95
12 months tier for €84.95
If you're not willing to just jump into this IPTV service, ResleekTV offers a 24-hour free trial. This is perfect for you to get an idea of what the service is about before you make any commitments.
Even though the best price is over the 12 month package, there are sometimes uncertain occurrences that take place with most IPTV services. If sometimes the service is down or you experience a lack of content to choose from, the best option would be to get the 1-month package.
The only downside I experienced when trying to buy a package was the loading time. Plus, when I listed down my email, the page kept refreshing and reverting the changes. If the problem still persists, you can use the service's online chat option.
Although, I personally did not like the fact that there was no response. You can try contacting the service via email or social media.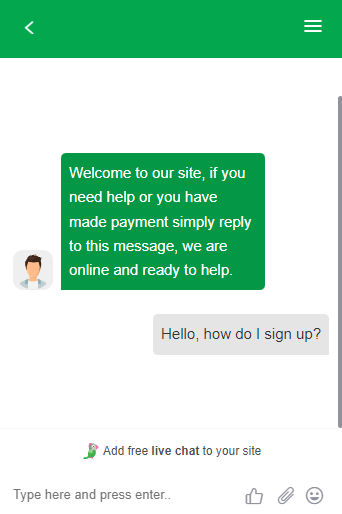 How Do You Subscribe to ResleekTV?
Before you attempt to use ResleekTV, you need to subscribe to the service. To get an account, you need to go to the official website. You will see a pricing tab where you can choose from 4 different packages. Once you select the plan you'd like, click on the "Buy Now" button. This will take you to the next page, where you have to provide an email address.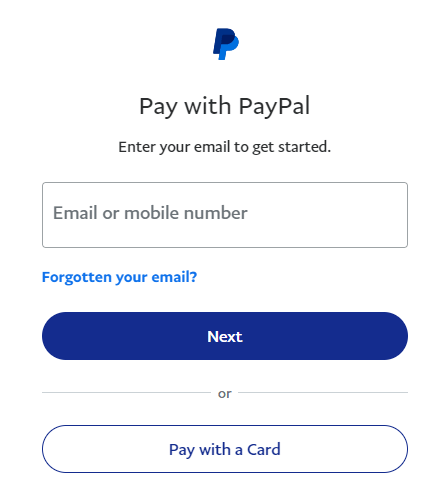 You can either click on "Next" or proceed to make a payment with your Credit Card or your preffered method of payment. Once you check out, you then have yourself an official ResleekTV account. Although, you will need to verify your registered email address to fully complete the process. The email that you get will give you all the account login information and other instructions.
Here's a step-by-step guide that shows you how to register with Resleek TV IPTV:
Head to the official website: https://resleektv.com/
On the home screen, click on "Pricing" on the top-right corner of the page.
Choose the package you want, and click on "Buy Now."
Register by providing an email ID.
Now, enter your payment info and billing address details.
Choose your payment method.
There are options between PayPal, credit or debit card, and cryptocurrency.
Click on "Pay Now."
You will now receive your login credentials and further details via email.
Does ResleekTV Offer a Refund?
No, Resleek TV does not have any refund policy. They've mentioned a disclaimer on the refund page where they've noted that no refunds would take place after the product is bought. For that, the service recommends that you test it out with their 24 hour free trial before buying any subscription. Here's an excerpt from the Resleek TV refund policy:

ResleekTV Review – Test for Viruses
If you're wondering, "Does ResleekTV have viruses? Or is the service safe to use?" Well, the direct answer is that it doesn't have viruses. I ran a virus scan on the Virus Total website by placing the URL to the official website. Here are the results we got: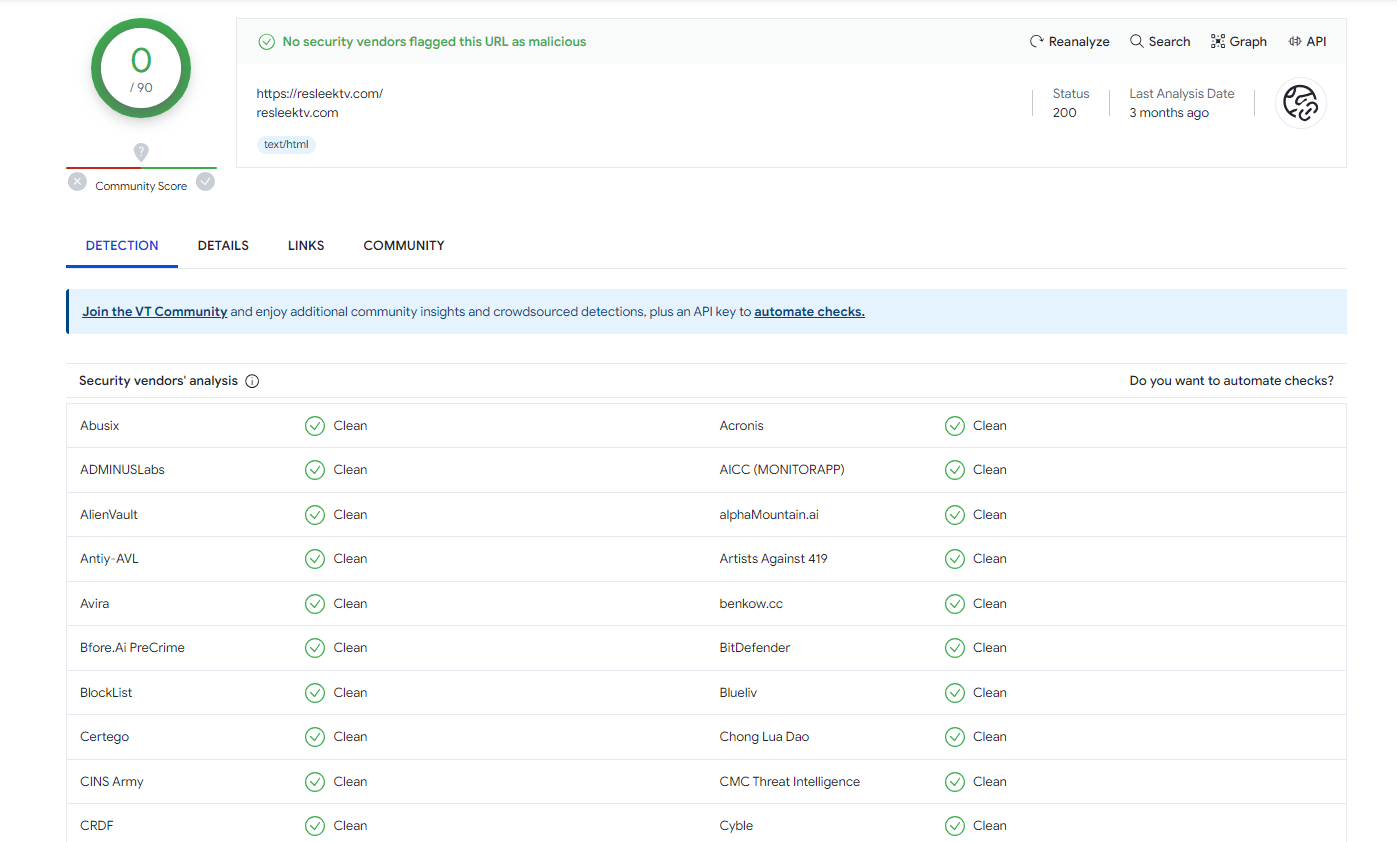 As you can see in the image above, zero vulnerabilities were found. However, at times, the results are not always with a positive outcome, especially with IPTV services. This is why it is recommended to use a VPN with it. It is the safest option to secure and encrypt your connection, preventing data theft and other viruses.
Now that we've gone through the basics and must-knows in this ResleekTV review, let's move on to the tutorial portion. We'll show you how to set up ResleekTV on FireTV.
Does ResleekTV Have an Inbuilt Media Player?
No, ResleekTV does not have any inbuilt IPTV media player, but it does support third-party players like IPTV Smarters PRO, Tivimate, and XCIptv. Before installing and signing in to your ResleekTV account, you need to first download the IPTV Smarters PRO player on your Firestick. However, because it's a third-party app, you need to sideload it via the Downloader app. Find the tutorial below.
How to Sideload IPTV Smarters Pro on Firestick
On your Fire TV home screen, click on the magnifying glass or search option.
Look for the "Downloader" app.
Click on it to install.
Once installed, go to the Firestick settings and select "My Fire TV."
Click on "Developer options."
Enable the "Install from unknown sources" and the "Developer" option to ON.
Launch the Download app and sideload IPTV Smarters PRO APK link in the bar field.
Now, click on "Go" to get it and wait for the installation to complete.
How to Set Up ResleekTV on Firestick via IPTV Smarters PRO
Launch the apps on your Firestick and look for "IPTV Smarters PRO."
Once open, click on " Login with Xtream Codes API."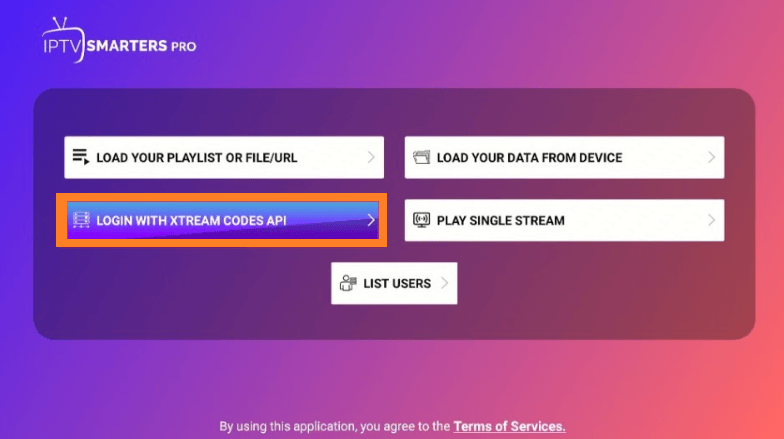 Now add your account by filling in the login details you got when subscribing to ResleekTV.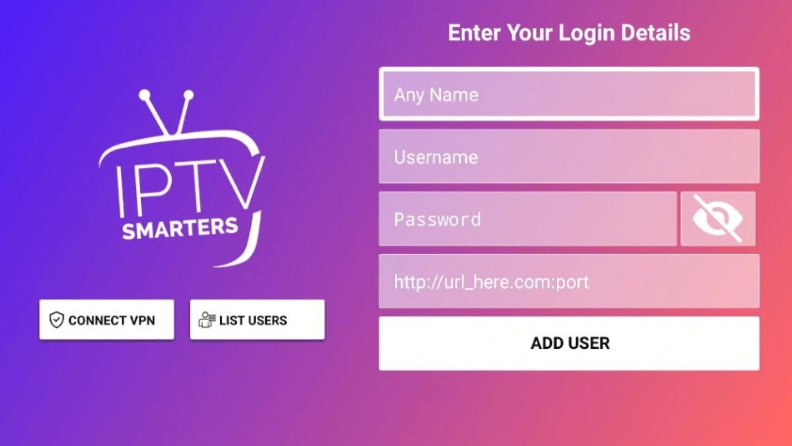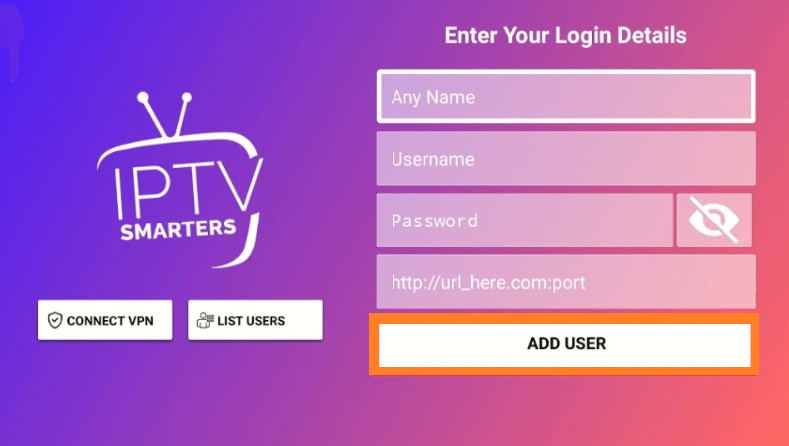 How to Use ResleekTV IPTV on Firestick
Now that you've successfully added your user account, you will be redirected to the main Resleek TV home page. Here, you will see a bunch of categories, including Live TV, Movies, Series, Multi-Screen, Live with EPG, or Catch Up.
Select the category according to what you want. For instance, if you'd like to access movies, then click on the "Movies" category. The service will pull up links to channels that offer the best movies for you to stream.
You can even use the EPG TV guide to shuffle or organize whatever you watch. It segregates all your streaming options into various categories like "History, Favorites, All, etc." Now, all that is left is to find the TV series or movie that you need and press the "OK" button on your Firestick remote to play them.
If you need to set up Resleek on other devices, here is how:
ResleekTV IPTV on PC
Launch the VLC player on your PC.
Now, click on the "Media" tab from the top-left corner of the screen.
Select "Open Network Stream."
Now, enter the ResleekTV M3U URL in the network URL field.
Tap on "Play."
You can now stream various channels on ResleekTV via PC.
ResleekTV IPTV on Android
On your Android, go to the Google Play Store.
Look for the Tivimate IPTV Player.
When you find the app, click on the "Install" button.
Select "Open" to launch it.
Now, click on the "Add Playlist" button.
Enter the ResleekTV M3U URL in the required field.
You can now access the content you like on Resleek TV on Android.
Use Surfshark to Access ResleekTV IPTV on Firestick
Considering that IPTV services are not always 100% reliable or safe, nor are they available to access in some countries, it's always advisable to use a VPN to access it, and for this, we recommend Surfshark.
Surfshark can easily be installed on Firestick and is readily available to download from the Amazon Store. All you need to do is click on the search button and type "Surfshark."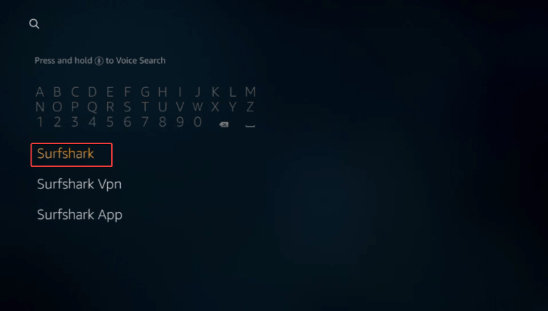 Next, you click on the Surfshark icon, and then on "Get."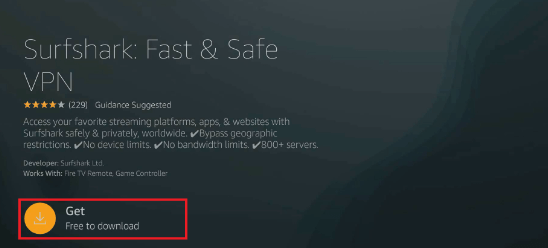 Launch the Surfshark Firestick app and sign in to your account. You can now proceed to access Resleek TV IPTV services on your Firestick. The same is available on other devices. You just need to download the VPN apps on Android, iOS, or Windows, sign in, connect to the best server, and then launch Resleek TV.
FAQs – ResleekTV Review
What does EPG mean on IPTV?
EPG is short for Electronic Program Guide. This feature gives you a full insight into all information about the channels and their schedules and even organizes the content that you look for on IPTV services. ResleekTV offers an EPG TV guide feature that comes in handy. 
Is there a ResleekTV free trial?
Yes, the service offers a 24 hour free trial that you can use before paying for any of its subscription packages. 
What content does ResleekTV offer?
There is an extensive library of content that you can choose from on ResleekTV. It offers over 15,000 live TV channels that are both international and local, around 30,000+ VOD streaming content, PPV, an EPG TV guide, and more. There is also the option for automatic channel updates. 
Why are my ResleekTV IPTV channels not working?
There are many reasons why the ResleekTV IPTV channels don't work. If that happens to you, you can try clearing its cache from the device you're using, troubleshooting your internet, or try using a VPN just in case your country restricts it. 
Is ResleekTV IPTV service free?
No, it is not free. There are 4 packages that you can choose from. However, to test the service, there is a free trial available for one day. 
Is ResleekTV available in every country?
Yes, ResleekTV is available worldwide. However, if you're in a country that blocks access to most IPTV services, simply connect to Surfshark to change your IP address. Its USA Dallas server works the best. 
To Conclude
Coming toward the end of this ResleekTV review, the service is sleek and well-organized. There are a lot of channels to choose from, and its maintenance is top-notch. There were no viruses when we scanned the service, and zero interruptions while streaming. The only downside is customer support. Their tagline says, "We're here," but the response rate was extremely slow. Other than that, this IPTV service works wonders for its price. Other than that, you can also check a Resleek review Reddit forum or other user reviews if you're still skeptical.