The Amazon FireStick is one of the top media streaming devices. It is a low-cost streaming tool that easily gets connected to the TVs HDMI port. Since, it is light-weight and small in size, enabling you to carry it anywhere you go.
In case, if you are planning vacations or going outside your country, still you can get connected with your favorite streaming sites like Hulu, Netflix, Disney Plus, Hotstar and Amazon Prime Video using FireStick on your TV.
FireStick is undoubtedly a great streaming device but, the only problem is you cannot access geo-restricted content with FireStick. It means that you cannot watch movies and shows that are restricted in your region even after using a FireStick device.
But, there is nothing to worry about because, in this guide, we will explain to you how to use NordVPN with FireStick to unblock geo-restricted content. Here's a quick walkthrough to install NordVPN with FireStick:
Signup NordVPN from its official website
Turn on Fire TV and go to the Home Screen
Select a magnifying glass icon, at the top of your Home Screen
Write NordVPN into search bar
Select NordVPN app, should be showing in the first result
Hit at the Get button, the app will start installing
Click at open to access NordVPN app (install update if required)
Add user name and password
Select server and get connected to NordVPN.
Nord VPN is industry's leading VPN, and supports various Amazon Fire Devices. As soon as you will download the NordVPN app, you just need to select your server and quickly stream all your favorite channels with Fire TV Stick.
How to Install NordVPN on FireStick (Manual Installation Method)
You can use this method to install any VPN that is not available on the Fire TV app store. Since every VPN claims to be the Best VPN for FireStick, so this method can be applied to any of your selected VPN that is not available on Fire TV app store.
To use this method, you will need a second-generation FireStick or any later version. Moreover, you will also need an APK file of your chosen VPN app. NordVPN users can download APK file from official NordVPN website.
You cannot control the NordVPN app with the default FireStick remote. We will explain you later about how to control NordVPN on FireStick. Follow these steps to load NordVPN on FireStick manually through NordVPN FireStick downloader:
Launch Home Screen
Head over top section
Select Settings
Under settings, select Device
Move to Developer Options
Toggle both mentioned settings ADB debugging and Apps from unknown sources-on.
Take a look at a few more steps below:
Hit the back button to get back to the Home Screen and select the icon of the magnifying glass in order to search the Downloader app. Now tap GET to install app. Once the app is installed, now tap OPEN.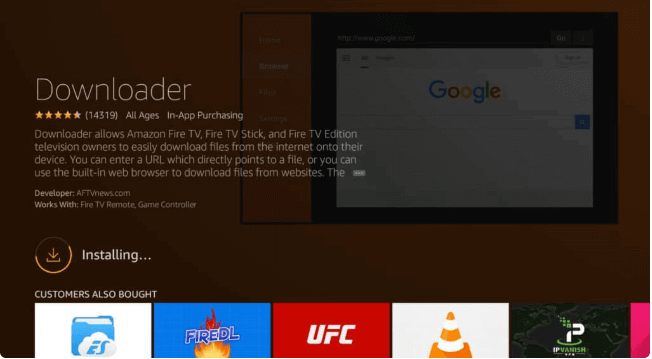 Enter the download URL to the APK file. As soon as you will enter the download link, you will find a simple browser running inside your downloader app. Now, you will again find a download link using a few directional controls mentioned on the remote.  You can click at the center button to let the download begin.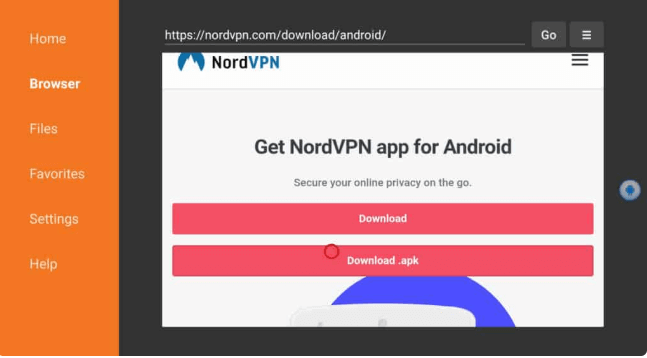 Once the download gets done, tap install then open. You can now exit Downloader.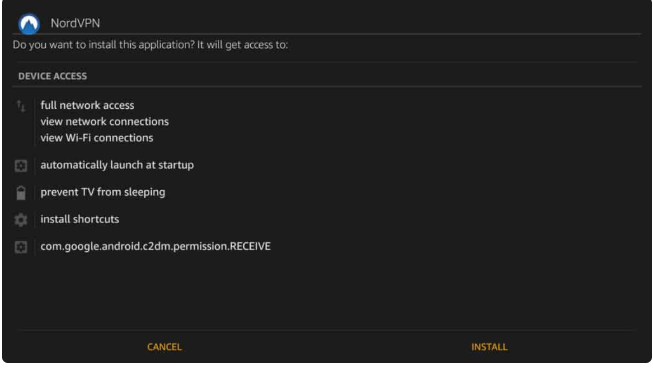 In this method, NordVPN will be treated as a third-party app, therefore, it will no longer be showing up on the home page or at apps page. To launch the NordVPN app, you have to move to Settings, then select Applications, under application go to Manage installed applications and select the VPN app directly from the available list. Now, you can click Launch application.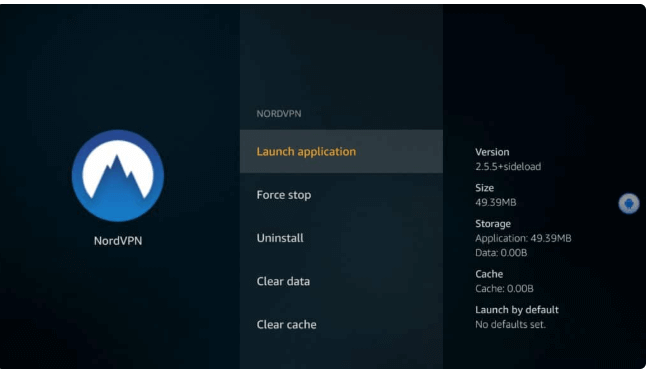 Depending on the app design, some of the users will be done with installation. However, a few will need to sign in to get connected.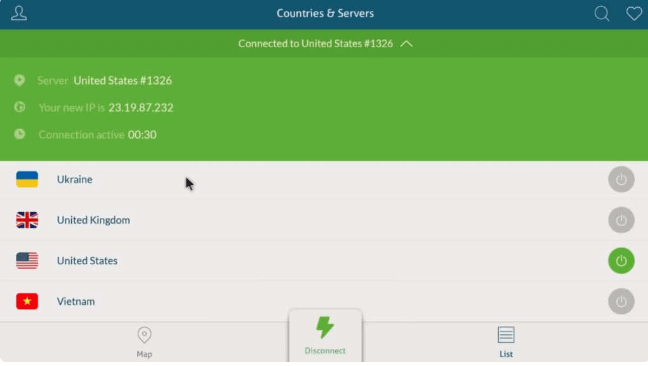 Users will need a mouse to operate the touch screen app. Remote cannot be used with the NordVPN app because it has a few limited buttons which will not work for the various functions.
What If I want a Remote to Control NordVPN app on Fire TV Stick?
In case, if you are not comfortable with a mouse to operate NordVPN on FireStick then download Remote for Fire TV app to control NordVPN app with FireStick. You can find Remote for Fire TV app easily on Android and iOS.
Moreover, users who are using latest FireStick generation, don't have to install the remote app mentioned above. Simply use the voice-activated remotes available in the newer FireStick version and enjoy your NordVPN FireStick.
How to Change NordVPN Server on FireStick?
Once you have installed NordVPN app on FireStick, then you can open the app and log in to get connected. Now, head over All Countries menu and connect to any of your preferred servers.
How to Use NordVPN on FireStick (First Generation devices)
FireStick First-generation devices are not supposed to be in use with a VPN. Most of the VPNs fail to get connected with such devices. However, NordVPN can be connected with first generation FireStick device and here's you can get connected with NordVPN using NordVPN for FireStick.
You just need a VPN-compatible router. If you are unsure how to check a VPN-compatible router, then you can check the FCC ID number placed on the FireStick device.
Here's the First-generation FireSticks ID number: 2ABDU-0509.  You can configure NordVPN with routers that support the following Firmware:
DD-WRT
Tomato
Padavan
OpenWRT
Merlin firmware.
In case, if your router is not supporting any of the mentioned firmware then you can also install or use a pre-configured router.
How to Setup NordVPN on your Router
Log into your router (Enter router's IP address into your search bar, now enter the username and password)
Configure Router (if your router is not having a supported firmware, you can configure settings to redirect traffic to NordVPN server)
Test connection (As soon as you are done with the configuration thing, now you may test your connection.
Once your connection starts working, you may then use Amazon Fire TV Stick with a NordVPN router.
Can I Secure My Wi-Fi Hotspot with NordVPN?
If you don't have a router that supports NordVPN, then you can use this method.  macOS laptops and Windows 10 devices enable users to share internet connection through Wi-fi hotspot. Use NordVPN on your laptop before sharing your Wi-Fi hotspot to anyone. In this way, your hotspot will remain secured with NordVPN.
How to Update NordVPN when Installed Manually?
NordVPN app for FireStick will be updated automatically just like other apps. However, if you have installed the app manually by following the process mentioned above, then automatic updates will not take place.
You have manually installed the app from an unknown source therefore, it's impossible to get automatic updates.
In this case, you are required to keep a check on the updates and in case, if you want an updated app then, go through the entire installation process again using a new APK. The whole process will remain the same as I mentioned earlier, only the install button will be replaced by the update button.
Can I Access Kodi on FireStick With NordVPN?
Yes. You can first setup Kodi on your Amazon Fire TV then use it with NordVPN. Here's how to install Kodi on Amazon Fire TV:
Go to Settings
Select Device Settings
Hit on Developer Options
Turn on apps from unknown sources (in case, there is malfunction, you can factory-reset your device)
Get the downloader app available at Amazon app store
Write the URL of Kodi's official website in the downloader app
Select Android app
Select 32-bit installation
Click at install and you are done.
Why to Use NordVPN on FireStick?
You can use NordVPN on FireStick and there are many benefits that you can get. Besides, enabling you to unlock geo-restricted content, there is much more than you can achieve. NordVPN provides you with advanced security features like Military-grade encryption that keeps your data secure and safe from web sniffer. It also offers strict no-logs policy, ensuring your activities are not being tracked by the service provider. It has dedicated servers around the world, so unblocking your favorite shows on Fire TV Stick will not be difficult.
Can I Access BBC iPlayer Using NordVPN on Firestick?
Yes. If you have setup NordVPN on Firestick then you can easily access BBC iPlayer. Just like Netflix and Hulu, BBC iPlayer also have some regional restrictions. As soon, as you traveled outside the UK, you will not be able to stream BBC iPlayer. But in case, if you have installed NordVPN on FireStick, then you can unblock BBC iPlayer on FireStick.
In Conclusion
FireStick is the best media streaming device that lets you take the whole TV with you while traveling. It is portable, small and smart, enables you to watch all your favorite shows. But, FireStick cannot Unblock Netflix and other geo-restricted streaming sites like Hulu and Disney plus. To unblock and watch your favorite content from anywhere around the world, you can install NordVPN on FireStick. It will maintain your online security with the fastest speed and lets you watch anything irrespective of the regional restrictions.