HBO Max is among some of the best streaming services to date, but it's geo-restricted. To access it, you will need to change your IP address, and a VPN is the best solution for it. NordVPN is currently one of the top providers for HBO Max. This guide will show you how to watch HBO Max with NordVPN from anywhere in the world. Let's get started!
Table of Contents
How to Watch HBO MAX with NordVPN
HBO Max is a geo-restricted streaming service. Currently, it's only available mainly in the US, a few of its territories, and particular countries in Europe, Latin America and the Caibbean. To access it outside these regions, you have to change your IP address to a US one; something NordVPN can help with. Here's how to watch HBO Max with NordVPN:
Sign up and create your NordVPN account.
Download and install the NordVPN app on your device. You'll find the tutorial further down this guide.
Launch the VPN, use the OpenVPN UDP protocol and connect to a US server. Choose anyone from the list, but I went with Dallas.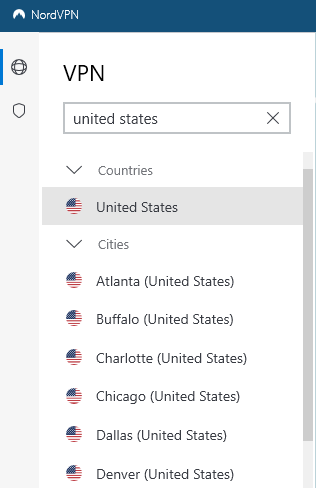 Open the HBO app or the website and watch HBO Max content with NordVPN.
HBO Max has delivered many hit shows since May 2020. Just think about one of their most popular shows, "Games of Thrones" ; its finale is solely watched by 19.3 million viewers.
However, HBO MAX is protected by geo-restrictions which means if you are not from the US or a few European regions, then most probably you won't be able to access it.
Although they are continuously increasing their availability zones, there is a lot to cover. So, what if it is not available in your region? Does this mean there is no way to watch HBO Max?
Luckily, there is a solution called NordVPN. It is a well-equipped VPN that fully unblocks HBO MAX and lets you relish thrilling shows, regardless of your location.
Using the tutorial above, you will be able to watch HBO Max with NordVPN in no time! If there are other questions that you need answers to, scroll and get more information on this subject, ranging from devices to sign-up procedures.
Why do you Need NordVPN for Watching HBO Max?
Because HBO is available only in selected regions, a VPN is the solution that can unblock the content beyond boundaries.
A VPN with its worldwide servers has the ability to change your location (IP address). For example, if you connect to a US VPN server using NordVPN, you can now also access the US-only websites which were available to only US users before.
When you use NordVPN to access HBO Max, you won't be seeing messages like "Sorry, HBO MAX isn't available in your region yet."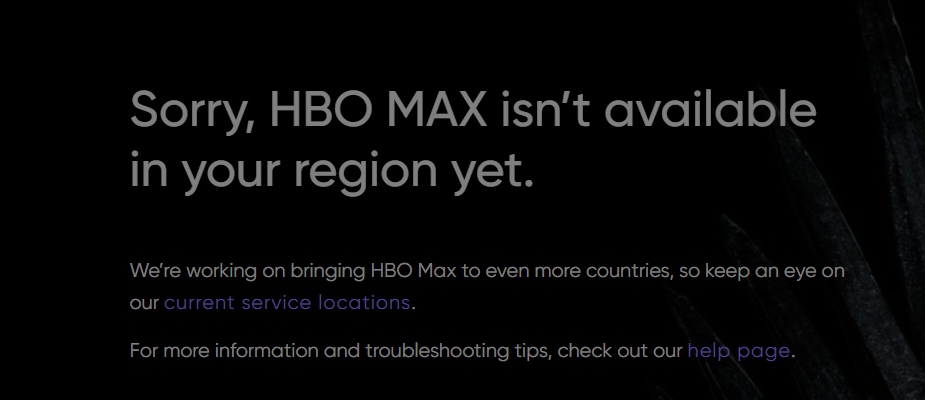 So, this is one of the main reasons why you need NordVPN to watch HBO Max content, especially if you live outside the accessible regions. Other than that, a provider like NordVPN helps with online security and privacy; particularly getting pass online surveillance or ISP throttling.
How do You Create an HBO MAX Account Outside the US?
You won't be able to create an HBO Max account if you're anywhere outside the US and its territories, but no one said it's not possible. With the help of NordVPN, you can now create your account outside the US or anywhere in the world. Here's how:
Create your NordVPN account.
Get the VPN on your streaming device.
Sign in and connect to a US server.
Next, go to hbomax.com and click on "Sign Up Now"
Choose your package and head to the account creation page.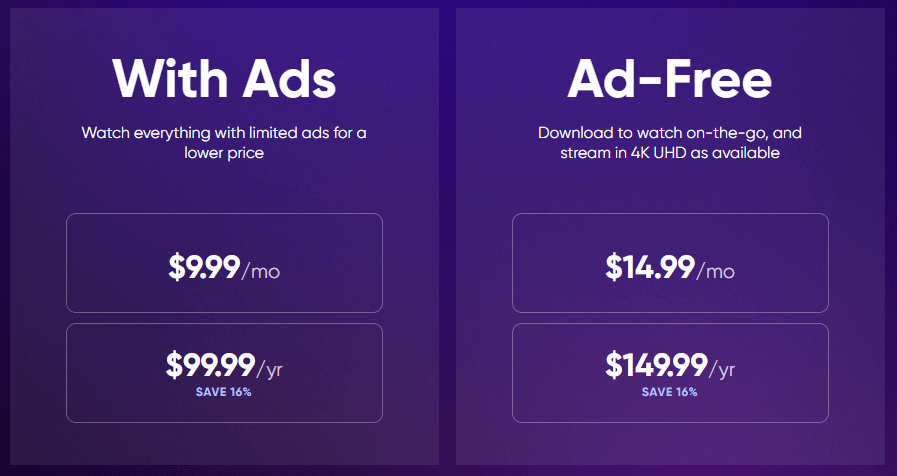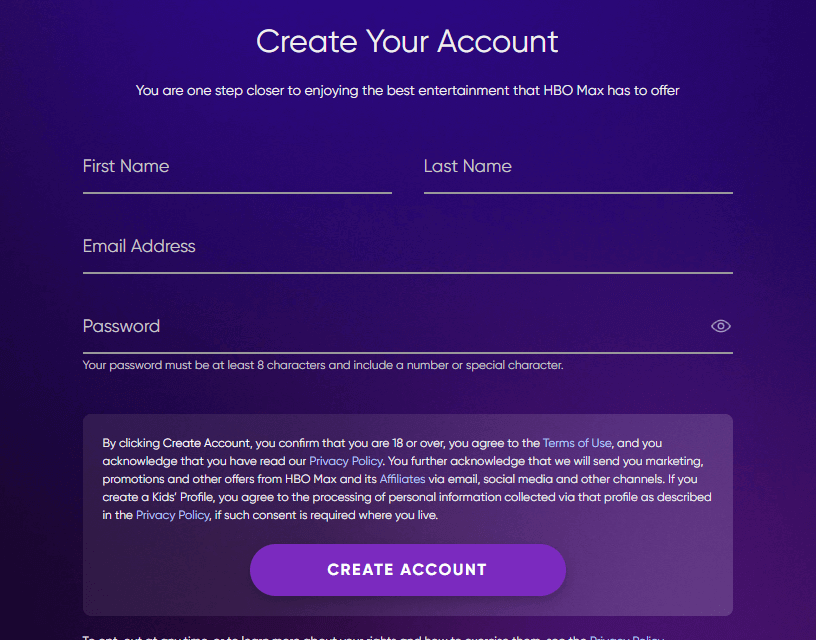 Choose a payment method and check out.
You've now created your HBO Max account. You can stream the service easily with NordVPN, however, if you're wondering how to pay for the subscription from outside the US, check the tutorial below.
How to Pay for an HBO Max Subscription Outside the US
Geo-restrictions also affect your payment system; that's why you can't pay through your local bank if you live in a country where HBO Max is blocked. To proceed, it's necessary to connect to a NordVPN US server. Once that's out of the way, here's how you can pay for an HBO Max account from abroad:
First, get NordVPN on either Android or iOS smartphones.
Sign in and connect to a US server.
Create either a Google Play or Apple account according to what device you're using.
Get the HBO Max app on your device.
Skip any steps that ask you to enter your payment details on the launch page.
Now, instead of a US credit card, you can use PayPal to pay for the HBO Max subscription.
If this method doesn't interest you, you can alternatively buy a subscription with online gift card. You can buy the gift card from the Amazon Sore and redeem it later, especially since no particular US payment method is required for it.
HBO Max Pricing
The value pack starts at $9.99/mo or $99.99 for 1-year. But if you go for a full-fledged ad-free deal, it will cost you $14.99/mo or $149.99/yr.
Irrespective of the plan, a total of 5 profiles can be created. So share it with your friends or you could even split the cost.
How to Watch HBO Max on Supported Devices
HBO Max is compatible with a number of devices. This part of the guide will show you how to watch HBO Max with NordVPN on the following devices:
Watch HBO MAX on your TV with NordVPN
To unblock HBO Max on your TV, follow this process:
Install the NordVPN app on your TV like Firestick or Android from their respective stores
Launch the VPN and connect to a US server.
Sign up for an HBO Max account.
Download the HBO Max app, sign in, and watch HBO Max with NordVPN.
Watch HBO Max on Windows with NordVPN
Sign up with NordVPN and create your account.
Download and install the Windows VPN app.
Sign up for an HBO Max account with the VPN, if you don't have one.
Go to hbomax.com, sign in and start streaming!
Watch HBO Max on Smartphones with NordVPN
You can alternatively watch HBO Max with NordVPN on your smartphones if you're traveling to another country and don't have access to a Smart TV. Plus, the installation process is relatively simple, here's how:
To begin, you have to change the location on your phone and app store. Change it to a US one.
Next, download and install the VPN on your iOS or Android smartphone.
Connect to a US server.
Now, you will need to create a new Google account for Android or an Apple ID for iOS.
Keep the location on the Stores as a US one.
Use this new account to search for the HBO Max app.
Download it on your smartphone.
Create an HBO Max account if you don't have one (tutorial mentioned above.)
Sign in to watch HBO Max with NordVPN.
Now that all the tutorials are out of the way, take a look below at how to sign up for NordVPN just in case you need to know.
How to sign up for NordVPN to Watch HBO Max
Here's how to sign up for NordVPN, so that you can ultimately use it to unblock HBO Max and other streaming services. You first:
Click on Get NordVPN
Now you are on the sign up page where you can pick your deal, and provide the necessary info to create your account.
Choose your payment option
You just got your NordVPN account. Now, here's how to download and install the NordVPN app on your device
Download NordVPN on PC
NordVPN is available on almost every device, including your PC, Smart TV, gaming console, Routers, and Phones. Just choose the suitable variant and load it on your device. This tutorial will show you how to download the VPN on your PC:
For computers, go to the NordVPN website and then click on Download VPN > Download APP
Now wait for a few seconds until the download is finished
Run the downloaded file to setup and install NordVPN on your device.
Launch the app and log in to your account
Afterwards, the main user interface appears. Choose the server from the given list and hit the connect button.
There you go, NordVPN just made HBO Max accessible to you in a restricted region.
NordVPN Pricing
Their best value pack is amazing as it saves 72% on buying it. Its 2-year plan costs $3.29/mo. The 1-year subscription plan is also a good deal and saves 58%, which ultimately costs $4.99/mo. There is also a month-to-month plan that won't make any sense as it's too pricey, $11.99, especially if you are looking for a VPN for the long term.
All of the plans come with a 30-days refund policy. You can use this refund period to test the VPN with HBO Max. However, if you're not happy with the service, you can ask for a refund before the 30-day period ends.
What Makes NordVPN the Best VPN for Unblocking HBO MAX?
As mentioned countless times throughout this guide, you won't be able to access HBO Max from outside the US and its territories. To access it you will need the best VPN to change your IP address to a US one. For that, NordVPN happens to be one of the best to unblock HBO Max, and here's why:
Numerous US VPN Servers
The US version of HBO MAX is more popular because of its large number of shows. NordVPN, with its large envoy of VPN servers, holds USA-based servers in 15 different cities. In total, they offer 1970+ servers in the USA; thus, you can watch HBO MAX without any fret. In any case, if a USA server does not work for you, there are many more.
Huge Number of Server Locations Worldwide
NordVPN is one of the most popular VPNs in 2022, offering 5600+ VPN servers in 60 different countries. You won't see many VPNs with such a huge network. Therefore, having such a comprehensive availability of VPN servers enables you to unblock almost any streaming service like Netflix, CNBC, Amazon Prime Video, etc.
Fast Streaming Speeds
NordVPN is a package of speed and security. They have spread their VPN servers over 60 countries, so you can easily find the server location you are looking for. Such a wide network is efficient to stream 4K UHD movies without any hiccups.
Solid security
Of course, you want to stream HBO MAX but not at the cost of security. NordVPN is guarding its users with its rock-hard security measures such as the No-Logs policy, Kill Switch, and advanced encryption standards.
Frequently Asked Questions
Has HBO Max blocked VPNs?
Almost all VPNs are blacklisted by HBO Max due to licence agreements and geo-restriction laws. When HBO detects more than one user over the same IP address, it immediately blocks it. However, thankfully, NordVPN among a couple of others has managed to stay undetected. With our workaround guide above, you'll easily be able to unblock HBO Max with NordVPN.
Why can't I connect to HBO Max with a VPN?
If you're not able to unblock or access HBO Max with a VPN, it must be because HBO Max aggressively blacklists VPNs and blocks VPN IP addresses from accessing the service. With that said, it's recommend that you use a renowned and reliable provider like NordVPN, since it's been tested and goes undected.
Can I use NordVPN to watch HBO Max?
Yes, NordVPN is one of the best VPNs to watch HBO Max. All you need to do is subscribe to the VPN, download the app on your desktop or mobile devices, conenct to a US server and unblock HBO Max.
Is it illegal to use a VPN for HBO Max?
Technically, using a VPN in the US or to access US services is not considered as illegal. However, what it does do, is go against the HBO Max terms and conditions which is why the service blocks access through VPN usages.
NOTE – Just in case you're not happy with NordVPN, or how it performs, there are other providers that have been tested to work with HBO Max. They include Surfshark, ExpressVPN, CyberGhost and FastestVPN.
Conclusion
With so many blockbuster movies, originals, and interesting series, it is understandable why you want to access HBO MAX. This guide on how to watch HBO Max with NordVPN has been tested multiple times and updated so that our viewers have an easier time getting by. Additionally, you can pretty much use the same VPN to unblock other US streaming services or international platforms from anywhere in the world.