Who doesn't want a VPN that doesn't cost an arm and a leg? While everything "budget-friendly" might sound like a bliss to ears, there can be serious leaks to be aware of beforehand. Therefore, before purchasing a VeePN package, read this VeePN review to learn all about it.
After a comprehensive evaluation of all its attributes, it became apparent that the free VeePN extension and app provided by VeePN don't meet the expected standards of safety and dependability for a VPN. Nonetheless, there is a silver lining to this VeePN review.
Short on Time? Here's an Overview
Here's a walk-through of this VeePN review:
Pros
High-speed performance: Most of VeePN's servers had minimal impact on my internet speeds.
Impressive streaming capabilities: VeePN excels at accessing a wide range of major streaming platforms.
Robust security: VeePN boasts extensive security features, providing a solid shield for online activities. Learn more about the comprehensive security options it offers here.
Strict no-logs policy: VeePN ensures no personal information is stored, enhancing privacy.
Excellent for torrenting: VeePN significantly improved my torrenting experience, resulting in faster download speeds.
Multi-device compatibility: VeePN offers a user-friendly app compatible with many popular operating systems, simplifying the setup process.
Cons
Application Interface Improvements: Finding the features for someone new to VPNs can be tricky, but it's only a five-finger exercise once you start exploring the VPN. However, its display and separate server network availability for streaming and double VPN are impressive! Additionally, I love the dark display mode.
Hit-or-miss customer support: Users have reported varying levels of responsiveness and effectiveness when dealing with VeePN's customer support, so it might not always be your go-to for quick issue resolution.
Pricing
It offers 3 subscription packages: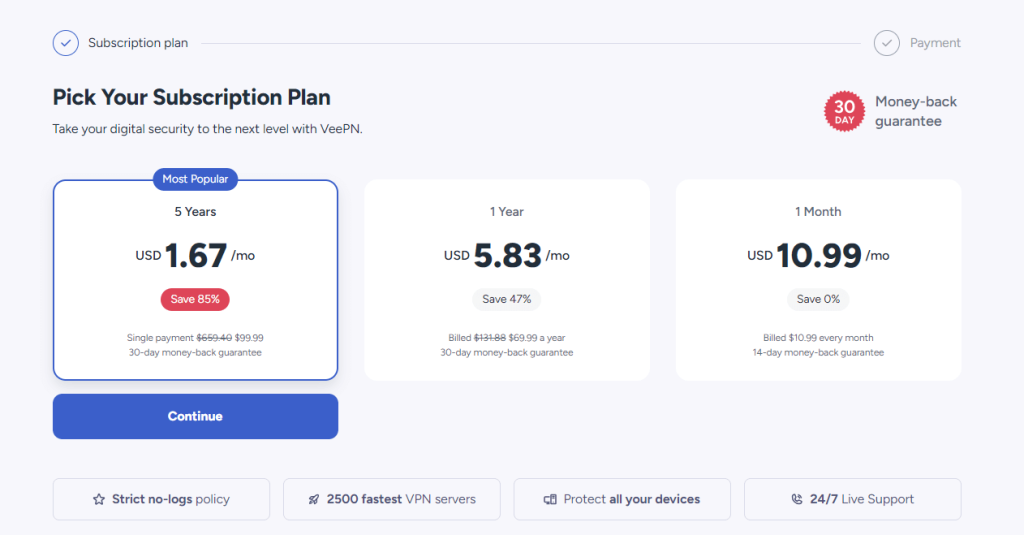 1 Month:
$10.99/month
Offers a 14-day money-back guarantee
1 Year:
Bills $69.99 yearly
Offers a 30-day money-back guarantee
5 Years:
Bills $99.99 together
Offers a 30-day money-back guarantee
Compatible Devices for VeePN Apps
VeePN is compatible with a list of operating systems, offering compatibility with more options than many other VPN services.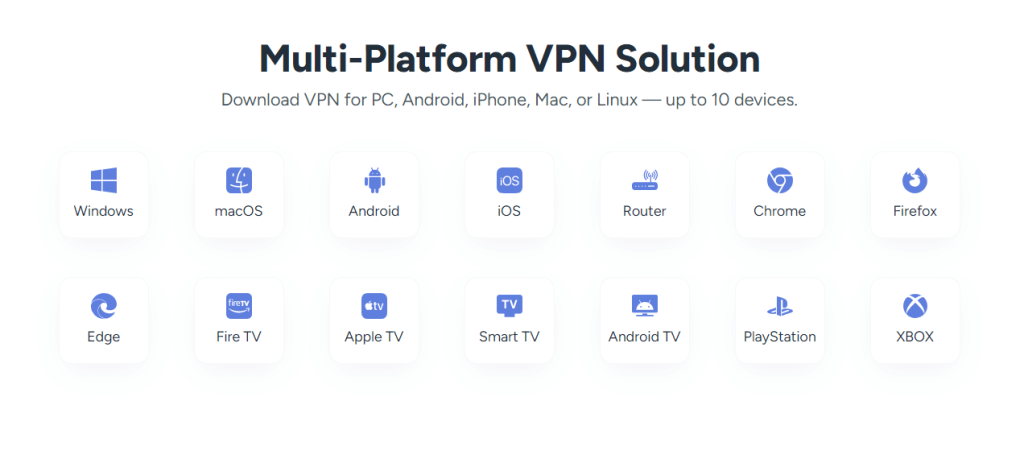 Here's the list of supported operating systems:
Windows
macOS
Linux
Android
iOS
Amazon FireTV
Amazon Kindle Fire
Furthermore, VeePN offers free VeePN extension for both Chrome and Firefox. These little add-ons have a specific job: they funnel only your web browser's traffic through the VPN, leaving the rest of your device's internet activities untouched.
Moving on to the service's app in this VeePN free review itself – it's a real looker, user-friendly, and just plain works. Whether you're new to VPNs and VeePN extension or someone who's been in the biz for a while, you'll probably feel right at home navigating through it.
VeePN App Interface: The First Impression
Let's start this VeePN review by discussing the signing-up process and the app's interface. Signing up is simple and similar to most other internet services you've used.
This is how it works:
You choose a subscription plan.
Provide your email address.
Pay using the standard payment options.
And you're good to go!
When you visit the VeePN website, you are routed to the Download section, where you can select from various options. We chose the Windows version, downloaded it, and installed it without problems.
The app's interface is accessible and easy to use. It has a sleek, app-like front end with a large circular "Connect" button and the presently selected server. You also have access to a list of VeePN's server locations in various regions and a convenient "Favorites" system that allows you to access your chosen servers rapidly.
VeePN has a list of essential features, like:
Auto-connect when connecting to new networks.
Availability of customized DNS servers.
Built-in ad blocker.
Malware and tracker prevention (not prominently touted on their website).
Among the new features that we previously mentioned in this VeePN free review is the "Optimal location" feature, which promises to select the optimum server for you automatically. While it doesn't always get it right (for example, it picked a server in the Netherlands for us even though we're in the USA), this was more of a silver lining in the cloud.
On the location list are server load indicators to assist you in making more educated decisions. Once connected, your new IP address is shown, and you can quickly connect or detach by clicking on the client's system tray icon.
Accessing Streaming Services – Speed and Performance
VPN companies these days are all about letting you sneak into streaming sites, and it's a significant thing. They entice new customers by flashing the "we can unblock streaming sites" banner and allowing you to see all that geo-restricted stuff.
In its marketing, VeePN does not shy away from mentioning its streaming capabilities. They brazenly claim to be breaking the monopolies of Netflix, Hulu, and HBO. First and foremost, accessing Netflix was a yes. It gave an upload speed of 89.79 Mbps and a download speed of 40.74 Mbps.
However, accessing Hulu was a total failure. We tried it several times while writing this VeePN free review and the streaming service remained inaccessible. It straightaway led to an error, and the VPN service couldn't bypass Hulu's strict VPN barrier.

VeePN Server Speed
When accessing Netflix through the Amsterdam location, I did face a few lags but it was only during the initial stage. Later on, the streaming experience was seamless. I got an upload speed of 89.79 Mbps and a download speed of 40.74 Mbps.
Later on, I could also access the Netflix France catalog right after switching to Paris server location. Although the speeds were quite low, yet, it was fairly good than a few other VPNs I've tested. Conclusively, it's good for basic Netflix streaming and bypassing geo-restrictions. I got a download speed of 12.43 Mbps and an upload speed of 78.92 Mbps.

VeePN Server Performance
While I did experience some good speeds, there were a few shutdowns and buffering issues. But those weren't a problem; it was a good streaming experience. Meanwhile, certain streaming platforms, like Hulu won't let you bypass its strict geo-restrictions with VeePN.
Online Gaming with VeePN – A Review
I could still get my game on while using the VeePN, but there was a bit of lag in the mix. Now, regarding online gaming, the ping results are your holy grail. They tell you how fast your data is zipping around. And you want that number as low as it gets so your game responds pronto to your every move.
I decided to take VeePN for a spin with a fast-paced shooter because, let's be honest, that's where you'd notice lag the most and for this VeePN free review, I had to try it. I have to say, my character's moves were pretty darn smooth. Running, jumping, and ducking were like a well-oiled machine.
The only hiccup I spotted was when I squeezed that trigger – there was a delay. Don't get me wrong, it's impressive, but I've tried a few VPNs that let me game online without any lag whatsoever.
Reviewing the Security Features
Regarding protocols, VeePN lays out four options on the table: OpenVPN, IKEv2, VeePN Smart TCP, and VeePN Smart UDP. Our top pick? OpenVPN, hands down. It's a speedy, secure, open-source protocol always spruced up with updates and tweaks.
Now, IKEv2 is a decent second choice. Still, it's got that "proprietary" tag since a combination of Microsoft and Cisco cooks it up.
Here's where things get a bit unconventional. TCP and UDP, usually found in the transport protocol corner, are VeePN's unique offerings. They're not your typical security protocols but cleverly tweaked versions of OpenVPN. Smart TCP leans into security, while Smart UDP goes all-in on speed. If your VPN is up against government firewalls, these protocols might give it a fighting chance.
Speaking of security, no matter which protocol you roll with, all four bring out the big guns – AES-256 encryption, the heavyweight champion of the encryption world, known for its ironclad security.
FAQs - VeePN Review
Is VeePN free VPN safe?
VeePN provides a free VPN service, however, its security might vary. Since free VPNs may have restrictions and possible security hazards, it is best to conduct extensive research and seek premium, paid choices for improved security and performance.
Is VeePN a virus?
VeePN is not a virus but a genuine VPN service intended to improve internet privacy and security.
Is the VeePN extension safe?
VeePN extensions are generally safe for secure browsing when downloaded from reputable sources, like browser web stores. However, always exercise caution and use the official extension to avoid potential security risks.
Final Note
The quality of VeePN's premium apps pleasantly impressed me. They not only have fast speeds and superb streaming capabilities, but they also have essential security measures. Furthermore, the service has a strict privacy policy, and I even observed increased upload speeds while torrenting.
However, it is not all rainbows and sunshine with the app and VeePN extension – perhaps this VeePN review already made that evident. Security worries constantly linger when using the VeePN extension.
As mentioned in the VeePN free review, the server network is restricted in capacity, the privacy policy lacks independent auditing, and live chat assistance is occasionally unavailable. This option is advised for people on a tight budget who are prepared to commit long-term.