VPNs may be a lifesaver in the sometimes-wild west that is the internet world. While iTop VPN is making some fairly strong promises, I decided to go with an iTopVPN review. It advertises itself as the finest VPN available, with over 10 million subscribers worldwide.
That's a significant claim, right? I decided to delve in, get started, and see if it lives up to the hype. I'll go right to the point: iTop VPN isn't flawless, but it does have some strong points. In the end, balance is everything. You get reasonable speeds, and it does an excellent job of protecting your online privacy.
Here's the catch. A free plan is available, which is nice, but it has data limitations and a relatively constrained network. However, its premium versions make it an optimal choice.
So, if you're looking for a top-notch experience, there might be better options.
Let's not jump the gun just yet. I've got all the nitty-gritty details to share in my review, so stick around, and let's dive deep into the iTopVPN review and see if it's the one for you.
A Brief Overview
Before delving into the details of this iTopVPN review, let's first have a quick rundown.
Pros
Here are the top positives that we've covered in this iTopVPN review:
No-Logs Policy
iTop VPN takes user privacy seriously with a no-logs policy. This ensures a complete online protection and that none of your user browsing details are tracked.
Security Features
The VPN offers additional security features, including a built-in ad blocker, enhancing online protection.
Server Network
iTop VPN boasts a network of over 1,800 servers worldwide, which should provide decent performance and minimize lag.
Streaming and Torrenting
It can unblock geo-restricted content on platforms like Netflix and Hulu, and it offers servers optimized for torrenting, catering to both streaming and P2P enthusiasts.
30-Day Money-Back Guarantee
iTop VPN offers a 30-day money-back guarantee, allowing you to test the service risk-free.
Cons
Only heard the positives? Here are the negatives of this iTopVPN review:
Performance of Free Servers
The free servers often deliver unsatisfactory performance, with significant drops in connection speeds, sometimes up to 95%.
Data Limitations
The free plan imposes a daily data limit of 700MB, restricting your online activities, particularly streaming.
Customer Support
iTop VPN lacks live chat support, inconveniencing those seeking timely assistance.
Pricing
12 Months – $3.99
24 Months – $2.50
24 Months + 12 Months – $1.66
What is iTop VPN?
iTop is a renowned software company known for its extensive line of security goods. iTopVPN, which has free and premium versions, is one of them. Since its launch in 2016, iTopVPN has grown in popularity. However, there are a handful of significant downsides worth mentioning.
On the plus side, I must admire their security arrangement. It looks strong, with a strict no-logging policy – an essential prerequisite for any VPN.
Furthermore, iTop VPN goes above and beyond by including additional security measures and even a built-in ad blocker, which might be helpful. Regarding server coverage, iTop VPN has over 1,800 servers spread around the globe. In principle, this should assure good performance and low lag, but here's the catch: it shines on servers closest to your physical location.
If you like watching, iTop VPN is a good option because it can unblock geo-restricted material on significant platforms like Netflix and Hulu. It's also worth mentioning that they feature torrent-optimized servers, which is a substantial benefit for P2P fans. Plus, they've separate streaming servers.

Nevertheless, there were several bumps along the road throughout my testing. I discovered several DNS leaks, which is cause for concern. Furthermore, the way that iTop VPN handles VPN protocols could be clearer, which may be confusing, especially for tech-savvy customers who want more clarity in this area.
So there it is—my fair assessment of iTop VPN. It has certain advantages, such as separate gaming and streaming servers that make it a recommendable option. Here are the top privacy options that iTop VPN offers.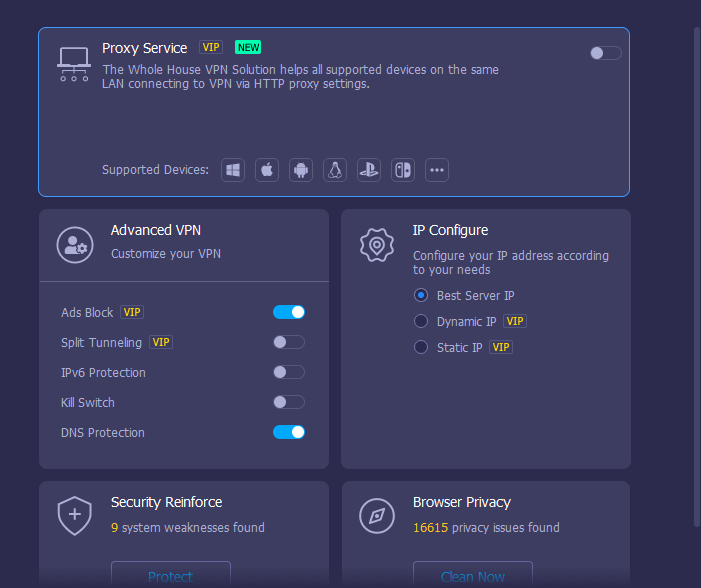 Is iTop VPN Safe?
While privacy and security are paramount in a VPN, iTopVPN features an impressive No-logs policy. And that's the first thing that also caught my eye when subscribing to it. To delve into the no-logs policy, the VPN assures that no confidential information will be saved, like your IP address, browsing history, etc.
Other than the VPN app's safety, iTop VPN offers accessible connection to different sites, which is a clear plus point!
However, the charm only worked for a few minutes until I dug in deeper. Despite this feature's impressive appearance, iTop clearly mentioned an association with third parties. Meaning iTop's privacy policy permits the exchange of data with other parties, i.e.,
Any company information on you may be disclosed to outside service providers or law enforcement organizations.
Second, iTop clarifies that it will abide by court orders like warrants and subpoenas. If it were to keep track of your usage information. For example, this information may be used against you in legal circumstances. It's a good thing that iTop has a strict "no-logs" policy in place.
Testing the Server Speeds – Satisfactory Performance of Premium Servers
I connected to the US server and tried accessing the global Netflix catalog through it. And, it offered a seamless streaming experience. Although, at a few times, I did get an error detection notification but after resolving the issue, I could easily access Netflix.
Here's the VPN's error.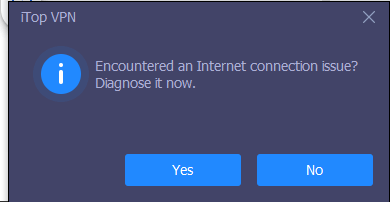 I've had poor performance with the free servers of iTop VPN. I carefully investigated each throughout my testing, and the outcomes were unsatisfactory. Several of these servers significantly reduced my connection speeds, sometimes by as much as 95%.
Additionally, there is a daily data limit on the free plan, which is set at 700MB. Although it's okay for a free VPN, this restriction meant I could only enjoy video streaming for around an hour, depending on the caliber of the content I was attempting to watch.
Meanwhile, this is the servers speed performance of the paid connections – an upload speed of 73.57 Mbps and a download speed of 52.82 Mbps.

iTop VPN for Gaming – Average Network Speed
First, it has a list of separate gaming servers, which make it ideal for any gamer using a VPN. Those servers are categorized as the fastest working networks for specific games to ensure a smooth gaming experience.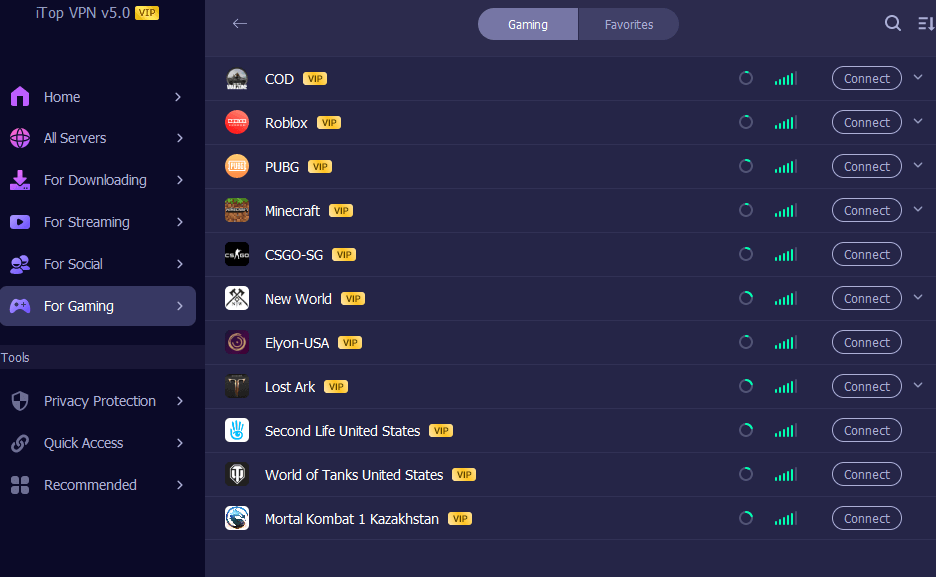 I've found that iTop VPN offers separate server networks for gaming, providing me with low ping times. With an ideal ping rate of less than 82 ms, I can enjoy a seamless gaming experience.
A low ping ensures that my in-game character reacts instantly when I push a button, enhancing my gameplay and making the entire gaming experience more enjoyable.
iTop VPN Price – Affordable Subscriptions
Here are the subscription packages offered by iTop VPN.
When evaluating the iTop VPN price, I noticed it has a free and premium edition. The short-term subscription options for the premium version tend to be pricey, especially in contrast to certain top-tier VPNs that provide more robust security features and broader device compatibility.
Three iTop VPN price plans are available as part of the premium option, with monthly, half-year, or annual payments options. The yearly plan offers the most significant cost reduction, standard fare.
There is, however, a little catch. Although the initial membership charges seem alluring, paying attention to the auto-renewal costs is essential because they might increase significantly. iTop VPN price for the initial membership, which sometimes includes a discount, appear reasonable.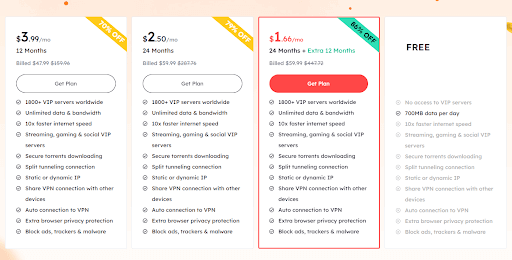 Debit/credit cards, PayPal, and bank transfers are the payment methods for iTop VPN, which may only suit some tastes. Other VPNs could have a more incredible selection of payment options, such as cryptocurrency, which could improve your privacy and anonymity.
Fortunately, a 30-day money-back guarantee is in effect, allowing you to test it out risk-free essentially. You can ask for a refund if you subsequently find that it falls below your expectations. A comforting feature for those seeking some flexibility is that they provide partial refunds for the longer-term memberships, which is also worth mentioning.
FAQs - iTopVPN Review
Is iTop free VPN any good?
Overall, even though iTop VPN is secure, its performance falls short of what is required to get it on our list of the best VPNs.
Is iTop VPN free?
Undoubtedly, you can use a constrained version of iTop VPN for free, for premium, you've to see the iTop VPN price. However, your access is only for 17 servers—11 ordinary servers, 4 for streaming, and 1 for social usage. Your data consumption is also restricted, with a daily restriction of 700MB.
Is iTop VPN a virus?
The VPN software iTop VPN is legitimate and poses no security risks. It strongly indicates that your device may have malware or other undesirable software. If you discover it installed on your system without your knowledge or approval.
How did iTop VPN get on my computer?
Users frequently install iTop VPN either knowingly or unknowingly. Such applications are frequently disseminated through ads, game cracks, or packaged with other programs, which might make consumers unsure about the software's origin.
Wrapping Up – Affordable, Accessible but Limited Features
iTop VPN is affordable, but we mainly recommend this for basic online browsing. Although the subscription plans and VPN features are quite admirable, but at a few places only, we noticed inconsistent speeds.
Conclusively, we won't include this in the list of the best free VPNs. Although iTop VPN is a respectable alternative, other VPN choices in the market provide superior all-around performance and customer service.