To choose the best VPN service, you need to make sure you go through a detailed VPN review. This makes investing in VPN services a whole lot easier. Most VPN services claim to offer great speeds, military-grade encryption, and more, but do they really? Keeping that in mind, let's review iProVPN in great detail!
What you need to understand before choosing iProVPN
When you choose the best VPN service, what are you actually looking for? Is it great speeds? In most cases, users require the best speeds for streaming or gaming geo-restricted content.
You've probably at some point experienced extremely slow speeds or buffering issues despite the fact that you've paid for a faster internet package. There are chances these issues are caused by ISP throttling. So, it's important that iProVPN aids in bypassing throttling and offer you speeds that are stable on all servers.
Then there are other factors like unblocking geo-restricted streaming services or terrible security for device and data protection. There are numerous VPNs that offer a whole platform of unique features and at the same time are affordable. While, on the other hand, there are VPNs that costs an arm and a leg but produce nothing that they claim to offer.
So, how do you choose the best VPN? How do you know if iProVPN is worth your investment?
iProVPN is fairly new and was recently launched in 2021. If I'm being honest, I'm not expecting much from the results only because the provider is new. However, let's just wait for the end of this iProVPN review to jump to any conclusions.
iProVPN Review – A quick roundup
If you're short on time and just want a glimpse of what iProVPN offers, I've highlighted all the major details below. We'll be discussing each part of the VPN and its features, and running tests along the way. Keeping in mind that iProVPN is fairly new, here's what it claims to offer:
Headquarter:British Virgin Islands
Countries:20+
Servers:250+
Logging policy:Strictly zero logging
Encryption:AES 256-bit encryption
Offers a manual Kill Switch on Android and in-built on Windows
Trial period:Free trial for a month and charged $10/mo. thereafter
Customer support:24/7 chat support and ticketing system
Best price: $2.1/mo. for the 2-year plan
Multi-login:10 devices (You can add more device for $4 each)
Money back guarantee:Yes, 30 days
What's the iProVPN network coverage like?
For now, I'd say that iProVPN offers a very simple network coverage. In most cases a VPN is as good as the servers it offers, but sometimes, even a simple network works profoundly. There are many popular streaming services like Netflix or Disney Plus that are restricted to only those living within the US and its territories. You'll need to connect to a US IP address to access them.
iProVPN offers around 250+ servers in 20+ locations. I'd say that sounds a little smaller compared to other VPNs, but it also depends on how these servers perform. I ran some tests on a few popular servers, like the US, UK, AUS, and Canadian one. And they worked just fine, delivering stable speed.
Does iProVPN unblock Netflix and other streaming services?
I ran a few tests, and I was pleased to know that iProVPN unblocks Netflix. I got access to the UK, US, and Indian Netflix libraries and still have to run some tests on other catalogs. Regardless, Netflix is a very tough platform to get a hold of, but iProVPN managed to work fine with it. To add to the list of iProVPN pros, the provider is new, which means it hasn't been blacklisted nor detected yet by Netflix.
Other than Netflix, I got access to Disney Plus (US and UK), Comedy Central, Amazon Prime, Hulu, Hotstar, HBO NOW, AE TV, and the Food Network. There are chances of iProVPN unblocking other streaming services since it managed a few of the popular ones. However, the results could vary from user to user.
What about torrenting?
iProVPN does work with torrenting platforms but on limited servers. I got access using the Australian server. You could also contact the support chat asking for assistance.
Does iProVPN work in China?
As mentioned above, because China is a new VPN, it does work with China. I understand that this provider is new and has many miles to go, and plenty of upgrades to add, but because it's new, it's off the detection radar under the Chinese government. So, if a China VPN is your main focus, I'd recommend you to try other providers. Other than that, you could try using iProVPN in China for testing purposes.
How fast is iProVPN?
Now, speeds are a main concern, especially with the major issues revolving around ISP throttling. Secondly, the small network support that iProVPN offers gave me a few concerns. Usually with a smaller network, there's a lot of users over one server, which causes the speeds to slow down even more than usual.
However, when I tested the iProVPN Windows, Android, and iOS apps, I found the results not amazing but stable. The results are good enough for HD and UHD definition.
I tested the VPN while connected to a local internet package of 35.67 Mbps. That is the download speeds recorded before connecting to iProVPN. Now, I tested the servers US, UK, AUS, and Netherlands. Here are the results against my internet speed:
United States server – 29.45 Mbps
United Kingdom server – 27.96 Mbps
Netherlands server – 21.33 Mbps
Australian sever – 31.23 Mbps
The average requirement for streaming Ultra HD on Netflix and Amazon Prime is 25 Mbps, and 15 Mbps on YouTube. So, the results that I got from the iProVPN servers, should give you a decent to buffer-free experience.
Privacy and safety of the location
I'd say iProVPN is secure only by judging the location where the provider is headquartered. iProVPN is located in the British Virgin Islands, away from any 14-eyes regions. This means you won't have to worry about ISP / government online monitoring or surveillance. You'll be able to breeze safely through the internet without worrying about data theft.
Apart from its safe location, let's review the iProVPN security structure.
Discussing the iProVPN encryption and features
A VPN should be well-guarded or secured with the best security features like military-grade encryption. Luckily, all the iProVPN apps operate using AES 256-bit encryption. This is the best, and will ensure you a secure and protected tunnel where all your internet traffic runs through.
Protocols
iProVPN offers the following protocols:
OpenVPN
IKEv2
IPSec
PPTP
L2TP
OpenConnect
OpenVPN is better for secure connections, while I believe IKEv2 is the best for streaming, since it boosts the speeds a little bit faster.
Advanced & built-in features
Apart from the encryption and protocols, iProVPN offers other advanced features like a:
Kill Switch, which is seen on the Windows, Android, iOS, and macOS apps.
There's also a Split-Tunneling feature on the Android and iOS apps, which is understandable since the VPN is still new and under works.
Then there are other built-in features that iProVPN supports. A few of them are:
An Ad-Blocker to get rid of constant ads
Malware protection from various websites and apps.
Unlimited bandwidth to bypass ISP throttling and enjoy hours of non-stop streaming.
DNS/IP leak protection. I even connected to the Netherlands server to check if there were any leaks, and the results were leak-free!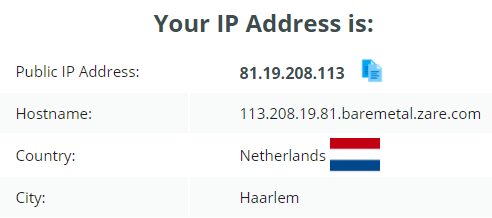 Does iProVPN log data?
We know that iProVPN has basic but great security features, and is located in a privacy-friendly region in the British Virgin Islands. But, does this provider log any data?
After going through the entire iProVPN website and other details, I can say that iProVPN is a strict zero-logs VPN. Yes, it does collect email IDs and payment data, but that's about it. Information like that can be made anonymous. This is perfect for user-privacy.
Dedicated applications and browser extensions
What makes a VPN desirable is also its supports towards the best or most popular devices. Most users require VPN protection of more than one device. So, the VPN you choose needs to offer an app support to numerous operating systems, and, at the same time, allow simultaneous multi-device connections.
So, what devices does iProVPN support? It offers apps for:
Windows
Android
macOS
iOS
Smart TVs
Linux
Browser Extensions (Chrome and Firefox)
FireTVstick
Chromebook
Nintendo Switch
Routers
Nvidia Shield
Roku
Gaming consoles
Xbox
PS4 and more.
Additionally, iProVPN allows you to simultaneously connect up to 10 devices. It means you'll be able to connect to the VPN on your iOS and Android smartphone, and your Firestick or others.
I tested the iProVPN Windows, Android, and iOS apps and found them pretty user-friendly and easy to use. However, I wasn't too pleased with the location pointer that slowed down the scrolling process a whole lot more.
Other than that, there was a "smart connect" option, which when clicked on, connects you to the fastest server depending on where you're located. You can manually choose the server you desire, depending on which streaming service you're trying to unblock.
Pricing – Is iProVPN affordable?
Yes, I find iProVPN to be much more affordable compared to other newer VPN services. However, the affordability also has a lot to do whether or not the service works efficiently. But, either way let's take a look at what the iProVPN prices are like:

iProVPN offers 3 packages that include:
$10 for the monthly plan
$2.9/mo. billed $34.95 annually
$2.1/mo. billed 49.95 biennially (Best price)
Is there an iProVPN free trial or refund policy?
Technically, no there isn't a free trial. However, if you take a look at the packages above, you'll receive a month of free iProVPN services. After a month, you'll be billed the regular monthly price of $10/mo. That, according to me is great, considering that not many providers offer a free trial period over their overly priced monthly plans.
Other than that, there's still a 30-day money-back guarantee over the 1-year and 2-year plans. The best deal is the 2-year plan, which takes off 80% of the regular monthly prices, for about $2.1/mo. You can subscribe to that plan and use their refund period to test the iProVPN apps out.
Final verdict
After the entire iProVPN review, I feel like this new VPN still needs a little more time to breathe into a great provider. I would recommend this VPN for simple usage or basic streaming, as it did work great with a couple of the most popular geo-restricted streaming services.
The speeds and security were satisfactory too but still need a lot of work. I wish that that iOS and Windows apps matched up in performance compared to the Android one. However, considering that the VPN is new and works in China (as mentioned by the support chat), I would say that this provider is pretty good, especially since it's affordable.
Also read: Ivacy VPN Review