Overcome iOS Appstore limited applications accessibility and download AppValley on your iOS and Android phones now. As iOS users are quite restricted when it comes to picking and choosing applications from Apple's app store.  It means that you've to compromise some apps because your iOS store doesn't support the installation on your iDevice.
Attention! Worried about whether the downloads are made safe or not? Dowload the best VPN Surfshark and relax. Make your downloads safe and sound with Surfshark. The best military-grade AES-256-bit encryption to offer you to download all your applications safely.
That's where you need AppValley VIP, which is proving to be the best way of getting loads of apps on your iOS device.
AppValley is a third-party app installer that lets you bring unlimited apps of your choice. One good thing about this app installer is that it lets you install a collection of apps without jailbreaking, which is a real boon.
AppValley is the best third-party app installer you could consider. It's quite a legitimate app that holds solid features. Compared to other app installers, AppValley quickly tracks and updates a bug which makes it even more worthy.
If you also want your iOS device to be filled with a variety of apps, then you need to install AppValley VIP. FireTVsticks laid out the installation steps for you in this simple guide.
How to install AppValley on iOS/iPhone
You can easily install APPValley VIP on your iOS device; it lets you install various applications on your phone. You don't need to jailbreak your device to download free games, apps, and tweaks with AppValley VIP.
Follow these quick steps to install AppValley VIP on your iOS device: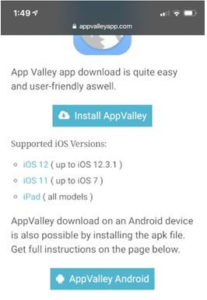 Note: If Config Profile 1 is not working, then you can choose Config Profile 2.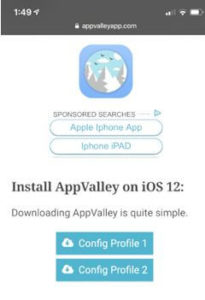 Go back to the Safari browser and tap the download button on the top
Wait for the app download to start
Click on install when a pop-up appear on your screen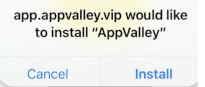 Now Click Allow after receiving a notification that looks exactly like the picture below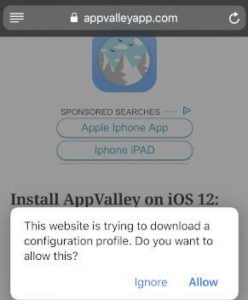 Once prompted, click Close to continue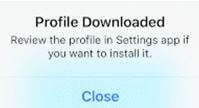 Go to Settings and click Profile Downloaded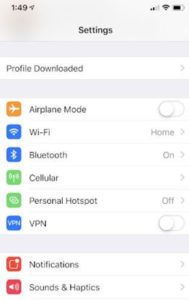 After clicking on the Profile Download, a new window will appear then click where you find Install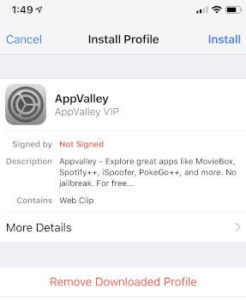 Enter the passcode when your device asks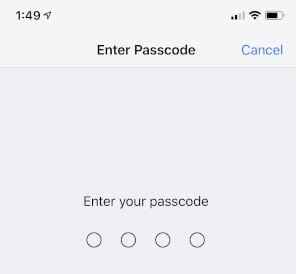 A new popup will appear to confirm your consent. Click Next to resume
Another new window will appear; you have to click where you find Install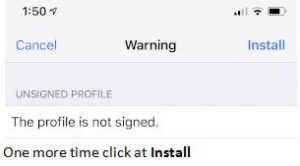 One more time, click at Install

Now click Done to continue with AppValley VIP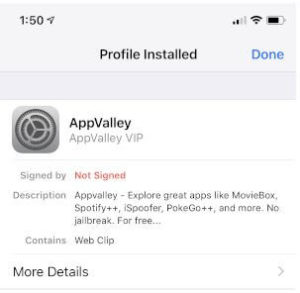 AppValley is installed now. You can see the app by returning back to the home screen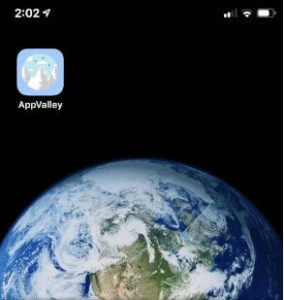 Which apps can I download using AppValley on my iPhone
Installing AppValley VIP is your chance to sideload various apps on your iPhone. You can install apps like Snapchat++, Facebook++, Instagram++ and more.
Choices are unlimited from social networking apps to entertainment, games and whatnot.
Besides the listed apps, there are many other options available that you can easily install. AppValley is an excellent third-party installer that easily installs any tweaked or cracked app on iDevices without letting you jailbreak iOS devices.
A few similar AppValley installers are also available in the market, including vShare, MoboGenie, and TweakBox. AppValley is, however, leading the market due to its extraordinary line of features.
Features
With AppValley, you can have access to all your favorite apps without having to rely on your app store. AppValley gives you the freedom to install everything for free. It presents you with a list of free unlimited apps through its broad databases.
Besides the collection of incredibly cool apps, you can expect more from this third-party app installer.
It is so usable and works exceptionally well without letting you jailbreak iPhone for installing third-party apps.
There's also a rare thing about this third-party app installer, you can install a paid app for free. This feature runs on the latest AppValley versions.
Another thing that made it impossible to overlook AppValley is its high security. Unlike other installer apps, AppValley is highly secure and only includes apps that successfully gone through various security tests. It means AppValley is a secure source for installing third-party apps with no malicious or spam links.
AppValley is a user-friendly app installer with a clean and well-organized interface that lets you easily install whatever you want.
Besides iOS devices, AppValley also supports Android and enables users to safely download apps without rooting a device. It's quite enough to tempt you away from other available installer apps.
One more benefit of having AppValley android is you don't need an email ID to sign in the app. It has everything you are looking for.  With its built-in clear cache, and clean interface, you can install tweaks, games and other apps easily.
What's more amazing is that it updates regularly that ultimately brings the latest for you all along with immediate security fixes.
How safe is AppValley?
AppValley is a safe source for third-party app installation.  It regularly gets updates and performs quick security fixes. It's completely a risk free third-party installer that installs all your favorite apps effortlessly.
How to install AppValley APK File on Android
You can easily install AppValley APK on Android to make over your device the way you want. Just like iPhone, AppValley functions similarly on android and helps you to port your favorite apps on the device.
Bear in mind that AppValley2.0 supports all android devices with version 4.4 or above.
Follow these quick steps to install AppValley APK on Android:
Go to Settings> Security > Enable unknown sources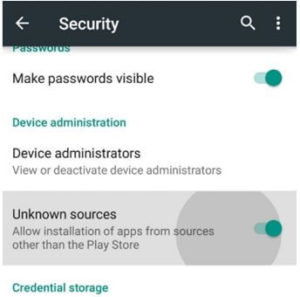 Make sure to download the latest AppValley APK file on your device
Move to File Manger and open AppleValley APK file
Now, click on install to continue installing AppValley.apk file on your device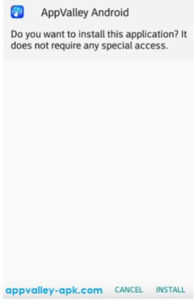 Now, launch the AppValley app and tap on the "Open" button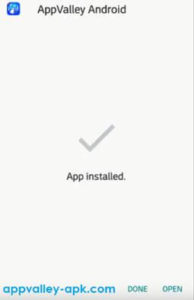 Your AppValley APK is successfully installed on your Android device.
How to install an App with AppValley APK (Android)
You can easily install any app using AppValleys APK on android by following the steps below:
Open the AppValley app on your device
Tap on Library
You will see the apps list, click on the search icon at the top
Enter the name of the app in the search bar
Tap install to continue the installation
Once installation is completed. Go back to the home screen to launch your newly added app.
In Conclusion
It won't be wrong to say that AppValley makes all the sense and potentially, it is one of the best third-party app installers to download various apps and tweaks.
AppValley is a free service through which you can install apps blocked on your app store. If you don't know any better way to install your favorite apps, then it is worth a try.