Firestick is one of the best streaming devices. People have faced a lot of cluttered interfaces on various streaming sites on Firestick. This guide will briefly explain the best way to install Weyd APK on Firestick and Android tv Box to give you a seamless streaming experience while watching your favorite tv shows or movies on multiple streaming platforms. 
Attention, FireStick Users! Protect online privacy and streaming activities with Surfshark on your Fire TV Stick. Governments and ISPs constantly monitor your internet usage, and streaming copyrighted content could get you into serious trouble. Don't risk it – secure your online presence today!
Follow the guide and learn the best way to have a safe and sound streaming experience anywhere worldwide with Surfshark.
What is Weyd APK?
Weyd is a third-party app that lets you watch movies, TV shows, documentaries, anime, and more. 
Many streaming apps have designs that are hard to use and don't follow the rules of good design. Weyd's creators say that their app will bring ease back to streaming. 
Once you've set up Weyd, watching TV shows or movies with just one click is easy, and the site has a large library. There are four main choices on the Weyd home screen: TV Shows, Movies, Collections, and Settings. You can also use the search feature to find what you want.
But there is a catch: you need to set up Weyd first. When you first open the app, you can look through Weyd's library, read details, and add titles to your collections. To watch anything, you'll need to sign up for an account on Weyd's website and pay for a membership.
The contract with the shortest time commitment costs as little as $1.66 monthly. But after making an account, you can ask for a 7-day free trial.
After getting your trial or contract, you can link the app to your account. You must install a scraper after you connect the account. I will tell you how to do that in the next part of the guide.
Weyd lets you connect various services for getting rid of trash and for keeping track of it, like Real Debrid and Trakt. But you can't do any of that until you link the Weyd app to your account.
Is Weyd APK on Firestick Safe and Legal?
Weyd is not an official FireStick app. To use Weyd, you must download the app APK from their website. Since it's unavailable on the Play Store, you might hesitate to try it.
However, I found no concerning issues after scanning the Weyd APK with Virus Total. Over five dozen security vendors checked the APK and cleared the file of any threats. Hence, it seems safe to use.
While Weyd is a paid service, FireStickTricks.com cannot guarantee the licensing status of the content it provides access to. It's essential to be cautious when using any third-party application like Weyd. To safeguard your privacy, I highly recommend using a FireStick VPN.
How to Install Weyd on FireStick
The installation for Weyd on Firestick is divided into 2 parts. To install Weyd on your FireStick, follow these simple steps:
Part 1: Prepare Your FireStick for Weyd
Change FireStick settings to allow apps from unknown sources.

Get the Downloader app (if you haven't already) to install Weyd.
Note: If you're new to Downloader, check this guide on how to get it on FireStick. Once you've enabled unknown sources and installed Downloader, return to this guide for Weyd installation.
Part 2: Download and Install Weyd on Firestick
Open the Downloader app on your Fire device.

Select the search bar and type "weyd.app," then click on Go.

You'll be directed to the Weyd website.

Scroll down and click on the DIRECT LINK button.

A progress bar will show the download status.

Once the download is complete, select INSTALL.

Another progress bar will indicate the installation time.

Click DONE. You can now delete the Weyd APK from Downloader to free up space.
Congratulations! Weyd is now successfully installed on your FireStick.
Your FireStick or Fire TV is now completely set up to stream the content you enjoy the most. However, before we get started, I want to make sure you know that your internet service provider and the government can see whatever you stream online. This indicates that downloading or streaming movies, television shows, or sports for free could violate the law. 
Protect Your FireStick Streaming with The Best Firestick VPN
There's an easy and secure way to keep your streaming activities private from your ISP and the government. All you need is a reliable VPN for your FireStick. A VPN will conceal your original IP address (110.93.250.194), allowing you to effortlessly bypass online surveillance, ISP throttling, and content geo-restrictions. There are some of the best VPNs for Firestick.
5 Best VPNs for Firestick – [Quick View]
To get a safe and secure streaming experience, choose the best VPN for Firestick. Subscribe to any 5 VPNs and get on a safe online streaming journey.
Choose the best VPN to unblock streaming content and enjoy seamless streaming with Weyd Apk on FireStick.
I recommend Surfshark, a top-notch VPN that excels in speed and security. It works seamlessly with all streaming apps and can be easily installed on your Fire TV/Stick.
While we never advocate copyright infringement, it's not always easy to distinguish between legitimate and illegitimate sources when streaming. To avoid unintentionally accessing illegal content, using Surfshark to keep your streaming activities hidden from prying eyes before you begin using your FireStick/Fire TV is wise.
Stay protected and stream with peace of mind by setting up Surfshark on your device. The best VPN for ISP throttling and government surveillance. With its advanced features and robust security, you can enjoy a safe streaming experience on your FireStick.
How to Install Surfshark on Your Firestick?
To set up Surfshark on your FireStick, follow these simple steps and get a safe stream while streaming with Weyd Apk on Firestick:
Go to your Fire TV homepage and locate the search bar.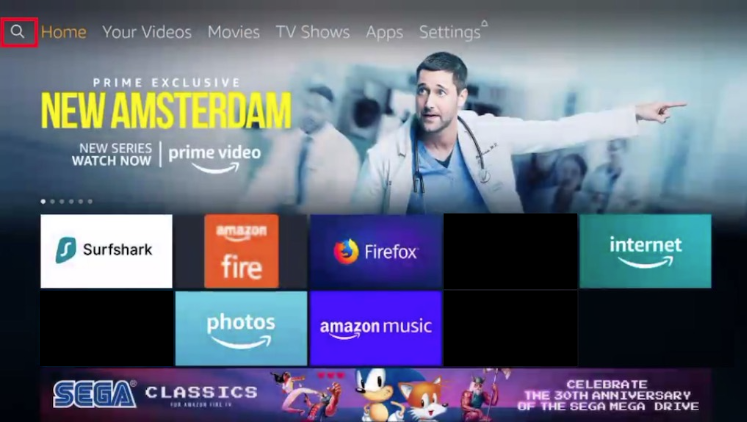 Type "Surfshark" in the search bar and hit enter.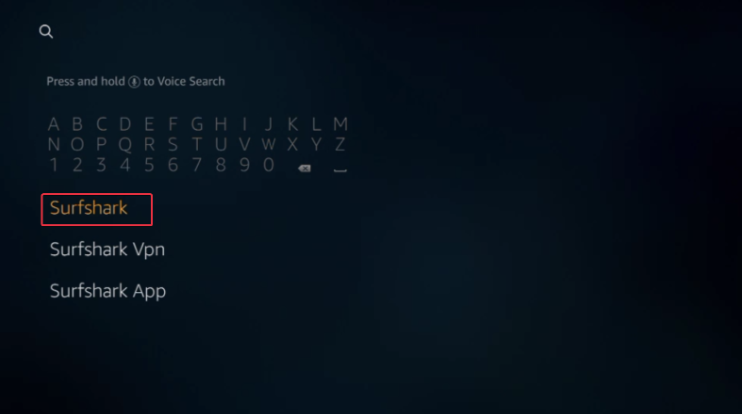 Choose the Surfshark app from the search results and click on it.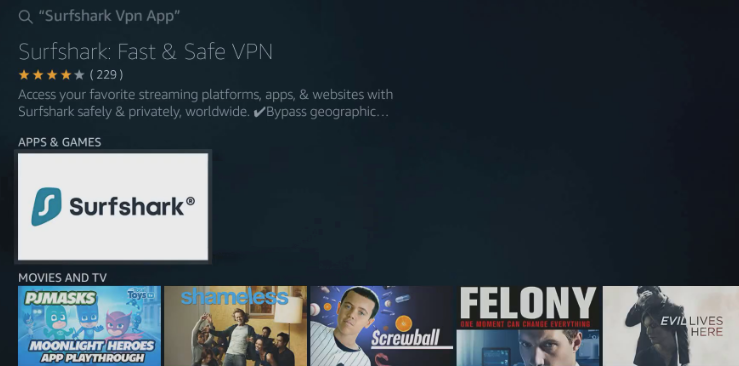 Click on the "Get" button to download the app to your FireStick. Once the download is complete, the app will be installed automatically.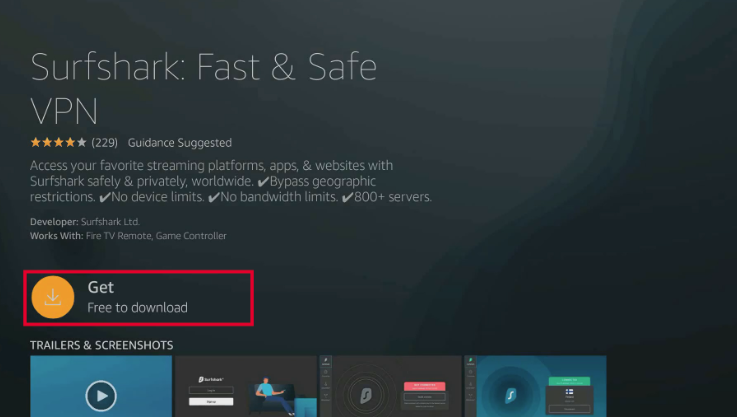 Open the app and log in using your existing Surfshark VPN account if you already have one.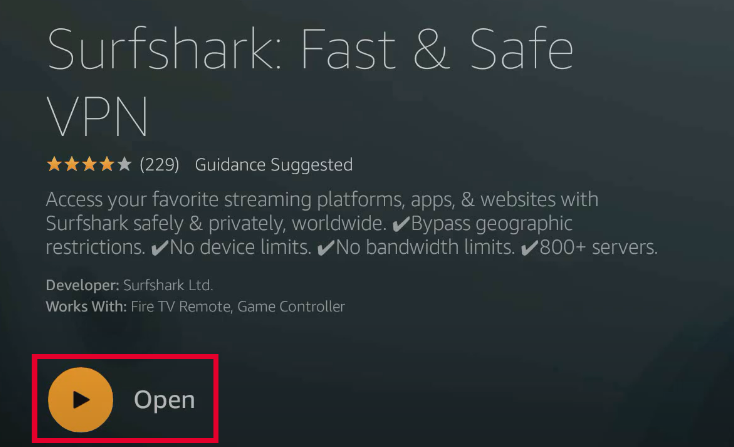 If you don't have an account yet, click on "Create Account" and follow the instructions to sign up.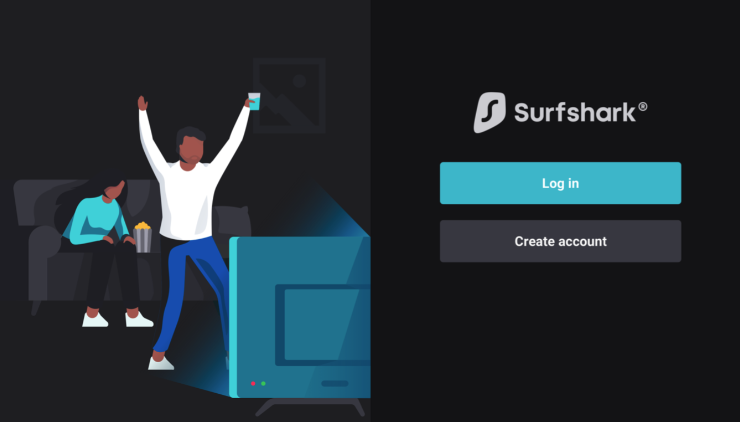 Enter your registered email address and password, then click "Log in."

Alternatively, you can log in using the Surfshark app on your mobile device. Open the Surfshark app on your mobile device, go to Settings -> Account -> TV login, and enter the code displayed on the Surfshark app.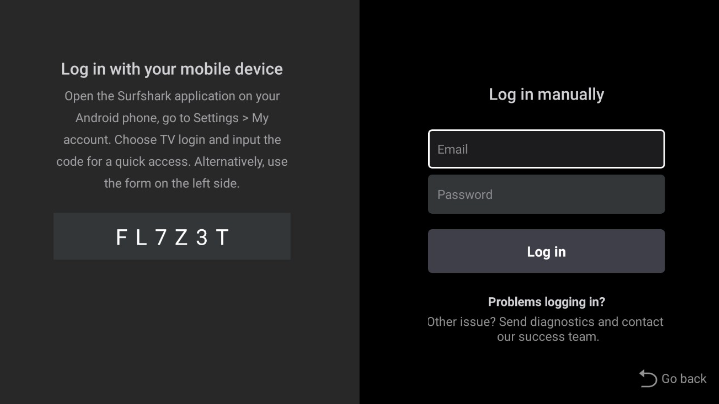 Once you are logged in to the Surfshark app, tap on the "Connect" bar and get connected to the best server nearby.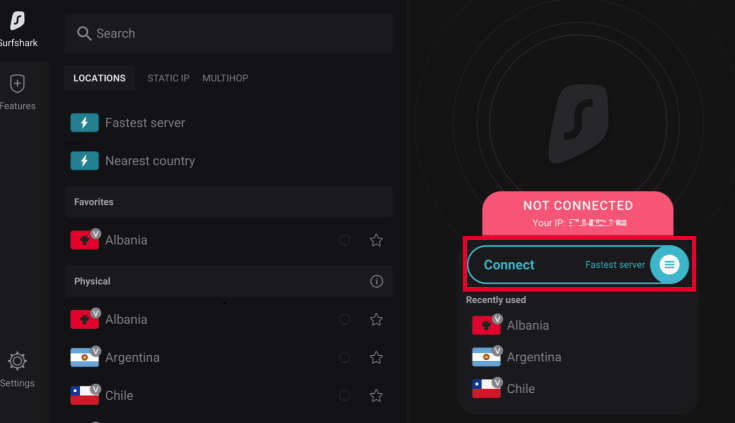 Note: you can also connect to a server of your choice, moving to the locations tab and choosing the location of your choice to view the particular region library of your streaming channel or website like Netflix. 
Once you are connected to your preferred server, you are now safe and secure from prying eyes. Enjoy safe streaming now with the best VPN for Firestick.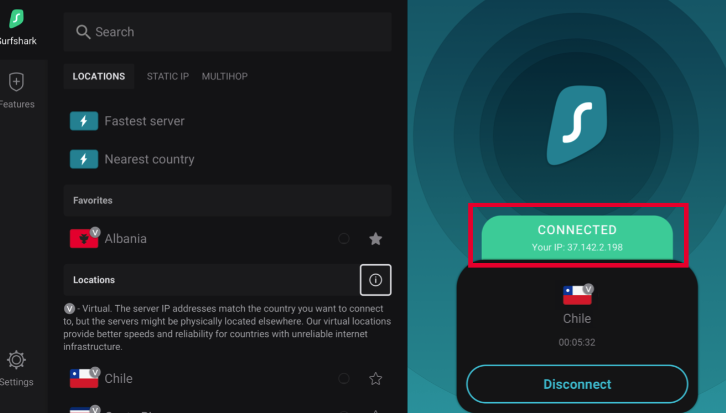 Now you can enjoy secure and private streaming on your FireStick with Surfshark!
How to Use Weyd APK on Firestick?
Now let's dive into how we could use Weyd on Firestick and give you a seamless streaming experience. 
To begin, click "OK" on the first screen, which provides details about the latest update.

On the left-hand side, you'll find four tabs: TV Shows, Movies, Collections, and Settings. Start by clicking on "Settings" to connect your device to an active subscription.

In the following menu, select "Subscription."

Now, choose "CONNECT DEVICE."

A code will be displayed, which you'll need for the next step. Keep it handy.

Grab a convenient device like your smartphone or computer, open your web browser, and go to "weyd.app/device" as indicated. Sign in if necessary, then enter the code from your FireStick. This links your Weyd account to your FireStick.
But that's not all – you also need to install a scraper. 
How to Install a Scrapper on Weyd
Click on "Settings" again in Weyd.

Next, select "Scraper" from the right-side menu.

Click on "Scraper source URL."

In the textbox, type "https://tiny.one/weydsc" (Note: This shortened URL points to the original source; FireStickTricks is not affiliated with the developers).

Click "OK."

A disclaimer popup will appear; click "Yes" to proceed.

At the bottom, you should see a notification stating, "Scraper script updated."

Check the "Scraper Source URL" section to confirm the scraper URL is added.

That's it! You've successfully added the scraper and can now enjoy Weyd with all its features.
Now that you have installed Weyd and are ready to use it, you need to know more about it. It works better with Real Debrid. 
How to Setup Real Debrid on Weyd?
Even though Weyd is a paid service, Real Debrid is recommended for optimal performance. A subscription to Real-Debrid can be purchased directly from the official website. 
The following is the procedure to follow in order to configure Real Debrid on FireStick:
Navigate to the Settings page in Weyd.

Navigate to the Accounts tab.

Select Real-Debrid from the drop-down menu, then select +Add.

To accept this disclaimer, click the Yes button.

To authenticate Real Debrid, visit real-debreid.com/device in any browser on a phone or computer and enter the code that is currently displayed on your screen.
Conclusion – Weyd Apk on Firestick
In this simple approach, we installed Weyd APK on Firestick and Android TV for smooth viewing. Weyd has a simple UI, a large library, and device support. Linking your Weyd account, installing a scraper, and using a VPN like Surfshark for anonymity and protection are essential.
Weyd's features and streaming of your favorite shows and movies are now easy to use by following the instructions. Always use Surfshark to secure your streaming activities online. Surfshark unlocks streaming content worldwide for a stress-free FireStick experience. With the finest Firestick VPNs, have an amazing streaming experience! Weyd and Surfshark for FireStick keep you safe, secure, and entertained! Enjoy streaming!